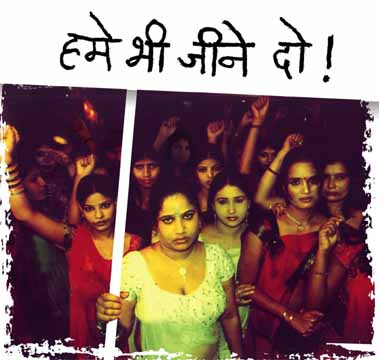 For once, they danced to a different tune. Seeking recognition, respect, dignity and their right to livelihood as entertainers, about 30,000 women from 'dance bars' all over Mumbai, Thane and other satellite townships marched to Azad Maidan grounds in South Mumbai on August 20, 2004.

Organized recently under the banner of the Bharatiya Bar Girls Union, they symbolize a rapidly growing band of 18- to 50-year-old women. At a rough estimate, at least 75,000 such young and not so young women work the night in at least 1,500 dance bars in Maharashtra, according to a recent study conducted by the Womanist Party of India, a prime initiator of the union.

Often, the song and dance routine is a run-up to the sexual services the girls provide to numerous patrons from all walks of life.

In an effort to regulate their work, the Maharashtra government recently announced a slew of restrictions in dance bars. It proposed a three-feet wall, in addition to a minimum five-feet distance between the dancing girls and their patrons; a ban on short and revealing clothes; no tips directly to the girls; and the maintenance of a record of all dancers. The state government wants these restrictions to be implemented immediately. However, dance bar owners say they want time, and that they would like to discuss the matter with the government.

The Mumbai Police Commissioner A N Roy has gone on record to state that the move will improve social security as the bars were breeding grounds for anti-social activities. State Home Minister Kripa Shankar Singh also said that the attempt was to 'cleanse' the bars and prevent them from becoming 'pick-up joints' for women.

Bar girls lead a precarious existence, sandwiched between such regulatory efforts and moral policing on the one hand and on the other, extreme poverty, sexual exploitation and vulnerability to health risks like HIV/AIDS. Most of these women are poorly educated and have little vocational skills. Some of them may have come into the profession attracted by the glamour of being singers and entertainers.

Varsha Kale, President of the recently-registered Womanist Party of India, says, "The bar girls have swollen feet as they stand in supposedly erotic poses and dance throughout the night. They ward off advances from customers and patrons and most of them are secretive about their work even with their families for fear of censure and rejection. The number of alcohol and drug abusers amongst them is high as they work in liquor and dance bars; and worst of all, their work is seasonal and transient, dependent on the vagaries of youth and looks."

In 1996, bar girls hit the streets to protest against the then Shiv Sena-BJP (Bhartiya Janata Party) government's attempt to restrict timings of bars to 8.30 pm. Sponsored by bar owners, the bar girls emerged as a vocal and visible force and together with bar owners, prevailed upon the government to get the timings of bars extended to 12:30 am.

However, while owners benefited from the extended timings, the other demand of the bar girls, for a major share in the tips, has still not received any attention. Kale says the '96 protest did make bar girls aware of their united strength.

Kale and others have begun moving cautiously to form the bar girls union. While it is due for registration in the last week of August, Kale acknowledges that it is a very difficult task to organize the girls by bypassing bar owners. In a study conducted in 2004 amongst bar girls in and around Mumbai, Kale's party realized that the 'phenomenon' of girls serving liquor in beer bars was not restricted only to cities like Mumbai and Thane. Such bars exist even in cities and towns like Pune, Nagpur, Aurangabad, Nashik, Solapur and Kolhapur.

The practice of girls or women serving liquor began about 20 years ago in Maharashtra, according to the study. Soon, with the proliferation of beer bars across the state, women waitresses were joined by women performers and entertainers. Singing and dancing then became a part of the entertainment at bars.

Kale's study, based on interviews with numerous bar girls, also revealed that waiting at tables and serving liquor or dancing were not the only duties expected of these women. The sale of sexual services was also very much a part of the job. The girls even come from Delhi, Agra, parts of Bihar, Haryana, Rajasthan and even Bangladesh and Nepal, indicating widespread trafficking and migration. The study also reveals that most of these women are from the underprivileged, lower castes or minority communities.

Manjit Singh Sethi, President of the Fight for Rights of Bar Owners Association, says that the move to organize the girls is a very good change. For once, the work of bar girls is being recognized, he feels. "There is nothing immoral about it, no obscenity. Our patrons are all adults and our girls sing and dance to Hindi film music. Don't you anyway allow your children to see Karishma Kapoor (Bollywood star) sing and dance on screen?" he asks.

Recently, the present Congress-National Congress Party (NCP)*** government restricted the entry of youth below the age of 21 years into bars, and asked them to close the bars by 12:30 am.

Agitated at the restrictions imposed, Sethi says that the Congress-NCP government has an eye on the September 2004 assembly elections. "Let us not be hypocrites," he reiterated, "politicians also patronize dance bars." Sethi and others feel that bar owners were merely being arm-twisted to make them contribute towards the election campaign.

Sethi says the association represents about 1,250 dance bars in Maharashtra and gives the government an annual 'official' revenue of Rs 1,500 crores. "It's an industry, and it employs more than a million people, including 75,000 women," he said. If the government wanted to crack down on dance bars, why did it collect a daily tax for entertainment and assembly of up to Rs 1,500 from the bar owners?"

Besides, Sethi says, the manner in which the restrictions were introduced was thoroughly undemocratic. Both bar girls and bar owners were not involved in any discussions on the restrictions, he said.

Echoing the demand for more participation in decision-making, albeit to protect the interests of bar girls, Kale and others from the bar girls union, have demanded the setting up of an independent committee to discuss the government's restrictions. But what they really need, she said, was protection from police harassment. "We plan to give identity cards for the girls so that they aren't picked up when they return home at night," she informed.

During police raids, while the girls are arrested for `soliciting' and `indecent exposure' the bar owners are let off. The bar owners get the girls back after paying the bail deposit. The union is also exploring the possibility of paying up bail deposits on their arrests so as to loosen the stranglehold of owners. Besides, the union will ensure regular medical check-ups, work on HIV/AIDS awareness, ensure that the girls participate in a savings scheme, undertake leadership training programmes and last but not least, familiarize them with the functioning of sex workers unions across the world.

For, as Kale puts it, "the girls are victims of widespread feminization of poverty and unemployment. They are, in part, bar girls, part call girls or sex workers, part dancers and entertainers and part waitresses and maids."