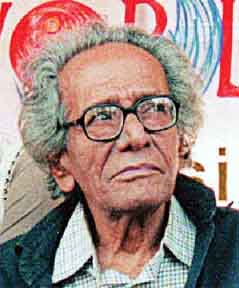 Theatre personality Habib Tanvir's recent shows (at the Prithvi Theatre festival in New Delhi, Bangalore and Mumbai) indicate the rich possibilities inherent in a dynamic synthesis of modernity with tradition. His productions indicate how much contemporary theatre has gained when it has retained strong connections - rather than making a rupture - with indigenous roots.

India's theatrical heritage is incredibly varied. No part of the country has remained untouched by a vigorous dramatic energy. Dance, movement and music are integral elements of indigenous theatre, which has typically been operatic in scope.

In actual fact, what is usually called 'traditional' theatre has multiple origins. The late 19th and early 20th centuries saw the emergence of a number of 'hybrid' theatre forms that soon became popular. These were the result of contact between indigenous genres and Western performance conventions, brought into India by touring Western theatre companies to cater to the entertainment needs of European personnel stationed here. The 'hybrid' theatres included tamasha in Maharashtra, jatra in Bengal and Orissa, natakam in Tamil Nadu, khayal in Rajasthan and nautanki in Uttar Pradesh. The heyday of these 'hybrid' forms lasted until the advent of popular cinema in the 1930s and '40s.

As time went by, the overseas influence became more marked. A commercial base for theatre began to be established. Parsi theatre as well as several other forms adopted techniques like the proscenium stage with drop curtains, heavy sets and lighting. Song, dance and music were retained, in continuity with earlier indigenous dramatic forms.

Entertainment was intertwined with political and social messages; theatre became a vehicle for communicating ideas on a vast range of themes. The repertoires often included patriotic and anti-British themes.

Consciously radical theatre is identified with the Indian People's Theatre Association - which went public during the Bengal Famine of the early 1940s, with plays like 'Zabanbandi' and 'Bhukha Hai Bangal'. Its plays combined a medley of forms with searing social message being the hallmark.

The Prithivi theatre company, set up by Prithviraj Kapoor in 1944, was part of this ferment. It toured north India, often performing in the mornings in cinema houses. Veteran actress Zohra Sehgal recalls her viewing of 'Deewar', Prithvi's second production: "Even the extravagant melodramas of the Parsi theatrical companies had fizzled out with the advent of cinema.... Therefore the impact of 'Deewar', in a language understood all over India, was stunning and instantaneous. Here was a play that was fresh, topical and original, that inspired spectators to immediate action as it dealt with the approaching partition of India, the 'wall' between Hindu-Muslim unity."

From 1947 onwards, directors like Tanvir in Hindi and Sombhu Mitra in Bengali made new strides in experimenting with vital elements of tradition combined with a thoroughly contemporary sensibility. Their 'New Theatre' movement sought to combine the best of the old and the new. Tanvir's Naya Theatre company was composed of traditional nacha (dance) performers of Chhattisgarh and employed their music, songs, movements, dance and poetry. The productions were in Chattisgarhi, Hindi and Urdu.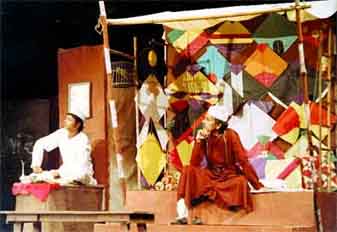 'Agra Bazaar', first staged in 1954, drew appreciative audiences when recently performed as part of the Prithvi theatre festival in Mumbai, Delhi and Bangalore. The play is a celebration of ordinary life - it is about the poet Nazir Akbarabadi, whose verses were popular with Hindus and Muslims in the bazaars of Agra city. A cucumber-seller, a kite-seller, a courtesan and a beggar were among his most devoted fans.

The Prithvi theatre company closed down in 1960. Actors Jennifer and Shashi Kapoor (son of Prithviraj Kapoor) revived the initiative with the inauguration of Prithvi Theatre in 1979. Over the past years, their daughter Sanjana Kapoor worked tirelessly to resurrect Prithvi as a forum encouraging the best possible theatre. Jan Natya Manch (based in Delhi) and Adishakti (based in Auroville) helped conceive the recent retrospective of Naya Theatre productions. Several plays created decades ago played to packed halls once more.

Most of the plays that showed at the recent festival are evergreen plays with contemporary messages questioning the status quo in the economic, social and political spheres.

Similar efforts have taken place in other parts of the country. Ratan Thiyyam and Kanhai Lal in Manipur, Neelam Man Singh and Sheela Bhatia with Punjabi theatre are some of the eminent personalities who have made significant contributions in bringing about a meaningful confluence between the old and the new.

The Sangeet Natak Akademi has played a part in supporting such efforts towards the creation of a relevant contemporary theatre. Good theatre has survived despite the domination and outreach of cinema and television, which are little more than vehicles of a globalized consumerist culture.

Most modern productions use traditional media to express contemporary concerns. Delhi's Jan Natya Manch has performed thousands of plays including 'Hatyare' against communalism; 'Police Charitram' exposing police atrocities; and 'Aurat' on women's issues. Women's groups have generated a large number of plays, including the anti-dowry 'Om Swaha', anti-rape 'Section' and 'Mulgi Zali Ahe' exposing patriarchal structures.

NGO Kislaya performs theatre in Delhi in which the spectators become 'spect-actors' and participate in evolving solutions for particular local issues. Recently, performances of their play 'Hum Jaanengey, Hum Jaagengey', in street theatre style, generated intense discussion and a people-led campaign against corruption in their local Public Distribution System.

Street theatre, representing the radical edge of contemporary drama, has flowered in different parts of the country. Named 'Third Theatre' by Badal Sircar, it draws from indigenous folk forms as well as Western theatre styles. Street theatre rejects the proscenium in favor of open-air performances. Troupes are mobile, interactive and committed to two-way communication.

Movements, trade unions and NGOs are using such theatre as a means for effectively conveying social and political messages.