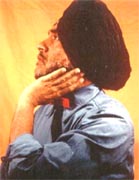 Since Duchamp's 'Urinal', visual art in the western world has suffered a shock and a decline. It has become more conceptual, excluding depiction of human form with all its spiritual and physical contents.
Durlabh Singh's art is a sort of diversion from this dry, abstract and pseudo intellectual mannerism.

Genuine art should involve labors of hand and brain and should be a mirror of reality of our times, depicting both biological and metaphysical aspects of our lives. He aims to add new dimensions to contemporary art through language of color, new forms and expressions.
| | | |
| --- | --- | --- |
| Trimurti | Hungry Child | Claws of Moon |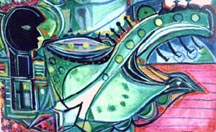 "Durlabh Singh was born in Nairobi, Kenya. He has lived in London for the past 30 years. He is a self taught artist and holds Bachelor of Science degree. Member of the International Artists Association, Free Paints and Sculptors, National Artists Association, UK and European Union Migrant Artists Network, for Durlabh painting is not done to produce beautiful works, to decorate walls, but is an attempt to catch the essence of reality which is always so illusive. ( Image: Musical Still Life.)
But while facing this metaphysical aspect of art, the artist cannot shut himself in an ivory tower to pursue a purely aesthetic end, but is responsible to convey the existentialist aspect of life and mankind, its joys and sufferings.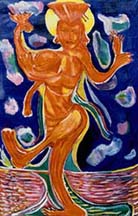 Art is not a profession but is a search for significant forms necessary for the development of soul. (Image: Dance of Shiva)
Durlabh Singh has had many an exhibitions in England since 1980 and he has been a successful participant in Group Exhibitions in various parts of the world including Boston, New York, Paris, Birmingham etc.
He is also an accomplished writer and a poet. He writes art reviews and articles for Artrage, Asian Times, Zine Zone, Eu-Man. Besides, his published book of verse "The Bats" , his poetry has appeared in many anthologies like Midnight Ink, Crystal Moons, Defining Grace etc.
He can be contacted at durlabhsingh@hotmail.com