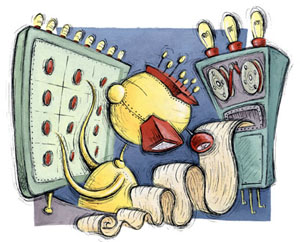 For much of the world, a new year brings a new opportunity to make wishes for the future. Wishes are almost built in the products that technology fans use every day: Whenever a new product comes along to satisfy a desire, some other deficiency is revealed. So without further ado, here are some wish-list items that many of us undoubtedly share.

Safety from malware

Call it spyware. Call it malware. The effect is the same: there's software out there that wants to steal your identity, your user names and passwords, and rob you of your peace of mind. And the problem is getting worse, not better.

Malware is quickly becoming the number one threat to computer users everywhere. Symptoms include unexplainable slowdowns in your computing, browser windows popping up everywhere, and constant disk activity.

The traditional antivirus software makers have done an inadequate job in protecting users, so lots of upstart companies such as Spyware Doctor are coming in to fill the void. Using these products is, however, still far from foolproof. In 2007, we need better malware tools.

Faster broadband rollout

In 2006, Internet access was still playing catch-up to the needs of the computer-using population. Those in major metropolitan areas have Internet access options galore: DSL, cable, even fiber. But the rest of us are still struggling with dial-up, which just doesn't cut it in an age when more of what's relevant in computing is taking place only with the help of a fast Internet connection.

Better batteries

Notebook makers rarely advertise battery performance these days. And there's a good reason. Battery life is usually poor. Even with today's power-saving processors, notebook computers these days can run about half as long as many notebooks made in the 1980s, making heavy backup batteries close to a necessity for travelers.

Battery experts say that they've done just about all they can to wring more performance out of the current battery technology. In development are fuel cells that convert small amounts of fuel, usually methanol, into electricity. The bad news is that these fuel cells are still expensive to manufacture and likely will be a few years away from deployment in notebooks and other power-hungry electronics. The future can't come soon enough in this area, though.

Digital cameras for the rest of us

Today's digital cameras make it easy and inexpensive to take lots of pictures, but they don't do much to help you take better pictures. So most folks end up with gigabytes of images that are poorly exposed or have all the common elements of photographs that end up at the bottom of a shoe box: red eye, blurriness, or portraits that are out of focus.

We're starting to see camera companies use technology to help occasional photographers take better pictures. The face detection technology on Fuji's new Z- series pocket cameras can identify up to 10 human faces in the viewfinder and adjust picture settings automatically to ensure that the faces are in focus and properly exposed, even against light backgrounds.

Image stabilization, automatic ISO correction, and other features are beginning to be implemented in some manufacturers' models to help photographers avoid blurry pictures that result from camera shake in light that is too low. We need to see more attention to details like this and less on how many mega pixels a digital camera can cram in.

Technology education built in

It's almost a waste of time to wish that computers and software were easier to use. The fact is that we ask our computers to do so much - from waking us up in the morning to soothing us to sleep with bedtime music - that complexity is built in, and that's not about to change.

What could change, however, is the way that PC and notebook makers sell their products. In short, computers need to come with optional education and support plans. In the US, Apple is leading the way in this department, offering free in-store training on the use of the computer and its software to those who buy specific systems.

Need to learn how to develop the pictures from your digital camera? Need a primer on storing and backing up files? Sign up for one of the in-store classes. That type of training is smart business - it goes a long way toward attracting folks who need what technology has to offer but don't have a degree in computer science, and it will create customer loyalty.

But the makers of Windows-based machines - which dominate the market - appear either clueless or indifferent to a good many of their customers' needs.

Access for all

While many in the world now take computers and others tech gadgets for granted, there's still a wide gulf between the digital haves and have-nots. That's a concern for everyone in the digital age, for technological empowerment means opportunity for all.

The big tech companies like Intel, Microsoft and AMD are all engaged in programs designed to bring affordable technology to developing countries, helping to tackle the big problems that must involve concomitant initiatives in education and infrastructure within target countries.

But change can occur at a much more personal level as well. Each of us can probably make gifts to local schools or agencies that distribute technology to those who are less fortunate. And an unused computer, notebook or PDA might open the door to a world of opportunity to someone right around the corner. In 2007, here's to hoping it does.