Introduction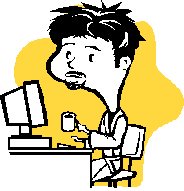 This article presents a comparative study of a collection of electronic meeting tools, systems and infrastructures that enable remotely located participants to meet and work together. It begins by examining common scenarios for distributed meetings: desktop–based meetings, room–based meetings, and access to meetings using mobile technology. We then detail a set of criteria that will be used to describe and assess each solution individually, and thus allow a comparison to be made between them. The tools and infrastructures examined are exemplary of the different classes and kinds of tools that support distributed communication.
Conferencing scenarios
There are a number of ways in which it is possible to meet together in a distributed manner, and we classify three main categories below: desktop–based systems, room–based systems, and mobile conferencing systems. Broadly speaking desktop based systems are for individual use in a static setting, room based systems for individuals or groups of users again in a static setting, and mobile systems to support the presence of people who are not at a fixed location in these first two scenarios. We mention this style of use here, but concentrate on describing conferencing solutions for fixed, static infrastructures in this article.
Desktop conferencing
The most common form of distributed meeting technology in use today is desktop based.
That is to say the technology used can be found on an ordinary office desk (typically a multimedia PC) and aside from running the necessary software no special environments or settings are required. Using a desktop conferencing product should be no more difficult than using your e –mail system or favorite word processor. It should be integrated into the everyday –working environment. Each participant is located in front of his or her own workstation, typically equipped with a video camera, microphone, loud speakers or a pair of headphones. A telephone may also be used in conjunction with the tools offered by the computer.
Room based conferencing
When we wish to increase the number of people at a single site, or wish to use large displays, or make use of dedicated conferencing hardware then we consider using dedicated rooms. These rooms typically contain one or more large screen displays, and support meeting scenarios including, but not limited to, small meetings, small seminars (by small we mean up to six participants at any one location), lectures, presentations as well as larger numbers of people. The number of people supported is dependent upon the size of the physical room. The necessary hardware is permanently installed in the room, and the layout of the room is organized according to the activity taking place.
The most common use of these rooms involves two general types of interaction. The first scenario is one–to–many where a single speaker addresses all other sites in a broadcast manner. It may be possible for the other sites to directly communicate with the speaker (if there are adequate resources at the speaker 's location to support this), but there is no awareness between these other sites of each other. Examples of this kind of use are lectures, seminars and presentations. As an example, Microsoft is currently researching ways in which the remote audience can be better incorporated into the physical meeting room. Alternatively a scenario of many–to–many supports all participants interacting with each other all the time. Meeting support requires this type of interaction. Here we need to be sure that the environment and inputs in the meeting room are suitably configured to support the people involved in the meeting.
Mobile conferencing
Often it would be useful if a meeting could be attended while you are away from your normal working environment. This could be through any number of devices, ranging from a powerful portable PC, through personal digital assistants (PDAs), or even simply a mobile telephone. The factor that most governs the use of mobile devices is that of networking. In the best case scenario there is some form of local networking infrastructure that you can connect you hardware to, or else you may be limited to a connection via a mobile cell phone and the low bandwidth that offers. The overriding influence for mobile conferencing is to give a person some presence in the meeting they are attending. We must represent the mobile user to the rest of the participants and vice versa. There will be many tradeoffs, and feedback could well be limited, but the aim is to try to offer some form of two–way communication that permits some form of collaboration.
Standards and protocols
If applications support standard protocols and services there is a greater chance that it will be possible to establish connections between these different systems. By default we will consider homogeneous meeting situations where each participant is using the same meeting tools. However, it is beneficial if systems support some form of interoperability .The standards we refer to here include video and audio standards ,as well as supported networking protocols .The use of the H.323 standard is popular in videoconferencing solutions. There are also arguments that alternative approaches, such as using IETF standards and IP Multicast, offer more flexible solutions .This information on standards is for the most part factual descriptions.