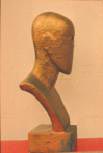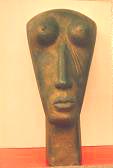 The sculptor and painter, Varma Youngo, carries a long, dusty beard. It has turned gray over his tiresome trail from Haryana, to Frankfurt and to Toronto. During the last four decades, his scalpel and B6 pencil have been his only soul mates. Uncertainties and insecurities on the way could not curb his spirits. He has been exploring the subtle and intense interface of light and dark, deep down in his psyche. He has come up with highly evocative expressions.
A glimpse into Youngo's work can be a discovery and inspiration for the lovers of art, and the critics of consciousness.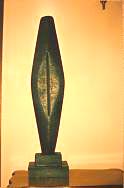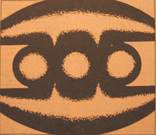 Youngo has created many sculptures in wood, ceramics, and metal. His graphite sketch work bears the stamp of his originality and commitment. He acknowledges the influence of Auguste Brancusi, a Romanian sculptor, known as the father of modern sculpture. However, for fulfilling his first love for sculpturing, on a scale appropriate to his dynamism, he lacked resources and opportunities.

To carry on his struggle, he distracted to figurative and abstract painting. He somehow kept alive the sculptural quality in his drawings and this stance defines his development. A number of his pictures illustrate astounding plastic effect, and three-dimensional illusion.
He exhibited his works in some well-known galleries in India and Europe, and attracted genuine appreciations. Some of his statues and fountain figures adorn public buildings in New Delhi and Frankfurt. A relief fresco in teak and a teak sculpture garnish Royal Palace of Nepal. However, he remained obsessed with coming to terms with his essential self and fortification of his individual idiom. The struggle, of course, continues. There are definite clues of his relative success in his latest drawings that form the part of the present exhibition. One hopes that the trend is not transient. It needs to continue at least till some really great masterpieces are created. Galleries and sophisticated collectors would do well to keep an eye on this artist.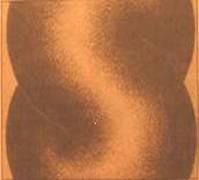 The essence of Youngo's art is to capture forms - bold and simple. Generally we perceive rotundities in his sketches - spheres, crests, cylinders, and curvilinear variations on them. These are elemental forms close to human sensitivity. We experience them from infancy and early childhood. He brings complexity, ambivalence, tension, and paradox to play upon these forms by intertwining them, inverting them, and twisting them rhythmically. He uses lighter strokes in the center of darker pencil work The interplay of dark and light with granularity effect around the periphery is the magic of his artistry.

There is mystical streak in these forms that evokes eroticism in an oblique manner. Youngo is not swayed by the influence of Freudian psychology.
He is alien to its perverted fashion. Modern European paintings steeped in stark sexuality have not been his cup of tea. Youngo has persisted in spiritual quest. He has not defined his pursuit in any philosophical terms. That would be violation of his artistic integrity. Even the leitmotif of Shiva's lingam in his drawings seems to be incidental.

He has jostled with Tantric concepts, but has preserved the sanctity of their pristine spirit. His approach is essentially aesthetic. There is no trace of vulgarization of Tantra in his work that we unfortunately notice in certain Western zealots interested in commercial exploitation of Tantra.

Youngo's work stands out distinctly for its chastity and austerity. It is vibrant and expressive. It succeeds in creating the illusion of three-dimensional objects. This singular artistic achievement of Youngo needs to be proclaimed loudly.

It is pertinent to emphasize the elements of modernity in Youngo's work. It is highly evocative. It transports the viewer to the fields of spiritual energy. Throbbing of light in the pitch of darkness invokes mystery of creation. Scientific explorations in astronomy and cellular biology have reinforced our sense of wonder and mystery. Viewing his drawings, an art critic found herself immersed in the world of neutrons and protons circling the nucleus of atom, and remarked, '…the artist is trying to reach the smallest known reality of the world, the basis of matter, of forms and shapes and may be of art.' It is not an insignificant tribute to the genius of Youngo.