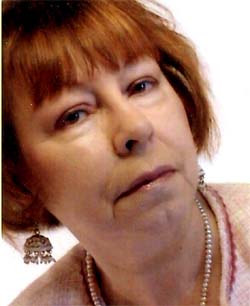 India's First War of Independence, or the Indian uprising, as it is often described in Britain, has inspired scores of male historians, but very few women. Although some of the many women caught up in the 1857-58 event against the colonial power of the British East India Company kept diaries, British academic Rosie Llewellyn-Jones says she is the only woman to have written about the period in modern times.

From mid-September, she will be leading a three-week tour in India as part of commemorations to mark the 150th anniversary of the event that, according to Indian historians, shaped the destiny of the nation.
Descendants of generals Sir Henry Havelock, Sir Hugh Rose and Sir Henry Lawrence, all of whom played major roles in the events of 1857-58, will be joining Llewellyn-Jones as she visits the cities of New Delhi, Meerut, Agra, Jhansi, Gwalior, Lucknow, Kanpur, Allahabad, Varanasi and Kolkata. Palanquin Traveller, a specialist British travel firm set up by a group of academics, has organized the tour.

As part of the tour Llewellyn-Jones and the group will make a quick trip to Meerut (where the 1857 event began), attend a special service at St James Church in New Delhi, and visit Agra that was on the periphery of the violence. Elaborates Margaret Percy, of Palanquin, "The people going on this tour are not just interested in history, but also in modern India."

The cities of Jhansi and Gwalior, whose forts were occupied by the British during the time, will come next. The stopover at Lucknow, where Sir Henry Lawrence was Resident during the prolonged siege of the Residency, will see the group visit the museum. A descendant of Sir Henry Havelock will also donate a copy of a painting of his ancestor. In Kanpur, the group will visit some harrowing sites, including the Hanging Tree and the Dread Well.

The group will also travel to Allahabad, Varanasi, Kolkata, and Barrackpore, where the viceroys had their country residences. A tour of the tomb of Lady Canning, wife of Governor-General Lord Canning, is on the cards. Incidentally, Lady Canning (who kept a journal) once wrote to Queen Victoria, describing the "strange and terrible outbreaks of violence".

Interestingly, Llewellyn-Jones will be leading a second tour in March next year to coincide with the culmination of the 150th anniversary commemorations.

For Indians, the First War of Independence is an epoch-making event and the Government of India has made a special provision of funds - Rs 100 million (US$1=Rs 40) - to facilitate year-long celebrations.

The British academic and author takes a different approach from her male colleagues, as well as from the Indian historians who regard the conflict as a war. "Men have been interested in the military aspects," she says, "To me, that is not always the most interesting point. I'm much more interested in the social implications."

Llewellyn-Jones has long been fascinated by Indian history. Born in 1939, her love of history began when she was five or six years old. Her fascination with Indian history, in particular, dates back to her first visit to the country in 1962. Subsequently, she studied at the prestigious School of Oriental and African Studies (SOAS) in London and gained a first class honors degree in Urdu with Hindi. She was later awarded a Ph.D. for her study of colonial architecture in India.

Now, she freelances as a writer and lecturer, delivering talks in both Britain and India. Llewellyn-Jones is also honorary secretary of the British Association for Cemeteries in South Asia, a British charity that records and restores European cemeteries in the region.

The many books she has written on India include 'The Great Uprising in India, 1857-58, Untold Stories' published in July this year by Boydell & Brewer, which, says Llewellyn-Jones, focuses on the reasons for the violence and the suffering of the Indian people during and afterwards.

In common with many British historians, she balks at the term "War of Independence", not least because the conflict was confined to northern and central India and those involved were often fighting for local grievances rather than freedom from British rule, she explains. "There was no opposition to the British in the whole of southern India," elaborates the historian, who adds that, in addition, there was "little sense of nationhood in 1857". Another factor she stresses was that "almost as much damage and death was caused by various Indian groups fighting amongst each other as was caused by the British fighting the mutineers".

Among the women involved in the fighting, she cites a brave African who had been employed by Nawab Wajid Ali Shah, the last ruler of Avadh (also known as Oudh, now in modern-day Uttar Pradesh), as his bodyguard. She was a crack shot and used a rifle, says Llewellyn-Jones, not the old-fashioned muskets most of the independence fighters used, and she killed a number of British soldiers in Lucknow before she was shot down from the tree on which she was perched.

According to Llewellyn-Jones, although her name is unknown, she has been embraced as an Indian heroine from the Dalit (person of a lower caste) class, called Uda Devi.

Another plucky woman whose name is not at issue was Begam Hazrat Mahal, who was married to Nawab Wajid Ali Shah until they divorced in about 1850. As a result of the divorce, she remained in Lucknow, the capital of Avadh, while the Nawab and his favorite wives went to Calcutta. Llewellyn-Jones narrates that the Begum became anxious to promote her son, Birjis Qadr, then about 14, to the vacated throne of Avadh, but ran into opposition from the maulvi (cleric) of Faizabad. Fighting between her followers and his led to the death of about 100 men. For Llewellyn-Jones, this was "another example of Indians fighting each other, rather than the British".

Other commentators have waxed lyrical about the Begum's grace, courage and physical charm, but Llewellyn-Jones is more guarded. "There is no doubt the Begum was a brave woman, though she was badly advised by her staff," she says. The British recaptured Lucknow after a long siege and Hazrat Mahal was forced to retreat, in 1858, to spend the rest of her life in Nepal. She was relatively lucky. Scores of women were among those slain during the upheaval in which both sides committed what would now be considered war crimes.

For the Victorian women who had accompanied their husbands to a land where they thought they could live a life of luxury while their husbands would make a fortune, it was proof they had been tragically mistaken. A recurrent cry in their letters and journals was: "We are in the hands of God".