We are all storytellers in our own way, coloring reality with words - be it while putting the children to bed or defending a missed deadline at work or when arguing with a spouse over why the rent was not paid on time.
Most of us have lived on a staple diet of imaginary tales. Myths, fables and stories have long been part of the human tradition of bonding. And Singapore celebrates this timeless oral tradition annually, by hosting the Singapore International Story Telling Festival.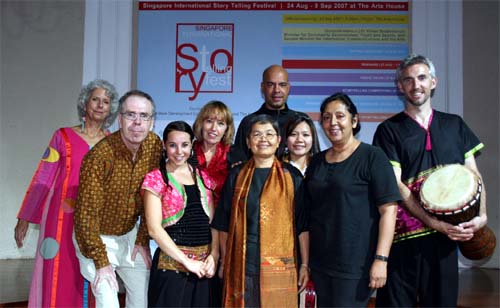 This year, 12 storytellers from eight countries - Australia, USA, UK, Brazil, Thailand, Malaysia and India - gathered at The Arts House and other outdoor venues in the city to inspire, educate, amuse and enthrall audiences of diverse ages with their fantastic accounts. Jointly organized by the National Book Development Council of Singapore (NBDC) and The Arts House, the festival also featured a number of workshops, public talks and seminars, besides a showcase of stories drawn from many different cultures. The two-week festival was held between August 24th and September 9, 2007.
A number of well-known storytellers participated in the event. Evelyn Clark, who comes from the corporate world, having worked with the likes of Microsoft and World Vision; James Bonnet, author of 'Stealing Fire From The Gods: The Complete Guide to Story for Writers and Filmmakers'; Christine McMahon, who conducts workshops at Prisons and Young Offenders Institutions, UK; Fran Stallings, an eco-teller with a PhD in Biology; and many others brought a variety of folk tales, family stories, fables, tall tales, fairy tales, and classic stories to life for the 40,000 strong crowds.

According to R. Ramachandran, executive director, NDBC, "Such a festival generates a love for the spoken and written word, fosters social bonding and builds teamwork among children, within institutions and even corporate groups."

The tales were varied in content, presentation, and style. While some promoted value systems like caring for the elderly (Sheila Wee's 'Basket'), some tugged at the heartstrings (Mable Lee's 'Durian') and others fostered ideals like civic responsibility and respect for the environment (Fran Stallings' 'Sky Food'). But it was not all serious stuff: Providing some light fun and inspiration was Roger Jenkin's 'Dreams Can Come True'.

The highlight of festival was the programme, 'Sayang Singapore' ('Love Singapore' in Malay) that coincided with Singapore's National Day. Women storytellers Rosemaire Somaiah, Sheila Wee and Kiran Shah of the Asian Storytelling Network - Singapore's first professional storytelling company - narrated contemporary tales to the accompaniment of original chamber music composed by Wong Kah Chun, a local and popular young talent.

The three women shared their different approaches to the craft. "Stories directly engage the mind. The stories we choose to share are those that touch our heart," said Wee. Somaiah revealed that she never writes down nor even memorizes her stories, while Shah, who has taught at preschool, felt that the stories should be simple and that the expertise of a storyteller is in adapting and narrating it in a manner that will appeal to all kinds of audiences.

In addition, there was a meeting of professional storytellers - the 'Asian Congress of Storytellers' where teachers, librarians, professionals, parents and aspiring storytellers got the opportunity to share the insights of international storytellers. Seminars with interactive sessions on 'Developing Marketing and Brand Messages through Stories'; 'The Power of Storytelling for Leaders'; and 'Digital Storytelling' were also conducted.

NDBC's Regina Kuan said, "Every person here is so versatile, with a huge repertoire of stories. But besides the usual angles, these presenters are also specialized." Fran Stallings from the US gave lessons in science through her simple stories. She talked about issues like preserving the ecological balance and being responsible for mother earth. Britain's Christine McMahon, who is interested in the therapeutic use of stories and uses her voice in restorative justice work, presented some of her latest work.

Jeeva Raghunath, a storyteller from Chennai, India, came especially to the festival to participate in the workshops. She said that although children and adults are influenced by electronic gadgets and gizmos, the art of storytelling still holds. "It is a valuable communication tool to develop skills and it makes you a more beautiful person."

The workshops also aimed to enrich the participants at many levels. Besides throwing light on a range of techniques employed to create a good story (from developing an idea effectively to using props like puppets), there was also an introduction to digital storytelling - a first this year.

Denise Atchley, co-founder and director of The Digital Storytelling Festival in the US, gave an interesting talk on this exciting new concept that combines modern multi-media production tools such as graphics and sound mixing with the age-old storytelling technique. He also presented samples of digital storytelling. The craft of fine-tuning a story was discussed by American writer, teacher and story consultant James Bonnet, while Dilip Mukerjea of Braindancing International, an organization dedicated to creative problem solving, urged participants to analyze the structure of a story during his session.

There were some interesting people attending the workshops. Melissa Bun, a popular live radio show host in Singapore came to gain interesting insights for her capsules. Sri Lanka's Lishan Perera, 13, already a published author, hoped to further polish his skills.

Fei Mee, a librarian, who came to the festival with a group of students from Jiemen Primary School, said, "I like to tell stories. It promotes reading among children. Storytelling turns the children from being mere passive listeners into being much more responsive and observant."

But storytelling should not only be seen as an engaging pastime. It also has a powerful impact on the personality of a child. According to Dr Calvin Fones Soon Leng, a senior consultant psychiatrist, "Stories are powerful devices to convey messages, especially when they are emotional ones. These go beyond the factual level and help parents to convey values and, more importantly, imbibe and practice them."

So, while technology may, perhaps, change the way stories reach us, storytellers, with their powerful voices and magical craft, will continue to evolve the art.