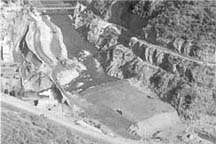 Laxmi Bahugana, a young journalist working for a newspaper in Dehradun, had to quit her job to look after her widowed 50-year-old mother. No, her mother is not unwell. Instead, she is always in a state of panic that her house in Tehri will soon be inundated with water. Her fears are not unfounded because after releasing some amount of water earlier, the Uttaranchal government is now planning to release more water into the reservoir on the bank of which her house stands.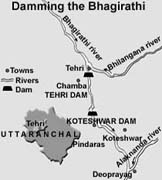 This release of water is connected with the completion of the Tehri Dam Project. A multi-purpose irrigation and power project in the Ganga Valley, it will have an installed capacity of 2,400 megawatts and will also provide water to irrigate 270,000 hectares of land. Moreover, the Project, which is likely to be completed next year, will provide drinking water to four million people in Delhi and three million people in Uttar Pradesh.

Along with over 125 villages � some of which will be fully affected and some partially � Tehri is the only town in the area that will bear the brunt of the construction of the dam.

The state government had issued orders to the residents of the entire Tehri region to shift to New Tehri about 25 km away but people like Laxmi's mother Sumitra don't want to shift. "I don't know any one there. Here people trust each other. I feel scared of settling down in a new area," she says. And Sumitra is not the only one who feels this way. Fifty-two-year-old Devishweri, also a widow, does not want to shift either.

On its part, the government cannot understand this opposition. The state government had asked the residents to vacate their houses in December 2001. And when it closed the tunnels in the same month, it was indication enough that work was going to start in the area. And 2,000 people have already shifted to their new homes since then.

Further, way back in 1985, residents of Tehri town were given compensation by the Uttar Pradesh government to shift to New Tehri. Thirty per cent of the families had then got less than Rs. 20,000 as compensation (1US$ = Rs. 48), 11 per cent Rs. 80,000 and 14 families got more than Rs. 5,00,000. Besides the compensation money, the state government had also distributed plots in New Tehri under three categories � 60 to 100 square metres, 150 to 200 square metres and 250 to 300 square metres.

There are various reasons for more than 2,500 people still living in Tehri refusing to be displaced. For starters, these people are unhappy with the plots allotted to them in the New Tehri area as more than 50 per cent of them have got plots in the minimum category. Moreover, the people are also unhappy with the construction allowance being given to them. This allowance ranges between Rs.1,25,000 and Rs. 2,25,000. The people are, however, demanding Rs. 5,00,000 as the minimum house construction allowance.

Women also allege that the government has not treated them on par with men because in almost all the cases the compensation money and land has been allotted in the name of the male member of the family.

In September 1996, the Indian government had constituted a 12-member expert committee under the chairmanship of Professor C H Hanumantha Rao, a former member of the Planning Commission. This Committee had brought to light the rehabilitation and environmental aspects of the Tehri Dam Project. And in the following year, the Committee recommended that compensation money should be given separately for the women. The Committee approved Rs.43,000 for a single or widowed woman. This money, however, has not been properly distributed.

The importance that these people attach to staying on in Tehri can be judged from the fact that they do not want to leave the area even though life is tough.

Last October, the Uttaranchal government had sealed the shops in Tehri and this affected the livelihood of poor women. For instance, some of them made traditional necklaces which earned them Rs.100 to Rs.150 per day. They collected the raw material from the jewelers in the market and were paid on a per piece basis. But once the markets shut, these poor, illiterate women lost the only means of earning that they had. Says 50-year-old Haseern, who earlier supplemented her watch mechanic husband's income by making these necklaces, "I don't understand what development means when it has taken away the only means I had of looking after my five children. This government has no concern for our problems." Even those women who earned money through tailoring have lost their market because all government staff and other 'rich' women have moved to New Tehri.

Health problems, too, abound in the area. Most of the women are suffering from depression, stress and high blood pressure. And to make matters worse, there are no lady doctors in the government hospital in the area and it is nurses who handle everything, including deliveries. There is also an acute shortage of medicines because of which there have been reports of women dying.

For instance, activist Saroj Vyas of Mali Devli village died recently when she could not get proper medical attention for a snake bite. In such a scenario, even those who can afford medical treatment have to go as far as Dehradun and Rishikesh for even simple ailments.

What is also making these people more hesitant about shifting is the fact that those who have moved to New Tehri are not happy. Like Kanta Oswal, a teacher in a senior school who shifted in 1999. Says she, "People lock themselves in their houses by 6 pm. Here people are more influenced by the city culture." And this, many fear, is going to have larger implications on the once-simple lives of the people living in Tehri.