"My personal vision of dance is continually inspired by tradition," explains Lata Pada. The petite dancer looks much younger than her 57 years. "Tradition is the cornerstone for the creation and practice of my art. Simultaneously, my work needs to be relevant and accessible to contemporary audiences. My dance is Indian in technique and universal in context."

Weaving contemporary themes into Bharatanatyam, a traditional Indian dance form, Pada's dance company (and academy), Sampradaya Dance Creations, has chiseled its own space in Canada's mainstream dance landscape. The Toronto-based academy has now gained repute not only for its classical dance performances but solo and ensemble choreography as well.

Its productions, choreographed by Pada, centre on current issues of concern. Sampradaya productions have a wide thematic range - from Pada's personal loss viewed through the prism of women's position in society, to ecology and the issues faced by immigrants in adapting to their new environs in Canada. Pada founded Sampradaya in 1990, and serves as its artistic director. The Academy has over 150 students today, learning Bharatanatyam.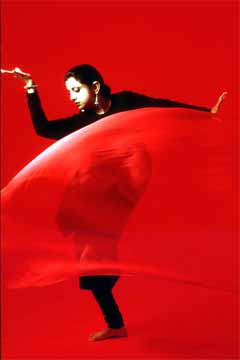 Sampradaya is also becoming well known for its collaborative performances with practitioners of other dance forms. These include 'Dougla' with the Trinidadian dancer/choreographer Ronald Taylor; 'Charla' with Flamenco dancer/choreographer Carmen Romero; and 'Apart Yet Together' with Mi-Young Kim with Elena Quah (both originally Chinese, now living in Canada). In April 2004, five senior dancer-choreographers from around the world, practicing different dance forms, came together for creative experimentation. A production, 'Hyphenated', which deals with the dualities of being South Asian and Canadian, is still being put together.

Pada's foray into choreography began with 'Revealed by Fire'. This internationally acclaimed work, which premiered in 2001, combined elements of dance, video, photography, narration and music. It is a story of determination and grit. "Through this production, I address my personal conflict - why is there such veneration of the goddess, yet such degradation of women in society? Why does that paradox exist? It touches on universal themes of loss and grief. But also on the power of art to transform, especially post-9/11. Fire is a metaphor, both a destructive and regenerative force. When faced with catastrophic loss, there are two roads - to be destroyed by the fire or to allow it to reveal our hidden core of strength and identity."

In her case, it has obviously been the latter. Married at 17 to a geologist, Lata Pada left her Bangalore (India) home and moved to Indonesia before settling in Sudbury, Canada, nearly 40 years ago. Her life revolved around her husband, two daughters, and teaching dance. She would however, visit India almost every year to train with her dance guru. And that is what she did in 1985 too, travelling ahead of her family so that she could practice for a scheduled performance in Bangalore. Her family was to join her later for a vacation. They never made it. Her husband and daughters were on the Delhi-bound Air India flight that crashed off the coast of Ireland - victims of a terrorist plot. Numbed with grief, she instinctively turned to her only remaining anchor, dance. On the larger canvas of universal grief, the two personal questions that ring through 'Revealed by Fire' are: "If you take away my husband, am I still a wife? If you take away my children, am I still a mother?"

Two of Pada's other productions - focused on women and identity - are particularly noteworthy. The first of these is 'Triveni', which relates Sita, Draupadi and Ahalya to generations of invisible, often silent, women, ever since. And the second is 'Sohrab: Mirage' (Sohrab, a Dari word, means mirage), that dwells on the experiences of Afghan women under the Taliban regime.

Her choreography, says Pada, is "strongly motivated by the desire to reveal to audiences the dynamic range of traditional and contemporary repertoire, and the issues and themes of contemporary society. In presenting Bharatanatyam in a more modern, more relevant context, I am communicating to new audiences the universal nature of this dance tradition while simultaneously nurturing the integrity of technique and aesthetics."

Pada's work has been performed in several national and international festivals, and her dance school is recognized by the Department of Canadian Heritage. Besides being a member of several cultural bodies in Canada, she is also a member of UNESCO's International Dance Council.

More recently, Pada has been busy steering an important initiative of Sampradaya - the Banyan Tree project. Visualized as an arts and community development project, it includes school and community workshops; classes in dance, music and folk art; youth leadership and volunteer development.

The banyan tree, says Pada, is a metaphor for the 'ideal' community-based society. The banyan tree is a meeting place, where a labyrinthine system of roots and branches provides the support, shade, and environment for a healthy exchange and regeneration of values, stories, mythologies and traditions. The project is designed to strengthen the company's commitment to creating a supportive, interactive and creative environment for stories to be told and shared.

The project also includes dance-theatre work for family audiences. 'Beneath the Banyan Tree', which premiered in June 2004, is the story of a young Indian girl who uses her grandmother's Panchatantra (a collection of ancient Indian fables) stories to frame herself within Canada. It is structured in the form of a play incorporating dance, puppets, and music.

Sampradaya has also devised curriculum-based workshops in rhythm and movement for school students and has created a study guide for teachers that ties in with the curriculum at elementary schools. This, says Pada, would pave the way for artists like her to be invited to schools for workshops on social sciences or even mathematics with the use of rhythm and movements.