Sahiyar Stree Sangathan, a Vadodara-based trust, has been working for the past 19 years to support women and girls and fight social discrimination. It also provides legal and counseling support to women in crisis. As part of its movement against sex determination tests, the group has conducted an intensive study, in Vadodara, of women from a cross-section of society; a study that highlights important links between patriarchal values and consumerism and attitudes towards sex determination. Sahiyar (meaning 'woman friend') is also working with Gujarat's riot-affected women.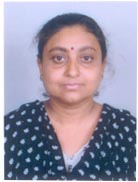 In an interview, Dr. Trupti Shah, Sahiyar member and economics lecturer at MS University, Vadodara, speaks about the nature of a 'development' that has failed to create a value system based on gender equality.

Q. Gujarat is considered one of the most developed states of India, with rapid industrialization and a rising urban population. Why do you find this form of development anti-women and anti-girl child?
A. During the Census decades of 1981-1991 and 1991-2001, Gujarat's rapid industrialization boasted an urban population of 37 per cent against the national average of 27 per cent. The decades also witnessed a high literacy rate of 69.98 per cent, with female literacy reaching 58.60 per cent. However, this period also saw the beginning of a rapid decline in overall sex ratio of the state. The female-male child sex ratio (0-6 years) plunged well below the national average (from 947 in 1981, 928 in 1991 to 878 in 2001), manifesting a virulent form of patriarchal gender discrimination through sex selection practices.

This negative child sex ratio was higher in the 'developed' urban districts of Gujarat (850); Ahmedabad district led the tally with just 813 girls: 1000 boys. Ironically, districts like Mehsana (797), Gandhinagar (816), Rajkot (843) and Ahmedabad enjoyed female literacy rate of 64 per cent, 65 per cent, 67 per cent and 71 per cent! In comparison, the backward and tribal districts of Dangs, Dahod and Narmada, with low female literacy rates of 49 per cent, 32 per cent, and 47 per cent respectively, have higher child sex ratios of 973, 964 and 952.

The 'urbanized' cities are even bigger culprits. Ahmedabad leads with a child sex ratio of 809, followed by Rajkot (821), Surat (830) and Vadodara (832).

Q) Gujarat is home to several women's initiatives. What went wrong in the last two decades?
A) Unlike the southern states, Gujarat's sex ratio has not been positive since the beginning of the 20th century. Female infanticide - 'dudh piti' (drowning a newborn girl in a milk pot) - existed in some castes. But during a field study in Vadodara, we found that the interaction of historical patriarchal values with those of capitalist development proved fatal to the existence of women in Gujarat.

Earlier, non-participation of women in social production was confined to some castes but today, more and more women are getting pushed to the economic margins; their work participation rate is lower in urban rather than rural areas. With greater Sanskritization (lower caste people adopting
upper caste norms to achieve social status) and consumerism, dowry has spread even to castes that did not historically practice it.

Our research indicates that economic uncertainties have increased son-preference among poorer classes/castes, while the small family norm has led to the same trend among the rich and upper castes, courtesy the availability of modern technology for sex selection.

Many upper middle class and rich families wanting one child desire a son, while those wanting two children are okay with two sons or a son and a daughter. Once a daughter is 'allowed' to be born, gender discrimination reduces at the family level, giving the impression that it is declining with development. But actually, discrimination at the pre-birth stage has increased, leading to a more negative sex ratio.

Q) Do you see any link between affluence and violence on women in Gujarat?
A) With increasing affluence, the forms of violence become more intense and their extent may actually increase. Today, many medical professionals market sex determination facilities for easy money; others do so to spread family planning, thinking of it as performing a social service.

Q) How do you locate issues of violence against women in a situation of communal violence?
A) There is a link between forms of violence against women and also between
violence against women and increase in other forms of societal violence.

Sex selective termination of pregnancies represents not just violence against the unborn girl but also results in further violence on existing women. In societies where there are fewer women, they are subjected to various forms of domestic and social violence - this is a manifestation of the inherent negative attitude towards girls and women.

During communal riots, women, viewed as symbols of community honor, are sexually harassed and raped to shame the men of their community. This happened to Muslim women during the communal violence in Gujarat last year.

Women are also considered a greater 'liability' for their families and the community. They are speedily married off as the mass marriages of teenage girls in Gujarat relief camps (following the 2002 riots) showed. Sexual control - implicitly and explicitly violent - over women intensifies after
sexual violence in such conflict situations. In Gujarat, too, all kinds of violence, including foeticide, has increased.

Q) But there have been several pro-women political and legislative initiatives in the past two decades.
A) Political parties that mouth gender issues, without an overall thrust on issues of social violence and discrimination, dabble in tokenism. This is also true of the Indian government's 'Women's Empowerment' policy or the Gujarat government's initiative of a 'Gender Equity Policy'.

The struggle to end gender discrimination is linked to a struggle against all forms of social violence and exploitation.