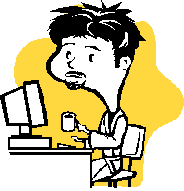 Hamburg
Prospective homebuilders can save a lot of money by doing the work themselves. Can building your own PC yield significant savings as well? The answer used to be an unqualified "yes." Now, though, the story is not so simple.

Many argue that considering the increasingly complicated nature of components in recent years, system building is in fact a task best left to enthusiasts or professionals.

"Building your own machine is for specialists who want high-end stuff," says Klaus Dembowski. The non-fiction author and Microsystems technology engineer at the University of Hamburg regularly receives SOS calls from lay users whose attempts at building their own machines have failed. "They've ordered components on the Internet and don't know what to do next," he says.

Building your own machine doesn't always save money either. "The times have changes since PCs were exotic items for retailers," the experts points out.

There's also the issue of the guarantee. Buying a custom-made machine from a retailer provides a guarantee for the whole system. By contrast, homemade machines usually only offer guarantees for the individual components. There can be legal ramifications for self-installing a graphics card, memory, hard drive, fan or DVD burner.

"You should check with the manufacturer whether the guarantee remains in force if you open up the device yourself," recommends computer expert Jaroslav Smycek from the Consumer Central for Lower Saxony, Germany.

"Assembling a computer has grown more complicated, too, in terms of compatibility," Smycek says. Taking installation into your own hands also always runs a certain risk that an error could creep in during installation.

"The specialty dealer can always claim that you destroyed the components during installation," Smycek says. For this reason it makes sense to fetch price quotes from several retailers instead of making the installations on your own.

"Avoid snap decisions," Dembowski recommends. When installing a new hard drive, for example, it's not enough to just think about the storage size of the future storage medium. The interfaces must also work together. Dembowski notes that a technological switch is currently underway from parallel IDE technology to serial ATA interfaces. "For graphic cards, this means a switch from AGP to PCI Express."

When buying components, it's important to have as detailed information as possible on the ports and slots in the computer, including type descriptions of the old components. Another important point to consider is that almost every current generation of processors demands modern RAM.

Users who want to install a new processor on their own will need to handle it with care. "If you are working with the CPU, then you had better be wearing an anti-static wrist guard," advises processor maker Intel. The armbands are also helpful when working with RAM, graphics cards, or motherboards.

The best advice of all, however, is to simply carefully consider how the computer is to be used before buying it. The question of whether to buy at a discount retailers, specialty shop or big electronics store is largely a question of price.

"You simply need to calculate it all out," Dembowski says.

Computers used for office applications only don't require a separate graphics card, for example. Those looking to use a PC as a television should naturally look for a unit with a TV card pre-installed.