For more than five centuries, only men and the legendary ravens guarded the Tower of London. But in September this year, a woman joined the ranks of the 35 Yeoman Warders, popularly known as Beefeaters. They keep watch over Britain's Crown Jewels and narrate to tourists the history of a landmark that was by turns a fortress, a royal palace and a prison where some illustrious inmates endured excruciating torture.

Moira Cameron, 42, is not the first woman to have applied for the job; but she is the first to have made it through the selection process. She does not regard herself as a feminist - "at least not a strident one". She just wants to do a job well that she thoroughly enjoys.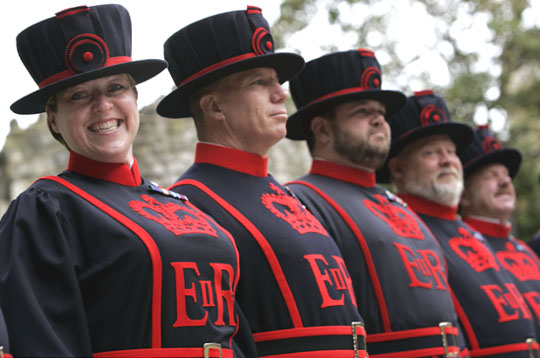 In theory, women were never excluded from becoming Yeoman Warders but, until recently, very few have been eligible for a job whose requirements include at least 22 years of military service. They must also hold Long Service and Good Conduct medals and have reached the rank of warrant officer.

Cameron grew up in Scotland and joined the armed forces when she was 20. She served in England, Northern Ireland and Cyprus and worked her way up through the ranks to Warrant Officer Class 2, the second highest non-commissioned rank in the army.

All her years of working in male-dominated environments have convinced her that a sense of humor is her best defence. "As a woman, you do encounter opposition in all sorts of forms, although I've never come across any male colleague who has been openly aggressive," she said. "You do get a lot of rather envious 'that's-just-because-you're-a-woman' remarks but my secret weapon is just to laugh at them."

She is single and considers career and family to be an uneasy mix. "There are women in the army who have a great career ahead of them and have managed a family too," she said. "Personally, I decided I couldn't make it work. If I were to have children, I'd want to devote all my time to them."

Cameron joined the Body of Yeoman Warders in July 2007, but only became a full-fledged member of the guard corps in September. First, she had to undergo training and induction, including becoming familiar with each of the 21 separate duties the Yeoman Warders carry out daily. Perhaps the most famous of these is the ceremony of the keys, carried out every evening as the Warders lock up the Tower for the night. Cameron is treated no differently from her male colleagues, although the famous uniform - dark blue, trimmed with red for everyday use and red and gold ceremonial dress for State occasions - has been adapted to suit her shape. The State occasions include attending the coronation of the sovereign.

Her salary is around '20,000 (US $40,000) a year and she lives in a subsidized apartment at the Tower, which dates back to the time of William the Conqueror, who ruled Britain in the 11th century. It has been guarded since 1485 by Yeoman Warders or Beefeaters - reputedly so-called because of the daily rations of beef and other meat they were given. It is a standing joke that the real Beefeaters are the ravens that have also been associated with the Tower for hundreds of years and to this day are fed on raw meat. Legend has it that if they fly away from the Tower, the kingdom will fall.

Interestingly, just as famous as the Beefeaters and ravens are the guards at Buckingham Palace, home to the British monarch. They patrol the grounds of the palace at night and every day take part in the Changing the Guard ceremony, which is a massive tourist draw.

In theory, these guards are drawn from seven regiments, made up entirely of men, but in practice, it is not unknown for a woman to stand guard outside the palace.

By contrast with the Beefeaters, who have left behind their military duties, the Buckingham Palace guards are still serving soldiers, drawn traditionally from seven regiments - collectively known as the Household Division. These are cavalry and infantry regiments that carry out the front-line duties from which women are still excluded.

However, Britain's engagement in Iraq and Afghanistan has meant the armed forces are overstretched and Buckingham Palace guards have sometimes been selected from other regiments, which may include women. "Other regiments fill the gap," a spokesman said. "At one time, we had a husband and wife guarding the Queen."

These stand-in soldiers wear whatever the uniform of their regiment is, rather than the dazzling red tunics and famous bearskins generally associated with the palace guards. Given that the bearskin helmets are 18 inches high and weigh around one and a half pounds, those women on occasional palace duty are probably content not to fight for full equality on this matter.