Situated smack dab in the midst of Hauz Khas' urban melee - honking cars, zilch parking space, obstructive cows - the Navdanya Slow Food Caf� is hardly the kind of place to zip into for a quick bite. There are no signboards to help locate this new caf� (it was inaugurated on October 1, 2004); and to top it all, it is tucked away within Byzantine lanes that crisscross this south Delhi colony.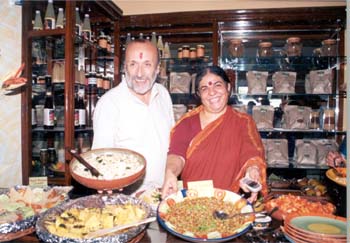 Once you do manage to unearth it, however, the inconvenience is worth it. A warm and inviting ambience envelopes you from the moment you enter the 20-seater eatery. Polished cane chairs, tables inlaid with gleaming glass through which you can observe a repertoire of never-seen-before grains, spices and pulses, a polite hostess and - the litmus test for an eatery - a well-crafted menu.

Set up by Navdanya, a north-India based NGO which supports the organic farming movement, in collaboration with Slow Food International (see box), the caf� offers a slew of healthy options for the food lover while promoting grains from nutritious indigenous crops that are threatened by extinction. Grains like amaranth (ramdana) for instance, or the exotic red rice, raagi, kala bhaat, and jhangora.
The Slow Food Movement

The Slow Food movement - obviously antithetical to the fast food one - was stirred into existence in 1986 by Carlo Petrini, an Italian-scribe-turned-environmentalist. Petrini recognized that the industrialization of food was standardizing taste and leading to the annihilation of thousands of food varieties and flavors. Concerned that the world was quickly reaching a point of no return, Petrini reached out to consumers and demonstrated to them that they have choices over fast food and supermarket homogenization. He rallied his friends and began to speak out at public forums. Today, the Slow Food movement is active in about 45 countries and has a worldwide membership of over 65,000.

Slow Food's mission is to create a robust, active movement that protects taste, culture, environment and also social values. There are slow food cafes in Japan, New Zealand, USA, Italy, the UK, France and many other countries. Navdanya's slow food caf� in Delhi is India's first.