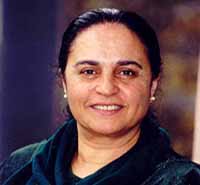 Like hundreds of thousands of other Palestinians today, human rights activist Sumaya Farhat Naser's movement is restricted within Birzeit, a little hamlet nestling against the imposing background of the Ramallah hills about 25 km north of Jerusalem.

"I am free to move only within a radius of five to eight kilometres. To visit Jerusalem I have to pass through seven checkpoints forced upon us by Israel and spend more than four hours on the road. So most of my work is now confined to the Birzeit area with a weekly trip every Friday to Jerusalem for a workshop," says Naser, 56. This never-say-die activist, writer and academic has won numerous peace awards including the Mount Zion Award for Reconciliation between Cultures and Religions.

Born in 1948, the same year that Israel came into existence, Naser has spent an entire life witnessing the conflict between Palestinians and Israelis. Her dream remains to see the conflict end in her own lifetime. "For this to happen the people must first realise that there is an alternative to war," she says. It is for the same reason that Naser spends all her time training women and young people in the occupied territories of Palestine in conflict resolution, and in writing books like 'Daughter of the Olive Trees: A Palestinian Woman's Struggle for Peace'.

Despite the growing desperation in the area and an alarming increase in suicide bombers, including women suicide bombers, Naser continues to believe in non-violence. In 1995, she was presented the Dr Bruno Kreisky Award for Human Rights; she was back at the Vienna-based Kreisky Forum for International Dialogue recently, to talk about the problems of working and living in Palestine today. A professor of botany at Birzeit University, when Naser is not teaching, she is conducting workshops on non-violence, civic leadership, human rights, tolerance and empowerment.

Most of the young people who attend her workshops come without hope and little will to live. Often, none are able to come: there are restrictions imposed by Israeli authorities on the movement of Palestinians in the occupied territories. This causes them extreme hardship. According to the 2004 report of Amnesty International, about 3.5 million Palestinians are confined to their towns and villages by checkpoints and roadblocks enforced by the Israeli military in the occupied territories.

Some villages have been completely sealed off and urban areas are frequently placed under 24-hour curfews when no one is allowed to leave the house, often for prolonged periods. Palestinians are prohibited from driving on main roads connecting one part of the West Bank to another.

While Palestinians have had their movement restricted in varying degrees since Israel's occupation of the West Bank and Gaza Strip in 1967, such restrictions have increased in the past decade. And since September 2000, with the renewal of the Palestinian uprising against Israeli occupation of their land, these restrictions have reached an unprecedented level. New measures adopted by the Israeli military to tighten and enforce closures restrict Palestinians' freedom of movement, their basic human rights, in particular the right to work and to provide a living for themselves and their families. And such conditions have completely shattered the economy of the Palestinians.

When young girls are reluctant to come to the workshop because of a curfew or because they are prohibited from leaving the house without an escort, Naser is happy to have older women and mothers join in. And she is overjoyed when men are willing to come as well; but it is rare for men and unmarried women to attend the same workshop.

When asked about their ambition in life most young people at the workshop say that they want to die. "I would like to go to sleep and I wish that I never wake up," is a typical response at the workshop.

That is when Naser invites a therapist for further talks with those present - to get Palestinians to speak about their deepest fears and anxieties. According to Naser, it is important for young people to say what they think of the daily violence on the street and in the home. And they must be able to talk about increasing incest within families.

Depending on the situation, Naser also shares her own problems with those at the workshop - her emotional stress, given that her son-in-law is a political prisoner and that most of the men in her family are in trouble with the Israeli authorities. She also talks about how she tries to help her daughter cope with this reality.

At the workshops, she could be singing a song, telling a story or spontaneously pointing out a pretty plant. She could also devote an entire session on a ray of sunlight that has suddenly broken through the high walls erected around them, walls that imprison Palestinians in their own homes.

"As long as I am able to get a smile out of my young audience, I am prepared to do anything. The idea is to keep alive that will to live and for young Palestinians to be relatively optimistic in the midst of war," Naser says with a twinkle in her eye and a sweet, sad smile on her face.

Her happiest moment was after an involved discussion on suicide bombings, when a teenager asked her for an alternative to resist the Israeli military. "The child asked me to teach him a language that would help him to argue his point of view with the enemy instead of blowing himself up as a human bomb out of helplessness."

Palestinians seldom talk about suicide bombings with each other. In fact, to call the act 'suicide' is an insult because the bombers are looked upon as martyrs. But Naser tirelessly repeats at the workshops that the job of a human being is to preserve life, to learn to survive and to try to live with each other. "This life does not belong to us, it is a gift from God. We must always give ourselves a chance," she says, explaining to young people that according to the Koran, whoever kills a human being kills the world.