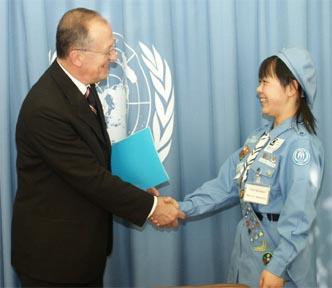 Jun Nakamura is just 16 years old but she is already convinced that the illicit use of drugs by teenagers is one of the most serious problems facing society today.
A junior high school student in the Japanese city of Nagano, Nakamura was recently in Vienna, at the headquarters of the United Nations Office on Drugs and Crime (UNODC). She was carrying a contribution of $US 170,000 to further support grassroots activities against the abuse of drugs especially in the poorer parts of the world - Latin America, Caribbean, Africa, Asia and Eastern Europe.
Nakamura came to Vienna with five other Japanese teenagers who are appointed young civic ambassadors by the Drug Abuse Prevention Centre (DAPC) for their involvement in an intensive, nation-wide campaign to increase awareness amongst youngsters of the dangers of drug abuse. DAPC is a Tokyo-based NGO that has organized fund raising campaigns around Japan since 1994 and collected donations from student performances. The organization has even succeeded in involving the private sector and civil society at large in its campaigns.
Of the six teenage ambassadors this year, four are women, and they expressed grave concern that the abuse of drugs - like stimulants and paint thinners - not only harm individuals but destroy entire families. They feel that it is their own responsibility to make sure that students grow up into healthy and happy adults.
Back in Japan, Nakamura first heard of words like cocaine and psychotropics on television, and later she was impressed with a campaign against drug abuse that was started in her school. As a Girl Scout she was already involved in social work but the gravity of the problem of drug abuse has now inspired her to carry her commitment to the cause, into her professional life.
After school, she plans to continue her studies in psychiatry and dreams of attracting women to talk about their most intimate problems to her. She would like nothing better than to provide an alternative to women who think they have little choice except to drown their sorrow in prostitution, drugs or alcohol. For, the way women will attend to their own problems in life in the future, including problems of alcohol and drug abuse will in the end affect the whole family and even entire communities, says Nakamura.
Worldwide investigations have provided alarming reports on the problem of gender and drug abuse. Even when they are not drug addicts, women are said to be ever more involved in drug related problems and bear far worse consequences than men. According to the World Health Organization (WHO), most reported cases of domestic violence begin with a male aggressor under the influence of alcohol. And most mothers, wives, sisters and daughters tend to hide the abuse they suffer at the hands of men. It is women, often uneducated and ill trained in any professional skill, who are left to care for the entire family when the husband is a drug addict. Some immediately resort to prostitution because it means instant money.
Women are known to take tranquillizers to cope with an unhappy family situation and some are forced to trade sex to support a partner's drug habit, very often becoming drug abusers themselves. At this stage, it is not just women who are exposed to terrible health risks, their children's health is also at risk from sexually transmitted diseases and AIDS.
While men prefer alcohol and illicit drugs, women tend to use tranquillizers and sedatives. WHO has also warned that girls are beginning to use cocaine and marijuana at a younger age than boys, and when in trouble, they seldom ask for help for fear of facing hostile authorities - mostly men. Women also fear that authorities like social workers will take their children away from them if they seek help.
The problem of drug abuse is worldwide, and a comparison shows that the abuse of heroin has increased tenfold and cocaine approximately 28 times. The UNDOC estimates that there are already over 185 million drug abusers in the world today and that the numbers are on the rise.
The drug cartels of South America look upon Japan with great glee as an affluent market for cocaine, even as the country struggles to reduce the demand. The problem of drug abuse in Japan was first noticed in the mid-1940s when the stimulant Philopon, a trade name for an amphetamine, was found to be in constant circulation. A decade later, the menace was heroin, coupled with a very low level of public awareness on the dangers of drug abuse.
In the collective perception of people, drugs are still associated with gangsters and other anti-social elements and seldom with youngsters living with families. The increasing use of stimulants by high school students set the alarm bells ringing, and activities promoting drug abuse prevention have been intensified, especially on campus. One of the main concerns of the DAPC is to engage schools in an exhaustive propagation of the anti-drug abuse concept and the slogan is "Dame Zettai!" or "No, Absolutely No!"
Saori Noyama from Ibaraki is 14 years old and in her time free from studies and the family, she stands on the street to play music for hours. The money she eventually collected from passers by is added to the dollars contributed by the teenage ambassadors to UNODC this year.
Of all the students involved in the on-going, nation-wide campaign against the illicit use of drugs, the DAPC chooses the most active participants as young ambassadors. The chosen youngsters travel every year to Vienna to visit the offices of UNODC where they also exchange information on how
other schools around the world are trying to save their campus from becoming a den of drug abuse.
Over the past decade, DAPC has raised more than $US 3.5 million in support of the work done by UNODC, making the contribution equal to that of a few major donor countries. So far, more than 300 grants have been given to NGOs in over 90 countries that are less affluent than Japan, to try and convince the young of the world not to abuse drugs.