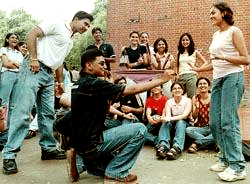 Surprised? What has ragging got to do with a festival like Mood Indigo? Everything! Being the biggest college festival in India, it is arguably the best platform to talk about the burning issues that are plaguing our institutes. Therefore, I am sharing my views on this topic with you in the capacity of someone who has been working for the last 3.5 yrs. towards eradicating this evil from our country. I hope that you would get initiated towards wanting to know more about this issue and take a stance against it.
Let us start with the host, my college. IIT Bombay has taken commendable steps in eradication of ragging from its campus. A monumental effort comprising of both faculty and students is carried out every year to ensure a smooth transition from school and family life to life in a residential college for freshmen. An extremely strict implementation of rules coupled with the maturity of Student Mentors has seen ragging being eliminated from this college. Indeed, IIT Bombay is one of the finger countable rare places wherein freshmen can walk with their heads held high and where we interact with juniors in the truest sense.
But a lot still remains to be done in thousands of colleges across the nation. It is shocking to know that ragging compelled at least four students to commit suicide in the last academic year. And some people still believe that ragging is `harmless fun�!
Physical and sexual abuses are the most common forms of ragging prevalent in colleges today. It is deplorable and shocking to see people supporting acts like these in the name of interaction. `Interaction�, yes that is the word used to justify the humiliation of a human by a fellow human.
The proponents of ragging argue that ragging promotes `openness� and friendship. Indeed, our closest friends are those who were chagrined in front of us. Isn�t it? The best of friendships are cultivated through mutual respect and sustained through love & care. It is ludicrous to expect a `humiliation session� to fulfill this objective, rather it will not be surprising if it has the totally opposite effect.
`It makes us bold and teaches us the `reality� of the harsh life ahead� is put forth as another point in its favor. Certainly, a person just one year senior to me can reform my life in a positive way through these acts! Life has its own ways of letting us know that we need to get stronger. It does not take any senior to hurt my pride for me to find that out. The reasons for supporting ragging are, simply put, ridiculous. Nothing, absolutely nothing can justify this blatant violation of human rights. The victim, many times, loses all self-respect that he or she has cultivated over the years in the blink of an eye being forced to do something which he or she would never dream of doing in the normal course of events.
Ragging as a phenomenon is unique in the sense that the victims are the next perpetrators. Surely enough, repeating what happened with themselves is the central theme operating in the minds of those committing the acts. We all want to project our opinions and experiences onto the world around us, and the junior most students being the most vulnerable targets become the scapegoats. Ragging is definitely `fun� for the senior but it can easily turn into a nightmare for the junior. Nine times out of ten, `tradition� is used to defend the actions, but shouldn�t traditions be changed and modified depending on the needs of the people? Should Sati still continue? Shouldn�t Dowry be abolished?
It is with these driving motives behind us that Coalition to Uproot Ragging from Education (CURE) was formed in 2001. Started by two students, it today has chapters all across India and has member strength of more than 200. (Log on to www.noragging.com or send an email to noragging@gmail.com)
The most interesting statistic is that ragging in educational institutions is prevalent only in India and Sri Lanka. Did someone say that it promotes `interaction�? Interaction my foot! Interaction is possible only when we give the other person the due respect. Interaction is possible only when both the parties are kept at an equal footing. Interaction means discussion & sharing views, not imposing them. Interaction produces light, not heat.
We can surely interact with anyone without instilling any fear in their minds as shown by the efforts put in at IIT Bombay. It is such healthy interaction that is required and one can easily come up with a long list of ways through which this can be achieved. Only a willingness to understand the shortcomings of the existing system is needed as a driving force to look for better alternatives. Ragging has been plaguing our education system for decades. An unknown but significantly large number of people have been affected in some way or the other by this blind annual custom. Isn�t it time that we understood this phenomenon and put an end to it? Isn�t it time that we actually interacted with juniors at an equal level rather than bossing over them and imposing our sadistic whims and fancies on them? Isn�t it time that we break off this unjustifiable tradition?
I would love to hear and discuss your views on this issue. You can contact me on mohitgarg@hotpop.com.