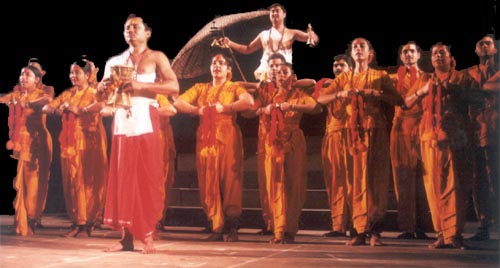 Usha Ganguli has been an angry woman for a very long time. In her long stage career, Ganguli (57) has been 'Himmat Mai' - the protagonist in the play based on Brecht's 'Mother Courage', Jhansi ki Rani (in 'Shobhayatra') and Nora in `Gudiya Ghar' (based on Ibsen's 'A Doll's House') - all roles that spew feminine anger against social discrimination and injustice.

But the role closest to her heart is of Sanichari in 'Rudali' - the professional mourner who could not cry at her own son's death but broke down when friend Bikhini died. In their struggle for survival in an unfair world, the two women formed a lasting bond.

This empathy for women - can it be termed activism? As the character in her autobiographical journey, 'Anaryatra', asks the audience, "Do I sound too much like a naaribadi (woman activist)? But then I am a woman. Isn't it natural to talk about a woman's inner turmoil and her problems?"

Ganguli comes across as a gentle, soft-spoken person with a brilliant smile. As director of the Rangakarmee group, her labor of love for more than 25 years, she chooses plays that focus on social injustice and exploitation of the weak. And importantly, on the woman's place in a patriarchal mindset, portrayed through Sanichari in Mahashveta Devi's 'Rudali', and the neglected girl child in 'Beti Ayee' (a daughter is born).

Rangakarmee (with 300 members) is the only Hindi theatre production company in Kolkata. "I was greatly influenced by my friends who were engaged with experimental Bengali theatre and wanted to reach out to a bigger audience. Hindi theatre till then was the preserve of a few elite." Ganguli also
teaches Hindi literature to college students at Bhowanipore Educational Society.

Her commitment to meaningful theatre has not only won her awards but also a place among distinguished artistes who mirror social concerns. Besides a slew of awards for acting and direction from the West Bengal government, she has also received the Safdar Hashmi Puraskar from Uttar Pradesh's Sangeet Natak Akademi and the national Sangeet Natak Akademi Award in 1998.

How does she see women in theatre today? "Since the '90s, across the country, women have emerged in many areas other than acting - directing, set design, lighting. Women have the power to create and they are doing experimental work. This is a good sign. There is discrimination even in the
world of theatre, but in a subtle way. But today women are educated, they have a strong voice and they protest."

One of her plays, 'Mukti' (Freedom) in 2001 - Rangakarmee's first Bengali play - is based on Mahashveta Devi's story about a woman in her sunset years who has the courage to break free of the shackles of an exploitative society. Ganguli took the 'risk' of casting 60-plus Ketaki Dutt, hugely
talented but shunned after her daring role as a sex worker in a '70s play. Even today, 'Mukti' runs to a full house and Dutt is much in demand. Ganguli also has her ear to the ground. Her latest play, 'Kashinma', is set in Varanasi and reflects the greed of a globalized society.

Ganguli did not train to be a theatre person. Her childhood passion was Bharata Natyam. As a dancer, she performed extensively in India. But in 1970, she joined a drama group and essayed lead roles in path-breaking plays that marked the golden '70s. Six years later, she formed Rangakarmee, an extension of her creative spirit. Ganguli says, "Our family was progressive. I learnt a lot from my mother. She was a very vibrant person. Though a housewife, she danced beautifully at family functions. I believe some of her feelings for the commune have rubbed off on me. I like to take
along everyone with me."

Despite the success of Rangakarmee and her personal triumphs, Ganguli has not abandoned her main concern - her place as a woman in the creative and social milieu. In 2000, as part of the silver jubilee celebrations of Rangakarmee, in collaboration with Sangeet Natak Akademi, she organized a
national convention of women in performing arts. Aptly named Samanvay (Together), the event brought together women stage artistes, folk artists and dancers from across the country to share their experiences and initiate a network across the country.

"We work in our own areas but don't know what the others are doing; we need to get together," was her impassioned plea. Samanvay, however, was no feminist statement, Ganguli reiterated at that time, "This is not merely an encounter between women, for women, and by women - we don't believe in such notions of feminism."