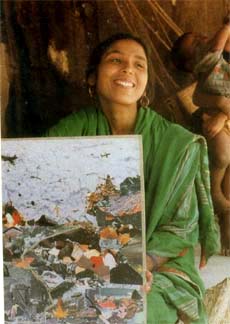 Variously hailed by art critics and others as "a symbol of hope and aspiration", "a barefoot artist" and "a collagist of torn hopes", Shakila Sheikh, wife of a vegetable vendor from obscure Noorpur (about 64 km from Kolkata), is blissfully oblivious of how different she is from the other people in her village.

At any rate, her daily chores do not reflect any difference - unless you count her solitary nocturnal hours of artistic creativity. When asked why she spent the best part of her 30-odd years making pictures that did not assure her of material prosperity, Sheikh simply smiles in embarrassment. Ditto when she is asked to explain the secrets of her technical or stylistic particularities, which have earned her considerable fame in recent years. She has come to accept on faith what others call her rightful place in the art fraternity.

Despite her growing exposure to contemporary gallery culture at home and abroad, Sheikh has never wavered on her choice of themes. These are drawn directly from life - baskets of vegetables, domesticated animals, familiar trees, ducks swimming in ponds, walls around mud huts, winding dirt roads or an occasional aeroplane flying across the wide sky.

Says renowned senior artist and her guru (mentor), B R Panesar: "Shakila's images are original, well-defined and reflect the rural simplicity of her environment. Each work has an underlying meaning and message to it."
Panesar is the acknowledged father of modern Indian collage.

"Each day I create a new image," says Sheikh in the context of her Kali series, through which she portrayed the goddess of destruction in her fearful majesty as the omnipresent protector of her village. In one of her now-famous depictions of the black deity, she imagines Kali stepping out from her temple and standing on the rural rail-track to stop a speeding train from crushing a helpless cow tethered to the line.

She has escaped the wrath of fundamentalists in her own community, thanks to the good sense of the mixed population in an otherwise backward village. Sheikh lives in Noorpur with her sharecropper-vendor husband, Akbar Sheikh, and their three teenage children in a non-too-congenial joint family set-up, in close proximity to his other wife and her children.

Sheikh has learnt to live with such mundane adversities by dint of her moral probity and innate creative inclinations. Her transition - from a childhood existence as the daughter of an indigent mother selling vegetables on the sidewalk to becoming one of the best known names in contemporary collage art - is much like a fairytale. But it has been possible because of her grit and courage, and ability to confront the world with love and compassion.

Deeply introspective and unspoilt by the accolades showered upon her during exhibitions of her work at the best-known galleries of India, Paris, New York, Hanover and Singapore, Sheikh is not a na�ve village woman or
childlike visualiser of directly observed reality. Her social consciousness, too, has often found aesthetic expression in her treatment of themes like violence against women and communal riots.

Her success in creating designs has provoked many queries, particularly among contemporary artists with an urban mindset. Perhaps they find it hard to explain why they are compelled to like the thematically simplistic work of a village artist. The answer seems to lie in the original genius of the non-pigment medium - the meticulously torn and arranged shreds of coloured paper - Sheikh has taught herself to use, lending commonplace reality an abstract dimension.

Says Panesar, "She is an artist by instinct," adding that her use of paper is unique in the sense that she tears strips of coloured paper and folds them in such manner as to give them form and volume.

Referring to her essentially intuitive, unpremeditated process of creation, Panesar once described her as a "living collage". The young collagist is technically aware of the visual effect that can be created by separating two different coloured areas in the process of allowing the frayed edges of torn paper strips. Picasso and Braque, it may be recalled, made use of the collage technique in their cubist constructions with the former purpose in mind. Sheikh has discovered the potential of hand-torn paper for positing natural anti-lines in flat space.

Panesar, once engaged as a statistician working among street children, discovered seven-year-old Sheikh, and the inner eye within her. Clad in tatters and fighting to forget hunger, she struck the older man as a child with a difference. He began supplying her old newspapers in the hope that she would make paper bags and earn a little money by selling them. Instead, the little girl took upon herself the exercise of collage-making with torn newspaper. And when she showed her creative output to Panesar, he took the child under his wing.

Unfortunately, and to Panesar's deep dismay, the budding artist was soon married off by her mother; Panesar had no knowledge of this. Then followed three children at fairly close intervals, and the young mother was increasingly encumbered by household responsibilities.

But Sheikh went back to her hobby, this time depending largely on faint recollections of Panesar's collages. In a way, all this turned out to be a blessing in disguise because Panesar had never tried to influence her work in any manner. So, after a gap of a few years, when Sheikh showed him a bunch of newly-made collages, Panesar decided to seek the opinion of other artists on the quality of her work. The verdict of these senior artists emboldened him to organize shows of the collages. There was no looking back after that.

Sheikh's aesthetic vision of a beautiful, pristine rural ambience is all her own; it stands in sharp contrast to Panesar's thoroughly urban view of things fraught with ecological degeneration. The younger artist's individuality consists, however, in her self-acquired and highly original technical mastery over the art of tearing paper to project commonplace objects in their abstract incarnations.