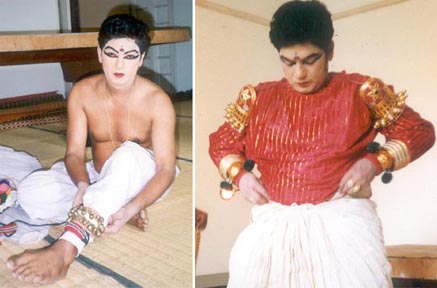 The music slowly fades and Queen Suruchi, mother of mythological boy king Dhruva, enters the stage. She effortlessly portrays maternal affection and anguish over her son in the dance drama, 'Dhruva Charitram'. Graceful in step and appearance, no one would guess that she is actually a man.

Says dancer N Srikanth, who plays Queen Suruchi in Bhagvata Mela Natya Natakam's presentation of 'Dhruva Charitram' this year, "I try to forget myself in the role. I read as much as possible about the role I am playing and emboss it on my heart. I do research on the costume, decor and jewelry. It's my passion. There is no doubt that capturing the audience while playing female roles takes greater effort on part of the actor. This is the purpose and aim of the art form."

Srikanth is an expert at Samavesham (which means 'equal costume'), a folk style in which men play
female roles and vice versa in dance recitals or dramas. While women, due to societal pressures and demands of motherhood and domesticity, are rarely seen in Samavesham roles today, men continue to perform with exuberance.

Says A Mangai, theatre and gender activist: "Samavesham is not about cross-dressing - I find the term inappropriate and irritating. A dignified performance by a male actor can move and fulfill you. They are truly amazing. Offstage, a better gender understanding happens subconsciously."

Essaying female roles appears to have brought male performers - and directors - closer to social
issues. One episode of the 'Mahabharata', where Keechaka tries to molest Draupadi, is peppered
with messages against promiscuity and how to prevent AIDS. Similarly, in an episode from the
'Ramayana' - Ravana's abduction of Sita - messages against eve-teasing and molestation are woven
into the script.

In folk forms such as Yakshagana and Therukoothu and even a classical dance form like Mohiniattam - where Samavesham is often required - the best young students are chosen for female characters. It is considered a special skill. Earlier, the male actors/performers even grew their hair long in order to look the part better.

P Rajagopal, a third-generation Kattaikuttu actor and founder of a theatre school for children in Perungattur village, Tamil Nadu, says he did a lot of female roles as a young actor. He says female roles forced him to understand the female gender better.

K Rajasekharan, vice-president of Kerala Kalamandalam, who is renowned for his Minukku (woman)
characters, says, "Female roles in Kathakali (also a classical dance form) are a challenge for any artiste. There is a complex synthesis of stylisation and realism. From the beginning, I was inclined towards female roles. My gurus encouraged me to handle female characters."

Though the actors claim to be more gender-sensitive, the roles they essay continue to be of weepy
female victims or superhuman goddesses. One reason for this is the stories they enact are usually
from ancient mythological texts in which women were cast in stereotypical roles.

Sometimes, certain women characters are included just to add sex appeal to the drama. Male actors dressed as women act raunchy and sensuous - something a woman performer would rarely do.

Such practices may have been avoided had women continued to be part of Samavesham. Historians and activists claim that women were discouraged from participating because performances became
all-night affairs, and because of poor sanitation and changing facilities.

Interestingly, Samavesham male actors are actively supported by their families. Natarajan, lead actor of the all-male Bhagavata Mela, says, "Although my wife is as well-versed as I am in Samavesham, she cannot perform because women are not allowed anymore. She helps me in my performance. She takes care of all the costumes and administration. My daughter trains the other dancers and handles the documentation."

In Samavesham, art appears to overcome gender barriers. Cultural activist V R Devika says: "Without a sense of voyeurism and a layer of moral disdain, can we see in these expressions an ability and a way - a marker, perhaps - on how to be comfortable with gender? We as individuals, every one of us, perform our gender roles in some way or another in our daily lives, many times unknowingly. Samavesham gives us a chance to reflect, engage and meditate on gender per se and then within ourselves."