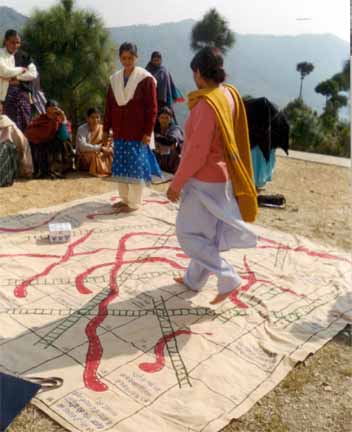 When Pushpa Rana was elected gram pradhan (village council head) of the Attakfarm panchayat in the hill state of Uttaranchal in north India, she vowed to work for the betterment of her community. To keep herself well informed, she made frequent trips to the block office to find out about all the development schemes earmarked for her panchayat (village council).

But whenever she visited the block office, neither the Block Development Officer (BDO) nor the other staff would offer her a chair (they remained seated themselves). Finally, one day, she gathered up her courage and asked the BDO: "Sir, should I get my own chair the next time I visit the block office?" The embarrassed BDO got the message and immediately offered her a seat.

There are probably hundreds of examples of gender prejudice that elected women (panchayat functionaries) confront in their day-to-day work. And in the little over four years that Uttaranchal has been in existence (the state was formed in 2000), elected women in villages have been challenging and dealing with such prejudice in various ways. Today, the state has 39 per cent representation of women in panchayats. Uttaranchal has a total of 7,227 gram panchayats.

There is Sunita Devi - pradhan of Bugaintalla village in Pauri district - who fixed "equal wages for equal work" for both women and men workers in her Panchayat. Natho Begum, from a poor Muslim family, fought against class and gender barriers to lead her panchayat on the road to development. Others like Pushpa Rana compromised their principles and bargained with corrupt officials to bring down their "commission" or kickbacks out of development funds from 30 to 15 per cent. The bargain was struck with the aim of getting development schemes off the ground, and to gain the panchayat's confidence.

Meenakshi Bhandari, the pradhan of Kulyani village in Pauri district, says that a few years ago only three or four women pradhans could be seen attending block meetings, even though about 35 women members should have been present. This situation often made things difficult for her because Bhandari had little support whenever she challenged the men. The attitude of the male block officers did not help either. On one occasion, she says, the BDO passed a snide remark after which all the men at the meeting laughed at her, making her feel uncomfortable and helpless.

In 1993, the Indian government passed the 73rd Constitutional Amendment Act which upholds the right of women to participate in political governance at the rural level and stipulates that 33 per cent of the seats be reserved for them in local self-governance. In 1995, a Dehradun-based NGO, Rural Litigation & Entitlement Kendra (RLEK), filed a public interest writ petition in the Supreme Court against the states of Uttar Pradesh, Himachal Pradesh, Orissa, Tamil Nadu and Bihar as well as the Union Government. The panchayats in these states, said the petition, had violated the 73rd Constitutional Amendment Act and deprived women of the minimum 33 per cent representation.

The apex court upheld RLEK's plea and ordered these states to dissolve the illegally continuing panchayats and hold fresh elections. All these states, except Bihar, have since held panchayat elections. Meanwhile, RLEK launched its panchayati raj (local governance) unit in 1995, focusing on politically empowering women in the Garhwal region of Uttaranchal. And in 2000, it widened the scope of its operations to cover the entire state under the aegis of the Panchayati Rule and Gender Awareness Training Institute (PRAGATI).

The objectives of PRAGATI, says RLEK Chairperson Avdash Kaushal, are to raise women's consciousness of political rights guaranteed in the 73rd constitutional amendment. It endeavors to make women aware of their rights with regard to social, economic and political institutions, develop their leadership skills and lobby for policy-level changes. It also works towards ensuring women's rights to inheritance and maintenance in the event of divorce.

PRAGATI also imparts election training to women in three stages - responding to their training needs before, during and after elections. Up until now PRAGATI has trained 19,750 women. After the formation of Uttaranchal, PRAGATI extended its work to all 13 districts of the state. Open forum meetings are organized each year in Dehradun and Almora to facilitate communication among the elected women, and with policymakers, says Rekha Pundir, a trainer from Chamoli district.

An integral component of the training program is gender and reproductive health, information dissemination and development, legal literacy and economic empowerment through self help groups (SHGs), says Pundir. Given the culture of "pradhan-patis" (husbands of women representatives) - through which the husband runs the panchayat in his wife's name - the role of SHGs assumes significance. Says Shalini Verma, another trainer from Dehradun, SHGs often function as pressure groups to ensure that a genuine woman candidate gets the reserved seat.

The gram panchayat of Meher village in Tehri Garhwal district is a case in point. Here, Meena Devi was elected pradhan, a post that was earlier held by her father-in-law. For some time, Meena meekly submitted to her father-in-law's decisions on running the panchayat. But since the women's SHG was formed in the village, she has found a forum to voice her discomfort over her father-in-law's interference in her work. While this may be a small step, it nevertheless indicates a breakthrough in a conservative society where women previously had no voice in decision-making at the level of the community.

PRAGATI's training module, says Pundir, is participatory in nature. Games and group exercises form important learning tools. "We have made our own games to create awareness on different issues such as health, hygiene and gender rights. For instance, a game on health will show how washing hands before eating is hygienic. Or that children who are not vaccinated in time fall prey to all kinds of diseases," she explains.

Women are also provided with books that explain, in simple words, the rights of panchayats and the various schemes being offered by the government. Also in the kit given to women are posters on malnutrition, health, panchayati raj and HIV/AIDS. A pre-paid, stamped postcard addressed to RLEK or PRAGATI is also in the kit, so that elected women representatives can contact the NGO for any assistance or clarification.

The struggle to gain acceptance and respect as village leaders is still an uphill task for many women panchayat members in Uttaranchal. "I thought I was the right person for the job because I took a leading part in the movement (the struggle for statehood of Uttaranchal)..." says Sunita Devi. The struggle for acceptance remains, but her story is an inspiration to future generations of women leaders. Undaunted by an electoral defeat - in which she pitted her fortunes against three men - Sunita went on to win the next election.