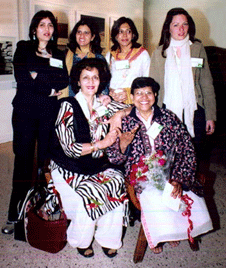 Slowly but surely, women photographers in India are making their mark in a profession that has been, and still is, dominated by men. And to acknowledge this fact, brand Fuji has recently embarked on a program to honor six women photographers through 2005. The six women - Sarvesh, Sumiko Murgai Nanda, Renuka Puri, Leena Kejriwal, Olivia Arthur, and Rita Sawhney - have been selected on the strength and variety of their work.
A series of Fujifilm Super Six photography exhibitions are scheduled to be held in at least 6 cities of the country in 2005. Showcasing an extremely striking collection of visual images by these six women, the first of these exhibitions was held recently at the Lalit Kala Academy in New Delhi. Also, Fujifilm is using the images of these six photographers in their calendars, diaries and ads.
"Women, in their images, manage to draw attention to details that otherwise go unnoticed. The way their camera eyes a visage is definitely different from the way a man's does," says Avinash Pasricha, a well-known photographer, and a speaker at the inaugural event of the exhibition in Delhi. "Moreover they manage access in places - people's homes and hearts alike - and thus manage pictures a man can never get," he adds.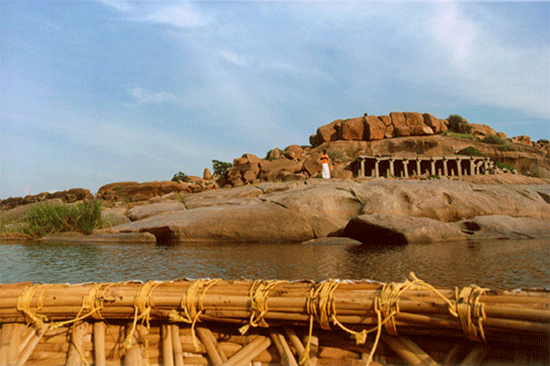 Many of the visual images at the venue seemed to reflect Pasricha's observation. An example is an image by Sarvesh - a little girl holding a tree, looking up and laughing gaily - titled 'Looking towards the Future'. Sarvesh, a self- taught, freelance photographer who began in 1989 has covered subjects such as the Sitamarhi riots, the Uttarkashi earthquake, coal mines in Bihar, a Himalayan Car Rally, and the war in Kargil.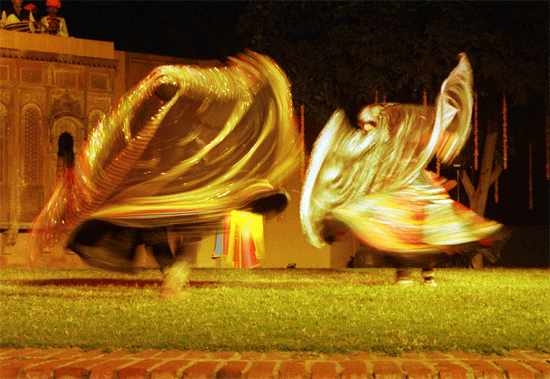 Renuka Puri, a staff photographer with Indian Express, has won many accolades for her pictures of the inmates of Tihar jail in Delhi. "I was attracted to cameras and photographs since childhood, so becoming a photographer was a smooth progression from being a painter that I was to begin with," she says. Puri was among the first to get a picture of the bloodstains near the police post when, in October 2002, five dalits were lynched and beaten to death by a mob in Haryana, over the issue of skinning a cow. And she still recalls being assaulted along with four other fellow journalists by plain-clothes policemen during an assignment to photograph a politician in 1996. "Press photography though suits single women better, but if one is willing to become rough and tough there are no full stops in this profession," she says.
Pasricha recalled a time 12 years ago, when Sumiko Murgai Nanda had come to him to learn photography. He had actually discouraged her - "I felt she just wouldn't be able to do the grind," he says. "But today there are some of her frames that I would like to try my hand at too." Nanda is now a leading fashion photographer, successful, famous and known for her sense of composition, unusual frames and psychedelic prints.
"It hasn't been easy though," says Nanda. "Being a woman I had to first prove that I could do the work - click pictures and handle the demands to get an assignment. And the second step was to prove to the market that I could handle big projects too, as it was universally felt that bigger production work needed a man's vision. But if one keeps at it and delivers good work, people come round and accept you and then your gender ceases to matter."
Leena Kejriwal agrees. "Earlier, lots of women stayed away as photography was considered a profession that demanded a lot of moving around and hauling heavy equipment, besides being expensive to learn and pursue. But really, there are assistants even for male photographers. So this is really no handicap," she explains.
A licentiate member of the British Institute of Professional Photography (BIPP), Kejriwal has four solo shows to her credit, and the next one is to be held in France. She likes people, so portrait photography makes up a lot of what she has done. "I try to capture and convey what they are feeling at the point of the click. And being a woman, I feel, helps my subjects relax which makes for great frames."
Rita Sawhney is a grandma. Thirteen years ago, she acquired a camera, attended courses in photography and started illustrating her travel stories for various publications with pictures she took herself. Today, her natural landscapes are much in demand.
The youngest of these six women photographers is Olivia Arthur, a documentary photographer from Britain, based in Delhi since 2003. At the exhibition, Arthur's photographs of the Yamuna river are from her ongoing series. In 2001, she received The Guardian 'student photographer of the year' award.
So, even as the profession continues to be dominated by the men, these six women photographers and other like them have demonstrated that a combination of perseverance, talent, grit and dedication does bring success and achievement.
After all, all women photographers can borrow a page from the determined life of Homai Vyarawalla, India's first woman photojournalist who started out in 1938, and had to learn everything on her own.