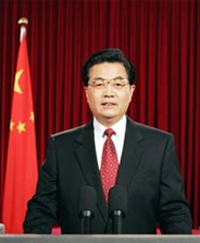 China's President Hu Jintao is scheduled to visit India from November 20,2006 on a four day visit; his first visit to India. Normally, a visit by the Chinese visit would have raised high expectations as it would have accorded a historic opportunity for China to mend fences with India on the border dispute with India. This should have been a strategic compulsion for China keeping in mind that China today needs India's friendship with India more than India needs China's friendly relationship.
Writing more than a month back on another website (www.saag.org) before the scheduled visit on the perspectives of the Chinese President's visit to India I had commented that his visit would be devoid of any historic breakthroughs and that the visit would be just another 'politically correct' event in the chronology of Sino-Indian interactions. Further, that there would be a lot of political rhetoric on the historic ties and friendship between China and India and a large number of inconsequential agreements would be signed as a cosmetic cover for lack of any substantial headway on the border dispute.
In two subsequent papers on that site it was highlighted that China's strategic preferences in South Asia in favor of Pakistan had not changed and that in a recent high-level academic discussion in Beijing, former Chinese Ambassador to India had stated that China could be magnanimous on the border dispute settlement if India could swap Tawang (read Arunachal Pradesh) in lieu of Aksai Chin in Ladakh Sector. The strategic significance of Tawang Region (Chinese for Arunachal Pradesh) was highlighted for India's security and recommended that India should never accede to such Chinese demands.
Indian news-media this morning (November 14, 2006) have carried reports that the Chinese Ambassador in India in an interview to an Indian TV Channel has demanded that India should return Tawang to China. He further amply clarified that when China talks of Tawang it means the whole of Arunachal Pradesh.
The Chinese Ambassador cannot be said to have committed a diplomatic gaffe. It is a deliberate diplomatic step taken by China and coming just a week before the Chinese President's visit is meant to convey a lot of Chinese symbolism. It clearly indicates that China is not willing to be accommodative on a border settlement with India nor is China going to be mindful of India's strategic sensitivities. China also wants to make it clear that the border settlement with India will be on China's terms only.
China through such an arrogant assertion has betrayed its intentions that it intends to continue to use the border dispute as a strategic pressure point against India. And to rub this point home, China will sign substantive agreements with Pakistan in the nuclear and defence fields which is the next stop for the Chinese President after New Delhi.
There was a growing community in India advocating that China was sincere in building strategic relations with India and this advocacy was being spearheaded by the Communist Party of India (Marxist), the main coalition partner of the ruling Congress Party in India.
Their eyes should now hopefully open to the strategic reality that China is no friend of India and China's strategic priorities in South Asia in favor of Pakistan have not changed and that it would continue to use Pakistan as a foil against India.
The United States too may like to revise its official assessments on Pakistan's strategic utility to American strategic interests.