Canada's 38th Parliament has 10 Members of Parliament of South Asian origin. Three of them form the trio of first women of South Asian origin in Parliament. While Yasmin Ratansi and Ruby Dhalla won as Liberal Party candidates from Ontario, Narinder (Nina) Grewal is the Conservative MP from British Columbia. Functioning in a traditionally male-dominated aggressive field, these women offer a role model for others. Their perseverance and hard work through multiple struggles as immigrants and women of minority communities has made their journey to Parliament Hill possible.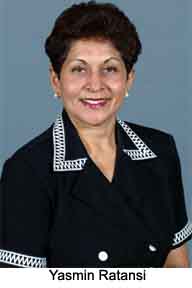 Yasmin Ratansi, 53, remembers when her detractors wrote her off as 'Muslim', 'woman', 'immigrant'. She says, "To people who like to label others I say: Canada is a land of opportunities. So work hard and make things work for yourself. I took things as a challenge. I always remembered what my father used to say - 'Struggle is the meaning of life, victory is not in your hands'."
Ratansi came to Canada in 1974 as a university graduate from England. Born in Dar es Salaam, Tanzania, she is a third generation South Asian living out of Asia. Her grandparents migrated to Africa from the Kutch region in Gujarat, India. She says, "When I came to Canada, I realized this is a country which offers rich diversity. I fit in well. I was an Asian born in Africa who went to study in former colonialist England, and was a Muslim. With such diversity inside me, Canada was a natural place to settle and since my move here I have never considered myself as anything but Canadian."
Fourteen years after coming to Canada, Ratansi stood for federal elections but lost. She persevered for 15 more years to run again from the same constituency of Don Valley East in Toronto, Ontario. In the June (2004) federal elections, Don Valley East was one of the closely watched contests. The fight was tough with the Conservative Party having fielded a heavyweight former Cabinet minister, David Johnson. But Ratansi emerged victorious.
A general accountant and a management consultant by profession, Ratansi comes across as a confident person. She asserts, "I have never looked at politics as a male domain and have never considered my fight different because I am a woman. I have taken things as a challenge. As an MP, I feel that I am sensitive to certain issues because I am a woman."
Talk to her about her riding (constituency) and you find that she is not a standard stump speech-always-ready kind of politician. "My priority areas are providing adequate day care for children, housing, and helping single mothers. Given that there are a number of new immigrants in my riding, recognition of foreign credentials and language training remain on the top of my agenda."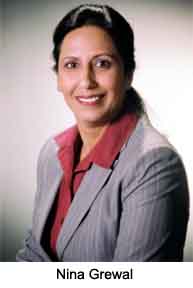 Women's issues remain a focus area for Nina Grewal, 46, as well. She and her husband, Gurmant, are both MPs - a first in Canadian Parliament's 137-year history. Grewal is quick to clarify that being a couple in Parliament does not mean that she is willing to be overshadowed by her politically experienced husband. She says, "People say that if they are husband and wife they will think alike. This is not how it works for us. We are a team so we take advice from each other."
For Grewal, the path to politics was not predictable. She was born in Osaka, Japan, where her father was a businessman. When she was four-and-a-half-years-old when her family moved to Liberia, West Africa. Nina was sent to Shimla (India) by her parents where she studied in the Convent of Jesus and Mary. She finished her college degree in History and English Literature in India before getting married in 1982 ("My father placed a matrimonial advertisement in 'The Tribune' newspaper and Gurmant's parents responded.").
After marriage, the young couple moved to Liberia where their sons Japjot and Livjot, now 19 and 21, were born. In the 1990s, when civil war broke out in Liberia, the family made the difficult decision to move to the UK. "From the UK, we moved to the USA where we stayed for a year and then came to Canada in 1991." Within a record period of five years, her husband was chosen MP from British Columbia. "At times, when Gurmant had a tight schedule, I would attend functions and give speeches on his behalf. This was good political training."
On her website, Grewal describes herself as a 'simple person with deep values'. She says, "It is difficult being a woman in politics as I have to work outside and manage the house." She says all her life she has managed such challenges. "It was difficult initially when we immigrated to Canada. We faced new challenges every day."
Ruby Dhalla, MP from Brampton-Springdale riding in Toronto, Ontario, was born and raised in Winnipeg, Manitoba. Her parents immigrated from Jullundhar where her family continues to keep their ancestral house. Says Dhalla, "Jullundhar remains my favorite place in India. When I was growing up, we would go there every two years." In 1999, she Dhalla graduated as a doctor of chiropractic in Canada.
The same year, she decided to pursue her Bollywood dreams. She went to India for six months and travelled to Delhi, Mumbai and Pune, hosting television shows and commercials. She also acted in a Bollywood movie, '
Kyon Kisliye
'. She remembers, "Places like Delhi and Mumbai are tremendous fun as the people in these cities are progressive and are easy to get along with."
This year (2004) when Prime Minister Paul Martin chose her to represent Brampton-Springdale, there was opposition from the executives in her riding association. Dhalla (who is single), was contesting against candidates who were senior to her in age and experience.
"What worked to my advantage was that I have a deep knowledge of important issues in my riding. I had debates with my opponents and it was clear to the people that I could not only understand their problems better but also come up with solutions from a fresh perspective." She says, "After winning, I received a lot of congratulatory calls. Women are excited both in Canada and India. If I can be a source of inspiration for women in India to join politics there can be no higher honor for me."
Dhalla says she is planning to visit India soon "hopefully with the Prime Minister". Ratansi, too, received an invite from Indian parliamentarians at the recently-concluded Commonwealth conference. She says, "I would like to visit Rajasthan as well as Punjab because I have heard such good things about them."
Nina Grewal is equally enthusiastic about her connections with India: "There is always a special bond with India." Whenever she travels to India, and as soon as the airplane lands, she becomes emotional, she says. "It is hard to explain in words what I feel for India."