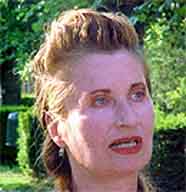 The prestigious Nobel Prize has probably posited Austrian writer Elfriede Jelinek, 57, with a paradox she has been parodying all her life. She is surprised and honored, she says, at winning the 2004 Nobel Prize for literature but is terribly shy of the attention of the whole world upon her. In moments such as this one, Jelinek is said to feel at odds with herself.
Jelinek's aversion to egos that glow only under the glare of public adulation is well known and so is her lifelong struggle to turn her soul inside out so that ultimately she becomes what she is. At this hour in her life when the world waits to adore her, it is considered very "Jelinek" in Vienna for the great writer to withdraw from all the razzmatazz. And it is not difficult to imagine her agonizing by herself, wondering whether the world today wants her because it loves Jelinek or art?
It is easy to visualize Jelenik struggling in seclusion somewhere, wherever she has fled from her picturesque home on the edge of the imperial city of Vienna. Jelinek has left Vienna for the moment in search of calm elsewhere, away from the pond outside her glass windows and away from all the birds, desperately trying, one imagines, not to resemble people that she has spent an entire lifetime panning.
Of people like actors, she says they are, "People who disguise themselves, who drape themselves (with) attributes and who arrogate a double life to themselves."
In as essay titled, 'I want to be Shallow', Jelinek has written, "...Everybody hopes, after all, that as many people as possible will look at him, as he struts through the world, regulated by magazines and their pictures, like a well-greased machine. Let's become our own patterns, and sprinkle snow, meadows, and knowledge with - with what? With ourselves! That's how everything is alright."
Jelinek says she suffers from social phobia and will not travel to Stockholm to personally receive the prize, money and diploma from Sweden's King Carl Gustaf XVI, at a glittering, formal event to be held on December 10, 2004. She has promised to write something to be read out on her behalf at the ceremony.
She is not going to Stockholm because she is in no mental shape to withstand such ceremonies. It is suspected that Jelinek is often unable to cope with the worldly ways because her very ambitious and dominating mother did not allow her emotions to flower when she was a child. When faced with hypocrisy and in the company of far too many people pretending to be truthful and kind, she continues to feel helpless.
To be able to express the damage done by pretentiousness, Jelinek has invented an entire new language. She insists that there is little hope to make the world a better place if people continue to pretend that all is well, to decorate and drape problems in ornamentation as if they did not exist.
The Nobel Prize is hers today because (as the selection committee put it) those who gave it to her were able to discover "the musical flow of voices and counter-voices in novels and plays that with extraordinary linguistic zeal reveal the absurdity of society's clich� and their subjugating power."
"Jelinek is threatening, she is uncompromising; but she is also the most relevant social analyst I know. Her strength is the way she uses words. Often her language is crude, vulgar and not aesthetic but life is reduced to just that by us. We must take the responsibility," says Edit Schlaffer, leading Austrian feminist, social scientist and author of 'Mothers Make Men'.
The work of Jelinek is critical of capitalism and consumerism in its various phases. She is also bitterly critical of the patriarchy and the unwillingness of Austria to look into its involvement with fascism in the 1930s, which climaxed into the Holocaust during World War II. To protest the potential rise of neo-fascism, she forbade her work (plays) from being staged in the country after the right-wing party of Jorg Haider was allowed to share power in the Austrian government in the 1990s.
Her most well-known work from the feminist phase is 'The Piano Teacher' which was made into a film two years ago with Isabelle Huppert, the French actress, playing the lead role. The semi-autobiographical film is criticized for its masochism and the sexual voyeurism of a 40-year-old piano teacher who seduces a much younger male student. However, the physical aggression of the piano teacher and her questionable sexuality seems less odd (although equally repulsive) once the gender of the couple is reversed. For the ancient story of men in authority using women to play out their sexual fantasies and exercising power over all those who are weaker than them is a stale theme.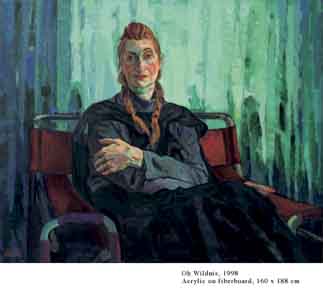 The character of the piano teacher's very controlling mother is part of Jelinek's unforgiving habit of holding everyone responsible (including women) in playing the cruel and hypocritical games dominating society today.

Jelinek is a playwright who is artful with words. About plays, she says, "I don't want to play, and I don't want to see others play, either. I also don't want to get others to play. People shouldn't say things, and pretend they are living."
Says Xenia Hausner (a Vienna-born artist who painted Jelinek in 1998), "Jelinek is a feminist, communist and a pacifist but above all she is an artiste who is able to blend her politics and matters that concern the majority in society into a kind of art that is very original."
Hausner first saw Jelinek two decades ago in a Vienna restaurant and the face kept haunting her. According to Hausner, Jelinek's personality and her face is not one that most men would promote as a perfect product; it is that of a woman whose world-weary way of speaking and chiseled physical features reflect an inner strength.