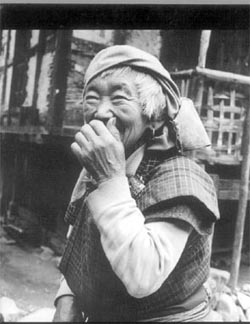 Photography for Purnima Rao has been an extension of deeply held personal and political views. For over two decades, Rao has been photographing women living difficult lives. Her visual explorations of ordinary women take her deeper into the realm of identity and self-analysis: "In the 30 years of being a photographer, the social responsibility of creating images has always been important to me. Despite the inherent voyeurism of the medium, I try to represent people as they choose to be represented."

She recalled a time when activists in Mumbai were helping poor women to get their identity cards made. They found many women enthusiastic about being photographed, seeing the photograph as a recognition and validation of their identities. Thus the 'I-card' took on a significance beyond its technical meaning in male-defined society.

Photographer Sarvesh's work appeared very striking - from a Bedni's vigorous dance in Madhya Pradesh to the proud tribal woman from Jharkhand, widows in white sarees and schoolgirls in blue uniforms. As striking as her pictures is Sarvesh's own story. Married at 17, she left a violent marriage after 10 years, moving initially into a women's shelter. Then began the tough struggle to secure a livelihood. Fifteen years later she is an award-winning photojournalist, who has documented the Kargil war, earthquakes in Bhuj and Uttarkashi, majestic mountains and human profiles.

For Renuka Puri, who has clicked women in Tihar jail, photography helped her learn something new about life. She noted in her introduction to her work, "There was a real sense of bonding among the women (in Tihar).... For many of them, life here is much better than their lives outside."

When the work of 11 photographers is exhibited collectively, the quality is bound to be uneven. Olivia Arthur's work stood out for its poor composition and abysmal aesthetics. Clearly, being a woman is not sufficient guarantee for belonging. Artistic maturity and deeper involvement with the politics of the medium are called for.

Two younger photographers - Anita Khemka and Sonia Jabber - appeared to have this in plenty. Khemka's 'Living With HIV' was a powerfully moving series. Khemka's poignant black and white pictures bring out the courage and simple dignity of the lives of HIV+ people.

Jabber, a human rights activist, used her camera as a diary while traveling extensively in Jammu and Kashmir, pursuing the basic question - how do women survive violence, how do they live their daily lives under duress? Her photographs showed women praying at Charar-e-Sharif - the famous shrine gutted in 1995 and rebuilt in 2000. Women throng here to unburden their load of grief, to hope, pray and find solace. She had a picture of women praying at the shrine of Lal Ded - Lal Ded to Hindus and Lalla Sharif to Muslims. Her images of the participants of the Association of Parents of Displaced People (APDP) meet - launched by mothers whose sons are missing - were very moving. As she noted, these mothers channeled their grief into action.

Serena Chopra's photographs of people in Bhutan were charming. Delightful images brought alive a way of life imbued with philosophical depth. "The wisdom and compassion of these Buddhist people and the land they inhabit has drawn me back again and again.... They welcome change and modernization only so long as it does not change their values and their ethics."

The organizers plan to take the exhibition to a number of Delhi schools and colleges.