Everyone in Edamelaiyur village in the Thiruvarur district of Tamil Nadu knows where Selvamani Valarmathi lives. This is unusual as most village women in India are known as someone's wife, daughter or mother. But Valarmathi's identity as a special woman farmer is established in the area.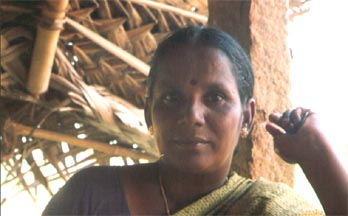 Valarmathi, 45, is one of those rare women farmers whose work is recognized by leading agricultural research institutions. She received a district-level award for being the best soya-grower in the area. The Tamil Nadu Rice Research Institute, near Kumbakonam (Thanjavur district), is full of praise for Valarmathi for having managed to obtain a very good yield of rice by trying out a new method of cultivation - the System of Rice Intensification (SRI).
The SRI method was evolved in Madagascar in the 1980s. In India, it was first tried out by the Tamil Nadu Agricultural University in 2001. The SRI method is being popularized by the government in states like Andhra Pradesh and Tamil Nadu. It is considered a more eco-friendly method of cultivation and its high yields can help the community overcome food insecurity.
Conventionally, rice seedlings are transplanted from a nursery after they are more than a month old. The seedlings are usually transplanted very close to each other, which causes intense competition amongst them for nutrients and other resources. In the SRI method, 14-day seedlings are transplanted leaving enough space between two seedlings. This allows each single plant to grow profusely. The SRI method does not require the purchase of new seeds or the use of new high-yielding varieties. Neither does it require chemical fertilizers or pesticides.
Also, conventionally, paddy (or rice plants) remains in water throughout the season. But new research says this method damages the roots and prevents the plant from growing to its full capacity. In the SRI method, farmers use 40-50 per cent less water for cultivation.
We met Valarmathi in her rice field. She first tried the SRI method in September 2002 on an acre of land. The agricultural scientists in the state had heard about her expertise in farming and encouraged her to start using the SRI. She prepared the nursery herself and used material like gypsum and neem cake (made with neem seeds) to fertilize the land. She then transplanted very young seedlings, using very little water and spacing the seedlings well. That year, there were around 25 tillers (green shoots) per plant on an average. Conventionally, a plant does not get more than six tillers. The rice yield was around 7.5 tonnes per hectare, though the area does not report more than 3.5 tonnes per hectare.
"There was so much produce, that with one sweep of your sickle you could not harvest the whole plant - you had to cut each plant three to four times to cover all the grain," she described.
In 2003, Valarmathi decided to try out the SRI method again, and this time on four acres of land. She followed the same procedures and things went well enough for the first fortnight or so. Then, several things happened at once. Her husband, who is a road contractor and active in local politics, met with an accident and was hospitalized. Her daughter's marriage also kept Valarmathi busy for a while. When she returned to her paddy field (after a gap), she was shocked. "I could not distinguish between the weeds and the main crop. Because of abundant weed growth, the rice plants had not grown well," she says, regretting that she scaled up too fast.
The SRI method is Labour-intensive and requires skilful management: transplanting has to be done carefully and weeding has to be checked. Weeding takes place because of the space between seedlings.
But despite the setback, male farmers were inspired by Valarmathi. Today, around five to six farmers follow the SRI method in the village.
Valarmathi is the only woman farmer in her village. Although the land is not in her name, Valarmathi takes all the decisions about farming. She started farming after marriage as her husband was too busy to take care of the land. Today she runs the whole show on her own - she knows officials in the local agriculture department by their names and designations, which is again rare amongst Indian farmers, leave alone women farmers. However, she says her responsibilities towards her husband and three daughters don't give her the luxury to innovate that her male peers enjoy
Like several Indian farmers, Valarmathi is also running up agricultural debts. But she does not believe that committing suicide will solve anything. She is confident that she will survive.