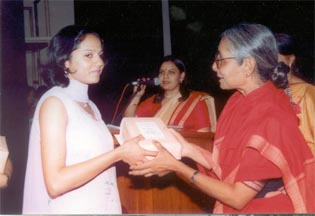 She was declared the Best Athlete at the Daulat Ram College annual athletic meet in Delhi, in 2003. A final year student of B A (Journalism) at Lady Shri Ram (LSR) College, Delhi, she is also the college sports president, captain of the LSR athletics team, and a gold medalist in swimming at the national level. Meet Jyoti Maggu, 23, an aspiring journalist who is over 90 per cent blind.

And even as you marvel at this wispy, five feet three-inch figure for her sheer gumption, comes the clincher - she also represented India in athletics (100, 200 and 400 meters sprint) at the IBSA (International Blind Sports Association) games held in Quebec, Canada, in 2003! In fact, this talented young woman was one of only four women athletes selected from across the country to represent India.

In the fiercely competitive world of contemporary sports, where nano seconds are known to make or mar careers, how does Jyoti manage? "My lack of vision is my strength," she states. "In fact, I'm constantly pushing the bar up for myself. When I used to win sporting events in school, the aim was to reach the state level, then national and then I couldn't rest till the international benchmark was achieved. Now I want to compete with the fully-sighted."

Not that the athlete's journey to fame has been without its quota of heartbreak. Or ostracism. When she suddenly lost her vision as a seven-year-old due to retina pigmentation, her school forced her to leave, recalls Jyoti. "The whole world then conspired to pack me off to a 'blind school'. But that would have tagged me as a 'disabled' for life. So I was adamant about going to a 'normal' school. And do all the things that fully sighted people do."

And she did so. In fact, when a slew of private schools in Delhi spiked her admission form, Jyoti chose to sit at home for three years rather than attend a special school. Things weren't made easier by the fact that her small-time entrepreneur father, with his limited financial resources, had to take care of her two younger siblings apart from running around schools with the visually-disabled Jyoti.

Finally, seeing the girl's doggedness, Bluebells School took her in. But though she finally made it to a 'normal' school, she was marked. Her image was that of 'the blind girl', the underdog. And nothing beyond that. "I was determined to shake off that tag," says Jyoti. So she made academics her focus. And notched up a respectable score of 73 per cent in her Class 12 board exams, with the help of special interactive books, extra coaching and a bit of Braille.

That shored up her confidence. And she slowly started warming up to extra-curricular activities - she even modeled for designer Ritu Beri, though it was sports that topped her agenda. The turning point, however, says Jyoti, was her admission to LSR via the disability quota. "The cut-off percentage that year was 79 per cent for journalism but I got in with just 73 per cent because of my attitude and achievements in sports," she says.

At the college, international swimming champion Meenakshi Pahuja, who is also LSR's sports instructor, took Jyoti under her wing. And nourished her ambitions. When the girl started winning laurels in intra-college events in sprints, long jump, high jump, shot put, javelin and discus, she was sent for inter-college competitions. There too, Jyoti bagged a cachet of medals in various sporting events, topping it off by being crowned 'The Best Athlete of the Year' in 2003 at the Daulat Ram inter-college annual athletic meet for the blind.

But of course the cherry on the cake was the selection by IBSA in 2003 - from among 400-odd athletes - to represent India at the World Championships and Games in Quebec. "It was tough," recounts Jyoti. "I had to attend sports camps, take meticulous care of my diet, practice for long hours, manage my studies, and officiate as the college sports president!"

And as if all this wasn't a plateful, Jyoti suddenly discovered the pleasures of swimming in 2003. Spurred by Pahuja, she created a splash there too. When the Fourth National Swimming Championships were announced last year - in which 245 swimmers from 18 states participated - Jyoti staked a claim in the 50-metre freestyle event. The denouement surprised everybody - Jyoti had bagged the gold! "In fact, I managed to shock everybody with my win, including myself," chuckles Jyoti. "I had learnt swimming just three weeks before the championships and to make matters worse, I was allotted the last lane at the event because of which I kept bumping into the pool's edge. But regardless, I pushed myself extra hard."

Pushing herself hard is what Jyoti continues to do. She adheres to an 18-hour schedule that would put a workaholic to shame. Up at 5:30 am, she commutes by DTC buses to get to college where she attends classes, orchestrates various sporting events, then goes for swimming coaching at Kendriya Vidyalaya, Lajpat Nagar, with which LSR has a tie-up (she's gearing up for the nationals again). Evenings are taken up by computer classes at the Blind Relief Association where she uses a special screen-reading software (Jaws) to "become computer savvy".

Post-dinner, it's time to work on her soon-to-begin final year dissertation. She plans to focus on sports journalism in India, and/or the abysmal lack of facilities for handicapped sportspersons.

Her future plans include being a 'responsible' journalist for the electronic media. "Doing something professional will be more rewarding than a career in parallel sports," she states pragmatically. "And I want to be the best sports journalist ever." Clearly, for plucky Jyoti, there can never be an area of darkness.