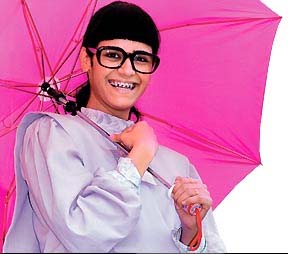 She is bold, bubbly and brainy. Within a year of being launched in the television serial `Jassi Jaisi Koi Nahin' (There's no one like Jassi), plain Jane Jassi seems to be well on her way to becoming an icon for Indian womanhood.

Her visage grins out at us from stamps pasted on ordinary envelopes. For the first time, the Indian Postal Services Department has issued a stamp on a fictitious character. This new icon wears a baggy blue salwar suit, twirls her magenta umbrella and smiles enthusiastically. K Noorjehan, Postmaster General of Maharashtra Circle, says the young woman was chosen for this rare honor because, "Jassi's grit, knowledge and hard work convey a positive message".

Six months after the serial `Jassi Jaisi Koi Nahin' (JJKN) was launched in 2003, Sony TV's TRP ratings in the general entertainment category rose from 8.5 to 26 per cent. A year into the show, Jassi's popularity has not abated. Viewers are relieved to find an ordinary girl as the central character - a welcome change from glamorous and wealthy heroines that have become soap opera staples.

Jassi (played by hitherto little-known actress Mona Singh) represents integrity and values. She is solid, dependable and middle-class - up against corrupt corporate sharks. Unlike the wealthy and elite, she is honorable, decent and upright. To top it all, she is undeniably intelligent.

Young women admire Jassi because she pursues a career and carves out a space for herself. Says Vandana Kohli (name changed), 19, "Jassi has her own identity and principles, and is a rational being not confined to the four walls of the home." Jassi is ambitious and confident. She joins a fashion house as a secretary, but is soon promoted to the post of financial manager and - within a year - she is CEO. She reaches this position by dint of sheer competence.

Entire families like Jassi. Jassi's own family is warm and supportive. Conflicts are depicted, but they are resolved amicably. Jassi's father feels slighted when she begins earning - he throws tantrums and refuses to use her income. She manages his ego, and in time he accepts the situation.

She is child-like, yet wise and capable. She deals with a manipulative boss `Arman Sir' who wants to use her superior skills to bail the company out from trouble. He hurts and humiliates her. Despite being infatuated with him, her vision remains clear and she refuses to compromise on professional decisions. She grows from strength to strength. From being a doormat she becomes increasingly assertive. This threatens the boss and, in fact, the entire board of directors which is basically a corporate family.

At the same time, Jassi is well on her way to becoming the overworked, perpetually burdened `working woman' with infinitely elastic duties and responsibilities. So far, Jassi has been shown as free of household duties because her mother and grandmother are homebodies. She only has to fetch and serve, be hospitable and helpful. Her grandmother lightly tells Purab - the perfect eligible future bridegroom - "Later she will learn to cook. What is there in that?" Men are not shown taking over household roles - a critical component for gender role parity.

A serial like JJKN opens up some issues for discussion. At the same time it protects overarching patriarchal structures. Mixed messages are perhaps inevitable. Radical messages would not make for popular viewing and commercial success. But some of the messages are misleading, with a direct negative impact.

Presenting the boss as somebody women employees fall helplessly in love with is damaging not only to female dignity but to the very idea of a workplace. In fact, women are frequently vulnerable in private jobs. They are expected to please the male boss, are often abused and exploited. JJKN shows Jassi as so committed to her work that there is no line between personal and professional life. She spends days and nights working at the office. There is no question of overtime. The real issues that real people grapple with at work - pay, timings, working conditions, security, safety, sexual harassment, workload, transparency etc - are completely overlooked.

In a way, Jassi is portrayed as a foil to the modern westernized woman. The modern westernized woman - like Mallika in the serial - has a painted face and wears revealing clothes. She is nasty, shrill, scheming and money-minded. Jassi, on the other hand, never thinks of money. She thinks only of the welfare of her workplace and family. She keeps the world spinning as it is - only a little more efficiently, for she oils the hinges whenever they creak.

On the positive side, Jassi is not an in-your-face modeling school product like most heroines today. Her professional achievements indicate that being beautiful is not a criterion for success. A leading daily newspaper claims, "Her ugly duckling role has worked like magic, reassuring hundreds of ordinary-looking girls about their self-worth."

Yet, here too, there is a fundamental compromise. For, Jassi is far from `ugly'. She is slim, tall and fair with a flawless skin and perfect features. She may not be a sex siren, but let's not delude ourselves: she has considerable sex appeal. The thick spectacle lenses framed by unattractive black rims, the braces on her teeth, and the shapeless salwar kameezes are but an elaborate disguise.

A viewer wrote in to Sony - "Please make Jassi prettier. Reveal the real Jassi." Anybody can see and everybody knows that `the real Jassi' is likely to be a stunning beauty, with all the standard attributes of north Indian feminine charm. The real `ordinary girl' - short, with wheatish-colored complexion and not-so-regular features - remains ignored and isolated, culturally unacceptable and unwanted.

Jassi fits into a stereotypical feminine mould - she is loyal, devoted, adjusting, sweet, other-oriented and anxious to please. She extends the notion of unflagging loyalty from family into the arena of the workplace. In this sense, she is an ideal motif for a globalizing, corporatized world. She does not question the wider picture or ask fundamental questions. She never asks, for instance, `What is the fashion industry all about? Do I agree with the values it perpetuates?' Basically, she is an exemplary worker. The limit of her ambitions is to build up the company she works for. She applies her energy and grey cells to help and support various men and their powerful empires.

In real life, fashion house Satya Paul, piggybacking on Jassi's popularity, has launched a JJKN working women's collection that is now available at stores across the country. Satya Paul's Managing Director Sanjay Kapoor says, "Fashion is very inspirational nowadays and working women want to look good. The line is very affordable with complete ensembles starting at only Rs 1,595." So Jassi - an earnest middle-class woman worker - has been enlisted to support various elite concerns - in real life as on the screen.

If it is true that stamps and first-day covers reflect the ethos of a country, symbolize what people hold close to their hearts, and are of inspirational value, then Jassi provides reason for introspection. Here is an authentic young woman at last - bold, bubbly and brainy. The question is - can she find goals more challenging, authentic and meaningful than the ones she is currently pursuing?