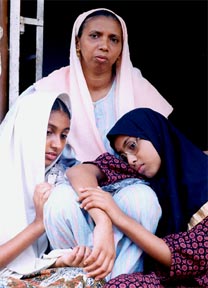 Several children in Kerala - born of brief, exploitative liaisons between men in south-west Asia and illiterate, local Muslim women - face the threat of deportation to nowhere. Now in their teens, these adolescents can neither claim Indian citizenship by virtue of being born to Indian mothers, nor the nationality of their fathers. Indian citizenship laws do not allow these `foreign citizens' to stay on, and the south-west Asian countries do not recognize them as legal citizens.

For mothers of such children, this is the most traumatic time of their lives. Many went to the United Arab Emirates (UAE), Qatar or Yemen either to work as maids or as 'temporary wives' of Arab men. While some maids were forced to enter into marriages, some did not even go through the facade of marriage. But they ended up bearing children of their employers or other men.

A lot of Arab men also come searching for brides to Kozhikode town in Kerala. Historically, travelers and traders from several Arab countries frequented Kozhikode for its spices, but in recent years it is seen as a cheap resort for fake marriages and liaisons. Also, for many men who cannot afford to marry in their own country, Kozhikode offers brides for a mere Rs 10,000 (1US$=Rs 47.5).

To the poverty-stricken families, such prospective grooms are God-sent. The parents don't have to give a dowry; and they also hope that the groom would rescue the entire family from poverty. This, when in most cases, the groom is over 60 and hardly earns enough to support a family. Often, the men return to the same village (having already taken a 'bride' and sent her back) looking for a fresh young bride.

In the last two decades, there have been hundreds of such cases. Most have ended tragically. Before landing in India, the illiterate mothers stamp their children as 'foreign' on their passport, hoping that one day they would return to the prosperous land of their fathers. According to the Foreigner's Act of 1939, any foreigner above the age of 16 years who has overstayed, must be deported to the home country.

Kunjamina was 17 when she married Abdulla Qayad Ahmed, a Yemeni national who visited Kozhikode. A driver at the Labour Office in Sharjah, he took Kunjamina to Sharjah where they lived together as man and wife for nine years. She bore him two sons, Faizal and Ahmad. In 1992, she returned to Kozhikode with the two boys. Kunjamina's husband visits the family every year but will not take the sons (now aged 16 and 14) to his country. There are no records to show that Kunjamina was married to Abdulla.

A hopeless Kunjamina prays that the boys belong to some country. "When we landed in India we were told that if the children stayed here continuously for five years, they'll get citizenship." But so far this hasn't worked out.

K P Zubaida, lives in a small house in Pallikkandy, a coastal area. She is hopeless about the future. She has three daughters aged 14, 13 and six, from an Iranian. A local agent had sent her to Dubai in 1987 to work as a maid, where she got married to an Iranian working at the seaport. "My husband used to call up once in a while and send a little money. But even that gradually stopped." She now ekes out a living by stitching clothes.

As per the Foreigners Act, her two daughters who are now edging closer to the dreaded 16-year age limit have been directed by the police to leave India once reach 16. But Fathima and Asma - with distinctive Arab features - cannot think of a life away from their mother. Their mother's passport claims they are Iranians, hence they cannot stay in India beyond 16 years of age. At the same time, Iran is unlikely to accept them as they have no records to prove the marriage of their parents. Staying beyond a stipulated period can lead to imprisonment in either country.

The Muslim community too has no solutions to the problem. "We generally don't encourage these marriages, and always advise the girls' parents to be careful when they approach us to conduct the marriage. But most see it as an escape from poverty. We can't refuse to conduct such marriages," shrugs Syed Muhasin Shihab Thangal, the Valiya Qazi (Muslim religious chief) of Kozhikode.

In 2002, when a local journalist exposed the goings-on, the Consul General of the UAE officially sought details of such cases, promising to take remedial action. But so far, nothing has happened.

A local Muslim women's organization, Nisa (means woman in Arabic), recently approached the Kerala High Court on behalf of two such children. The court stayed their deportation. "But that is only a temporary respite. We will have many more such children turning 16 and becoming liable for deportation in the coming years. There has to be a comprehensive solution," says Nisa president V P Suhra.