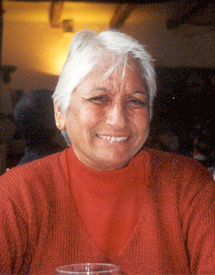 Dr Mira Aghi (59) is someone smokers and cigarette companies would love to hate. A UN consultant on HIV/AIDS, drug abuse and adolescent issues, Aghi has been an active participant in the global war against tobacco use. In 1989, she led the campaign against a tobacco company that wanted to promote a women's cigarette in India.

Today she is the force behind the Advocacy Forum for Tobacco Control, a coalition of Indian NGOs, including Voluntary Health Association of India, Salaam Bombay and Cancer Patients Aid Association. The Forum is primarily working towards informing and educating the public about the Tobacco Control Bill that is awaiting the approval of the Lower House of Parliament (Lok Sabha).

The Bill includes a ban on advertisements (including sponsorship for cultural programmes and sports events), a ban on sale of cigarettes and other tobacco products to minors, and also a ban on sale within 100 yards of any educational institution.

There is an urgency in Aghi's voice as she explains the Indian smoking scenario. World Health Association (WHO) research says Indians smoke a billion cigarettes everyday. The number of tobacco-related deaths that occur in developing countries is expected to rise from 50 to 70 per cent by 2030. "The incidence could be higher in India," Aghi warns. Already, WHO has projected that by 2030, smoking will be the leading cause of death in the world.

In India, women and children have become easy targets for tobacco companies. Aghi quotes the other firebrand anti-smoking campaigner, WHO Director-General Dr Gro Harlem Brundtland. "She called the tobacco industry, `Enemy Number One', claiming that the tobacco industry is targeting Asian women with messages equating smoking with equality and personal freedom." Aghi too believes that advertisements and films greatly influence the young minds. In a workshop with slum children in Mumbai, it was found that most children wanted to smoke as they considered it a 'rich habit'.

While public smoking is already banned in India, it has hardly made a dent in the growing smokers' list. In fact, the list now includes very young members too. Children continue to shop for cigarettes and so far, there are no penalties against shopkeepers who sell tobacco products to young boys and girls.

The dice is heavily loaded against women. Women smokers develop lung cancer earlier than men, despite starting late and smoking fewer cigarettes. Smoking is a risk factor for osteoporosis. The side-effects of smoking on pregnant women are well known.

Most urban women who smoke in India, according to Aghi, are working with multi-nationals, are journalists or students.

In rural India, the tobacco pockets of Bihar, Andhra Pradesh, Uttar Pradesh and Madhya Pradesh have several women and children smoking beedis (local cigarettes). Besides smoking, the rural women also chew tobacco.

Two decades of campaigning has had some substantial victories. Recently, India's Upper House of Parliament (Rajya Sabha) unanimously approved the Tobacco Control Bill. Aghi and other forum members have found an active supporter in Health Minister Sushma Sawaraj.

But will the government be willing to forfeit the massive excise revenue it earns from the tobacco industry? Will the ban really work? Aghi points out that the government ends up spending more on public health than it earns by way of excise taxes on tobacco. In 1999-2000, the total excise from tobacco in India was Rs 6,93,40 million. The estimated health cost as a result of tobacco consumption was over Rs 27,00,00 million.

Aghi is hopeful that the legislators will not only clear the Bill but that this legislation is executed earnestly and adequately. For the US-educated psychologist and communications expert, it will be another step towards making India healthier.