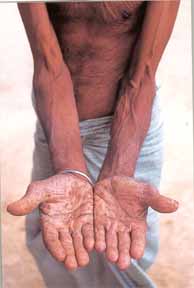 The first signs of arsenic contamination in India were detected in West Bengal as early as 1988. Today, in 2004, symptoms of arsenicosis are being observed in more and more states. Recently, the ground water in Uttar Pradesh's Ballia district was found to be contaminated with arsenic. The UN's estimate is that currently 35 million people in Bangladesh and India are in danger of drinking arsenic contaminated water.

In January 2004, as many as 2,404 samples of water drawn from hand pumps in 55 villages in Ballia were tested. More than half the samples had arsenic levels above the Indian guideline of 10 micrograms per litre; eight per cent had arsenic levels above 500. The samples of water were tested and analyzed under the guidance of Dr Dipankar Chakraborti, Director, School of Environmental Studies (SOES), Jadavpur University, Kolkata. Dr Chakraborti is often referred to as the "arsenic hunter".


The report on arsenic contamination in Ballia district was released by Sunita Narain, Director of the Delhi-based Centre for Science and Education (CSE), at a conference in Delhi recently. Narain said the local administration had promised to send Dr Chakraborti's report to the Industrial Toxicology Research Centre (ITRC) in Lucknow. ITRC had reported in July 2004 that the samples of water they tested from the district were safe, and so the villagers in the area had gone back to drinking from water drawn up by hand pumps.

Having seen obvious symptoms of arsenicosis in the villagers of Ballia, CSE sponsored their own tests on hand pump water, as well as blood, nail and hair samples from the area in August 2004. Analyzed at the Shri Ram Institute for Industrial Research Laboratory (Delhi), the water samples were found to contain levels of arsenic ranging from 15 to 129 micrograms per litre - dangerously high considering what the Indian guideline level suggests as safe.

Arsenic is a poison that eventually kills those who are exposed to it in high quantities and for extended periods of time. Dr Binod Khaitan, Professor at the Department of Dermatology and Venereology, All India Institute of Medical Sciences (AIIMS), said at the conference that the first symptoms of arsenicosis are dark brown calluses on the palms and the soles of the feet. Over time, the calluses increase in number and size and eventually make walking and working near impossible.

Within 10 years of extended exposure to arsenic, a person may start to develop small freckle-like spots all over the body. These are the preliminary stages of skin cancer. Eventually, the arsenic that spreads throughout the body concentrates into cancerous tumors that can be fatal unless immediately treated.

The World Health Organization (WHO) has proclaimed that clean drinking water in place of contaminated water will eventually bring a patient back to good health by flushing the arsenic out of the system. Assuming, of course, that they are not at different developed stages of cancer, which is the case for many who have been drinking arsenic contaminated water for 10-20 years.

According to Paul Deverill, project officer of child environment for UNICEF, this organization has confirmed the existence of arsenic contamination (at toxic levels) in India in West Bengal, Bihar, Uttar Pradesh, Assam, Jharkhand and Chhattisgarh. West Bengal is the most heavily affected state. Most of the people who are at risk in these states are very poor and cannot afford access to alternative drinking water, nor can they afford expensive treatment for the effects of arsenic poisoning.

In both Bangladesh and India, arsenic contamination has been linked to the digging of deep tube wells - proposed by the UN and the World Bank from the 1970s onwards - for a regular supply of "safe" drinking water. During this period, water from deep tube wells was considered a viable and healthy alternative because in many areas, the surface water bodies - lakes, ponds and tanks - had become heavily polluted by industrial effluents and sewage.

Consequently, tube wells that would bring up deep groundwater through hand pumps appeared to be an efficient solution for hundreds of villages. However, millions of dollars in aid later, this solution has created severe problems. Jan Willem Rosenboom, arsenic project officer in Dhaka (Bangladesh) for UNICEF, said, "The scale is overwhelming. The UN has been identified right from the start as having something to do with it. We put the message across to sink these wells. We advised the government and now we are blamed. Yes, we do have a responsibility."

Theories differ on where the arsenic is coming from. The most popular one, that Narain and Chakraborti too consider probable, is the theory that the arsenic in these areas is natural. Proponents of this theory claim that arsenic originates in the Himalayan headwaters of the Ganga and Brahmaputra rivers and seeps into the groundwater aquifer beneath the Gangetic plains.

As of now, the main concern is to bring immediate relief to those who are suffering from arsenicosis, by way of both health and drinking water needs. Villagers in the affected areas have been using a range of filters, such as the perma-cultural three-pitcher method. Three or four clay pitchers are placed on top of one another, each containing sand and soil. As the water passes from the top pitcher through to the pitchers below, the arsenic is filtered out. While WHO has approved this method, there is a great deal of arsenic-heavy sludge that needs to be safely disposed of.

Chakraborti advocates a return to shallow-dug wells that will not reach the deep groundwater in which arsenic rests. He also advocates rainwater harvesting. "In the monsoon period from June to August, the streets of Calcutta are flooded; this is a great resource for drinking water. Two tanks of 20ft by 20ft can provide drinking water for 800 people."

A 2001 discovery by Lena Ma - Associate Professor at the University of Florida, USA - also points towards a possible solution in the future. Ma discovered that a plant, the Chinese brake fern, has the startling ability to extract and absorb high levels of arsenic from the soil.

A report by Ma and Dr Nandita Singh, scientist at the National Botanical Research Institute in Lucknow, states: "They are versatile and hardy, fast growing, easy to reproduce...the promise appears to be high for subtropical areas.... Once the plants are established, concentrations of the heavy metal in the fronds will be high, and they can be harvested periodically for disposal in some safe facility." Research and study on the brake fern, however, is yet to completed.