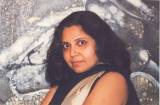 Anju Badhwar Vora - a US citizen of Indian origin has been painting since the past 25 years. A self taught artist, she has developed a visual language which is very both personal and universal. Her art seeks to convey the very network which weaves the workings of the human mind into a collective subconscious where all identities are overlapping or merged, but when under pressure, surfaces as solid blocks of violent egoistic outbursts.

Playing the Strings of Life

Work worn hands
that played the strings,
A lifetime trial
in flying on wings.

Now with a mystical supply of aerial potion,
Ready for take-off
to the unknown ocean.

What Happened?

Non-violent violence
to capture the soul,
Of those did take
to destiny foretold.

Bent of iron
as needed to unfold,
A saga of discipline,
- of metal burnished on coal.

An Eye on Time
As an artist she attempts to find the link between the mysterious and the apparent, the unknown and the known, the Godly and the human. As the boundary lines tend to blur, her work, takes on an ineffable quality.

Without Beginning or End

Glimpses of Divinity

Reservoir of mystic energy,
Tremors in a venial synergy.

Circles on
questionable effigy,
Paradoxical contours,
- with unexplainable homogeny.

On Top of the World...
In her forthcoming show to be held at Lalit Kala Akademi – Galleries 5 & 6 from October 18th – 25th,2006 Anju intends to unfold destiny's tryst with the unknown, the unfathomable in this series of works, called 'The Futuristic Mystics' - exponents of new faith in a universe designed to fulfill the path of individualistic expectations.
The Zen Master

Remember,
How it all Began

In primordial state
he was caught unaware,
Now finding the eyes
to comprehend and stare.

At Present from Past
to Future, and care,
For those who waited
- for Time's curtain to tear.


The Mystics stand as the symbol of energy that holds the universe together. The energy which carries in its womb, the primal experience of the Birth of Life and closely guards the secret of evolution, mystery of divinity – for those ready for the Final Transition.

Anju received the highest award in India for visual arts, the National Award of the Lalit Kala Akademi, New Delhi in 1981 when she was only 19 years old.