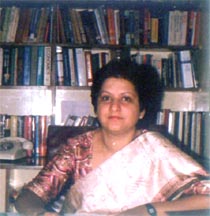 "I firmly believe that India has one of the highest intellectual bases in the world. And that we are capable of contributing to world knowledge systems in a fundamental way," declares Dr Ameeta Deshmukh, founder and managing director of Metric Consultancy Limited, one of the first Indian firms to be known internationally for quality work in market research, training, consultancy and public policy research.

Metric is probably the first Indian consultancy firm to franchise its research model for measuring customer satisfaction to over 20 countries. Clients pay a fee to use the research ethodology and pay royalties to have their research data analyzed at Metric in India.

No mean achievement, considering that the model Dr Deshmukh developed, along with her colleagues, has now been used by Kodak in China, Trust Power in New Zealand, MTEL in Bulgaria and ICON in Italy. There are not many social scientists in India who could say that their knowledge product is being used globally, and doing better than other models used by multinationals.

"This has given me a great kick in life," says Deshmukh, who was the secretary of the All India Democratic Women's Association (AIDWA) Maharashtra unit. At AIDWA, Deshmukh initiated a program demanding subsidized LPG (liquid petroleum gas) for every rural household. This would prevent deforestation, lead to better health, improve girls' education and lessen household chores. "I firmly believe that society should be committed to reducing women's drudgery at home. This simple solution would do so much in one stroke."

"I have always been an activist and an experimenter," she declares. After graduating from college in science, Deshmukh went on to do an MBA. "I majored in marketing because it meant going into the field and not being confined to the office." Soon after, she and two partners set up a manufacturing unit for circuit boards. "While all my college friends were picking up jobs in multinationals, I wanted to head my own unit and experiment in everything - from sales to finance and manufacturing."

However, her social commitment made her seek different avenues. She changed track and decided to focus on rural development. "In those days, marketing executives were not interested in going to villages and doing research on rural development. I was hired despite being a woman. That was a turning point as I knew then how much I enjoyed interacting with people and doing research."

Deshmukh was offered a research assignment on evaluating the market for cross- breeding of cows. While working in the field, she also did her PhD on the Operation Flood Program.

But after eight years on the job, the desire to be her own boss took over again and in 1989, the research and consultancy firm Metric was born. She started in a 10x10 feet room with a portable typewriter and Rs 27 ($US1=Rs 47) in her bank. Since then, Metric has grown into a 100-member organization with offices in all the Indian metros. "Our research with corporates suggested that they needed to change their attitude to become more customer-focused," says Deshmukh.

Deshmukh likes to experiment with the structure of the organizations and offer different and creative solutions for them to meet their challenges. "Even the research we do is aimed at getting actionable solutions," she says. Indian companies like the Tata group, and others like Yamaha, Honda and HPCL also use her models.

"Since we are a complex society, our methods are far more intricate than those in the relatively small and less segregated societies in the West. This enables us to provide qualitatively better insights into any social phenomena," says Deshmukh.

She also firmly believes that economic independence is central to women's empowerment. "It improves her worldview through professional interactions. For every small reason, without looking for other solutions, women tend to resign from jobs. Solutions for so-called problems like children or old
parents can be found if women ensure that they will not compromise on work." She has severe arthritis but it doesn't prevent her from a 12-hour workday and long field trips.

"Gender sensitivity affects my home, my work, everything." Recently, she organized a workshop for her male marketing staff in which they interacted with women executives. "The men in any organization need this training on how to deal with women in authority," she says.

And although Deshmukh feels a sense of achievement at what she has done, she still feels she hasn't done enough. That leaves ample room for her to do more.