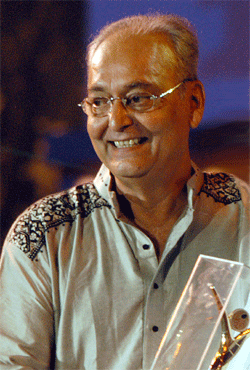 Film critics have forever praised Soumitra Chatterjee�s performances. He was idolized by Bengali women for his good looks and acting charisma during his youth. Children admired him as the smart detective Feluda whom no crooks could deceive. Even the West remembers him as the romantic hero of Satyajit Ray�s Apu trilogy. Soumitra Chatterjee, recipient of the Padma Bhushan, has crossed 60 but is still indispensable to Bengali cinema. His relatively recent performances in Anjan Das�s Saaj Batir Roopkatha, Goutam Halder�s Bhalo Theko, Abhijit Chowdhury�s Patalghar and Goutam Ghosh�s Abar Aranye has overwhelmed everyone.

How did you get into acting?

Acting ran in my family. Both my father and grandfather were into acting. I was encouraged in recitation and theatre from a very young age. When I was a college student I took up theatre more seriously which was then dominated by Sisir Kumar Bhaduri. I was closely associated with Bhaduri for three years. He was such a great influence on me that I decided to take up acting as my full time profession. I enrolled in postgraduate studies but did not complete it as I had got a job as a staff artist with the All India Radio. It was during this time that I was chosen to play Apu in the concluding part of Satyajit Ray�s Apu Trilogy.

How did Ray spot you?

After Ray had completed Pather Panchali, he was looking for an actor to play the adolescent Apu in Aparajita and Ray�s assistant who was an acquaintance of mine took me to Ray recommending me for the role. However Ray was unable to choose me, as I was far too old to play a teenaged boy. When he made Apur Sansar he contacted me. I got to know much later that he decided to make the third part after meeting me.

Could you identify with Apu in any way?

Of course I could identify with Apu. Many boys of our generation had a similar background to that of Apu. They had come to the big city from an obscure village. Most middle class Bengali boys during those days would like to dream big like Apu.

Describe your foremost experience in films.

Apur Sansar was my first film. I started shooting for the first time with Ray on 9th August 1958. The sets were built in Technician Studio. The first scenes I shot were of unemployed Apu on a job hunt. Apu goes to a factory and on seeing the way the factory workers work; he decides not to take the job. Well before shooting I had built up a rapport with the director. He had given me the screenplay and guidelines how to play Apu well in advance. I had also made a psychobiography of Apu.

Why do you think you had such an excellent rapport with Ray?

Everyone knows what a great artist Ray was and I had great respect for him. I think I got along so well with him because we shared the same kind of values, artistic tastes and outlook towards life. Though Ray was much older than me I get along very well with him.

Is it true that Ray�s Feluda sketches were drawn keeping you in mind?

Indeed many would point out the striking similarity between me and Ray�s illustrations of Feluda in his novels. When I first read Feluda novels I told Ray that Feluda�s sketches resembled him. Ray who had a very good sense of humor told me that everybody had been telling him that the sketches resembled me.

Could you share some of your memorable moments with Ray?

There have been many memorable moments with Ray. I specially remember an incident while I was shooting Devi with Ray. It was my second film with him and I was not more than 24. Our outdoor shooting venue was a mile away from our camp. Once I had forgotten my dialogue sheets and Ray made me walk all the way back to fetch it from the camp. It had hurt my feelings then but now I realize that he had only wanted to inculcate in me the seriousness that is demanded of a professional actor.
Ray would always give me a lot of independence while acting but I knew that if I went wrong somewhere he would always be there to correct me. He knew exactly what he wanted from me and what he could get from me.
After he passed away I was deeply grieved. I wrote a book Manik Daar Songe about my experiences with him. I was unable to control my tears when his body was kept in Nandan after his death. A French lady who knew Ray well on seeing me crying said, �Don�t cry Soumitra, Ray has made you into a legendary figure.�

Both you and Uttam Kumar were the leading stars of the Bengali film industry. How did you think you were similar or different as actors?

My friends were very critical of Uttam Kumar when I was in college. I always told them that he was a genuine and powerful actor. There were many other actors whom I would admire too, both Indian and foreign.
Uttam Kumar had a distinctive style. Rather than trying to imitate him I developed my own style, which I believed was more beneficial in the long run. I never considered him my rival. In fact I was good friends with him. I knew him well before I became an actor. He was a special guest at my sister�s wedding. Our friendship lasted till he died.

Do you think your intensive studies in Bengali literature as a college student has helped you to become a better actor?

Of course. After all acting is an artistic pursuit; knowledge of literature obviously helps. I also like to participate in literary discussions.

In which films do you think you have performed the best?

I really can�t be my own critic. I enjoyed performing in many films. With Ray I did 14 films all of which are considered masterpieces by film critics. I liked working with Tapan Sinha in Jhinder Bandi, Atamka and Wheel Chair. I also enjoyed starring in Tarun Majumdar�s Sansar Seemabaddha, Koni and Raja Mitra�s Ekti Jibon.

You played the romantic hero in so many films. Do you think you are romantic at heart?

Yes, I do think I have romanticism in me. To me romanticism is Renaissance wonder. I like to view the world anew and with wonder.

When you started to age and could not play the romantic hero anymore, did you have any regrets?

No, I had prepared myself for that. One can�t be the young romantic protagonist always. If I refused to change the type of roles I played, as I got older I would not have done justice to the characters because it would not have been reflective of real life.

You acted in many commercial films too. Did you ever think you were compromising on your acting talent?

Not really. Many of Tapan Sinha�s films were commercial hits but great masterpieces. Of course I also have to work with incompetent directors sometimes and it does upset me. However I have tried to play every role to the best of my ability be it an art or commercial film. If I was too choosy about roles and refused to act in commercial films I would not be able to practice acting regularly which would be detrimental to my acting talents in the long run.

What are the qualities a good actor should have?

Love for acting, perseverance, vigilance, innovation and introspection into human nature.

You have also acted in children�s films like Hirak Rajar Deshe, the Feluda movies and Patal Ghar. Do you think India should make more children�s films?

Children�s films are neglected in India, as directors seem to think that investing in children�s films isn�t worth it because they feel there won�t be a large viewership for it. In reality the majority of our population comprises of children. Adults enjoy children�s films too because they are so relaxing.