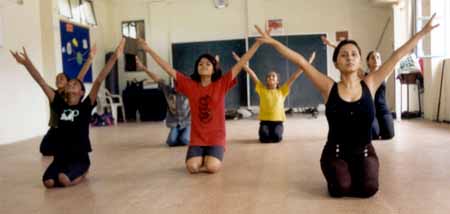 What is it that is driving women of all ages and descriptions to flock to the jazz dance schools that have become popular in the city?

Over the past few years in Delhi, an increasing number of middle and upper middle class women have been joining up to learn modern dance. The most well-known dance schools in the city include the Shiamak Davar Institute for the Performing Arts (SDIPA) in New Friends Colony, and Ashley Lobo's The Danceworx Academy in Greater Kailash.

Women outnumber men both in the learning and the teaching departments of these institutes. Danceworx has about 25 company instructors, of which 80 per cent are women; it has an average of 1,500 students per month, of which about 65 per cent are women. Danskool, an upcoming institute in Malviya Nagar, has similar figures to offer: an 80-20 ratio, though things are changing. Social stereotypes come into play here. "Men don't dance. This is the general perception. It is seen as a womanly thing to do," says Shaira Bhan, Danceworx's acting artistic director.

Women aren't complaining. Here is one mode of freedom, self-expression and release. Mehar Duggal (name changed), 28, and Shaweta Anand, 23, are students at the SDIPA. How do they fit dance into their everyday life? Mehar did not tell her boyfriend she was joining dance classes; Shaweta thought it wiser not to inform her father. Socially, there is the usual pressure to get married; they have times by which they should be back home; they even have times when their male friends can call them. But both went ahead and joined up anyway.

What did dance offer them? "It made me more comfortable with my body," says Shaweta. "Given my upbringing, I was initially conscious of even lifting up my legs during floor exercises with a boy right behind me or next to me. But I realized we are all here to learn dance seriously and gradually I let myself go." Mehar is more exuberant. "We were real freaks in class, like frustrated women dancing!" she laughs. "If we did what we did here outside, people would think we were maniacs!"

A constant refrain from most women who are learning or teaching dance is that it makes them more confident. What precisely does this mean? Auritra Ghosh, an instructor with Danceworx, says, "It means that I have learnt to accept myself and love my body. Earlier I used to be conscious of my body structure and height. Once you experience your body, it helps." Shaira says she has better posture and walks straighter. The most interesting definition comes from Shaweta: "It means that I can be more of myself in a public space."

Sonal Mody, who has been teaching jazz dance for five years, explains how dance helps build self-esteem. "It helps release tensions, as you express so many emotions through movement. Negative energy gets released - you have an outlet. Your steps begin talking for you." Sonal has taught women with all sorts of self-images and self-conceptions. But one thing is common. "Students sometimes begin by worrying about what they are doing. Everyone comes with their own insecurities. But as you grow and cross more and more hurdles, there is a sense of pride in looking back and seeing what you have achieved. Self-esteem is bound to go up."

It is important to let everyone be themselves in class; comparisons are actively discouraged and there is no negative feedback. Jokes and banter are exchanged and students are encouraged to loosen up. After all, it is not just about esteem; it is also a whole lot of fun.

An interesting facet of this trend is the different age groups from which the women come. Sangeeta Agrawal is 42, a mother of two kids, a businesswoman, and has been learning dance for almost a year now. Madhulika Prakash is 35, also a mother of two, formerly a foreign exchange trader but now a homemaker, she has joined classes since August 2004.

Why did they opt for dance? One reason is that their children are now a bit older, giving them more free time. But there are other reasons as well. Sangeeta says it makes her feel better both mentally and physically. "You feel more in control of your life when you do things you enjoy, make time for yourself instead of focusing on family all the time," she says.

Madhulika has similar things to say: "This is something I do just for myself. At other times, I'm a daughter, daughter-in-law, wife or whatever. You're supposed to behave in a certain way. There is anonymity here, and there are no expectations of you, no pressure. I can be as non-serious as I like and that freedom is very important to me. Also, in other hobbies like writing or painting, you can always be interrupted. Here, there is no interruption. It's time-out!"

Women are also taking up dance full-time, as a profession. Many joined for fun and ended up making dance their vocation. They had to face the usual objections from parents and society: the perceived lack of financial stability, the odd or long hours of work, and no clear "future". But these women are glad about having stuck to their guns; they now have the relatively rare fortune of doing something they are passionate about for a living. It is financially viable, social acceptability has increased; and one can always move up to being a choreographer as the body gets older.

An astonishing story is that of Antra Lodha, all of 13 years old, who teaches dance at Danskool to people twice her age. Her parents are supportive and she wants to make dance a full-time career once she finishes her studies. "I have so much energy," she says, "this is a good way to release it. Otherwise my mother has trouble with me." She has already been teaching for a year now, and will probably do so for a long time to come.

It is not only the women who need expression and release. And this explains the growing tribe of men, with their different coordinates of restrictions, signing up for dance. But that's another story.