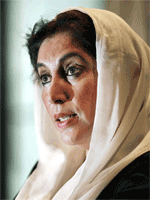 Benazir Bhutto was killed on December 27, 2007 while returning after addressing a rally in Rawalpindi. The questions that remain to be examined are: Who are the murderers? Is it a political murder? What is the intention? The facts accessed at face value show that the immediate threat Bhutto received was from the Taliban. When she went into an exile she issued a statement in an interview to Reuters (May-2007) that 'They (the Taliban) have actually established a mini-state in the tribal areas of Pakistan. My fear is that if these forces are not stopped in 2007, they are going to try to take on the state of Pakistan itself. '
She was called as the Daughter of the West and was liked by feminists all over the world. Bhutto emerged as the first woman to lead a Muslim nation in modern times - though she carried a legacy of corruption in her earlier regimes she was living in a self imposed exile in Dubai when the charges of corruption were leveled against her. Bhutto broke her elite shackles and came out of palaces to campaign for her party and wanting to reach out to the common masses. Even worst of her critics have said that she understood and knew what people wanted.
Her life was ridden with fluctuations right from when her father, Zulfikar Ali Bhutto was hanged by Gen. Zia ul Haq, and she spent maximum time in jail or under house arrest after her father's death. She went on to study in elite institutions of the US and the UK. During this time her brother Shahnawaz died in mysterious circumstances in 1980. She entered politics after the death of Zia-ul Haq in a plane crash. She was elected to the highest office of Pakistan on a slogan 'food, clothing and shelter for all'. President Ghulam Ishaq Khan dismissed her government on charges of corruption and failure to control ethnic violence.
A void of three years came in early 1990s when Nawaz Sharif emerged as the tallest leader for Bhutto. She came back to power in 1993 and her government was once again dismissed amid accusations of nepotism and undermining the justice system.
On April 14, 1999 the Supreme Court found Bhutto guilty of corruption. The conviction was later quashed by Court, but Bhutto went into a self imposed exile. The same year Gen. Musharraf overthrew Prime Minister Nawaz Sharif in a bloodless coup. From 1999 till the time Bhutto came back to Pakistan in October 2007, she was involved in deep negotiations with the US over a power sharing arrangement to be worked out between Musharraf and herself.
Tariq Ali's article Daughter of West, recently published by London Review Books, gives an in-depth into personal and professional life of Benazir, accuses her of being an ally of the US, and also indicts her to have carried out killings of her brother Murtaza in 1996 and Shahnawaz in 1980. This article looks at a negative dimension of Bhutto. A Leader, who returned after an exile of eight years receives a warming welcome in Karachi, had a close shave with death when a suicide bomber killed 150 people in Karachi in her rally. Bhutto had grit and determination to go ahead with campaigning in sensitive areas of North Western Frontier Province leading us to analyze the courageous efforts of a leader who left the prosperity and material riches in her personal life, to become the leader of the common mass.
The amount of support Bhutto had garnered in two months after her return from exile reminds us of similar charismatic leadership qualities possessed by Indira Gandhi. For critics it may be a manufactured consent, but on the ground the support base of PPP was expanding and chances were there that Bhutto would have had a share in coming elections.
The biggest change in Pakistani politics was the dilution of demands among the once rival parties PPP - PML-N. The old rivalry seemed to be buried when the two leaders signed the Charter of Democracy when they both were in exile. There were some push and pull factors due to which it took time to come together to fight on a common platform. Talks were on for seat sharing arrangements between PML-N and PPP in Punjab and Sindh. Both the leaders were acting as mouthpieces of establishing democracies. Bhutto was certainly a better bet than the diplomatic extremists' face i.e. Nawaz Sharif.
The PPP came out with a productive and development focused manifesto for the coming elections which was based on five E's - Employment, Education, Energy, Environment and Equality. She was attempting to bring about reforms in the Pakistani political machinery which is otherwise a feudal military driven one. She may not be classed as a Centrist leader, but she was not a rightist either. She held on to the basic principles of PPP as formulated by her father, Zulfikar Ali Bhutto as follows:
As she was in the process of reforming Pakistan, extremism overshadowed her liberal image and did not let it come forward. Whosoever her murderers are, have won the battle for the moment but not the war. We may point fingers at Al-Qaeda led Pakistani Taliban, Tehrik-i-Taliban led by Behtullah Mehsud, her political opponents. She lost her life in the battle against extremism; Pakistan lost a moderate political voice in its polity.
Sum Up
The political system in Pakistan has reached new dimensions wherein the role of military in bringing stability for Pakistan, cannot be ignored. The Political party which agrees to share cynical power with the major power centre i.e. Army would be the highest beneficiary for the moment. It would be absolutely wrong to say that the state of Pakistan is on a verge of break-up; the state is evolving and going through a transition phase of political turmoil and evolution. It may take few years to return to normalcy, but the need of the hour is certainly to empower the civil society which has become a miniscule minority in Pakistan.