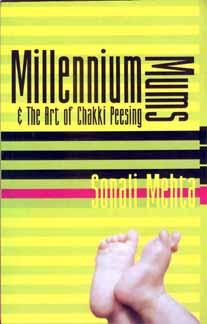 When Sonali Mehta, 34, started writing a series of essays to "tickle her funny bone", she hardly imagined they would turn out to be a runaway success as a book. So much so that 'Millennium Mums and the Art of Chakki Peesing' already boasts a second edition, a rare occurrence for an author making her debut in publishing.

The first half of the book was written over a period of two years, while struggling to bring up her son and run a home in Hong Kong. When Mehta and her husband moved to Mumbai, she braved taking the manuscripts to Jaico Publishers. Once they gave her the green light, the remaining chapters were completed in a record three months.

Amazingly, nothing seems to faze Sonali, the mum in the book. From meeting a whole gaggle of prospective husbands to squeezing herself into that tight black dress that all of Hollywood, Bollywood and the women of modern India seem to employ to entice the man of the evening. Her struggle to straddle the demands of the 21st century and Indian tradition while working herself to the bone both physically and emotionally, is one that many contemporary mothers experience. This is a story of her journey into becoming what she calls the "millennium mum". As for the "Chakki Peesing" half of the title (which implies "the daily grind"), Mehta says she transformed the tough job of mothering with a light heart to take the strain off motherhood.

Every nondescript happening as well as every monumental event has been described to sound riotously funny. Mehta writes of her physical expansion after her marriage ceremony: "As soon as the pheras were pheraoed and the garlands exchanged, my hips started ballooning. No matter what I did, it went straight to my hips. A kiss on the lips found its way to my hips. Sips of water sloshed as retention on my hips. Zippers decided to mimic the Channel [V] logo, jeans developed cellulite and tank tops resembled tyre covers - at least when I wore them. It was horrible.... HORRIBLE! (sob, sob)."

The progression from delicious wife to overprotective mother and harridan will appeal to every woman who bemoans the evolution from a glamorous young babe to a run-of-the-mill wife and mother. This is the story of a woman who is convinced that her son is a sportsman despite the fact that for a lemon-and-spoon race, the lemon has to remain on the spoon. A woman who is slow to realize that when the school wants to discuss her son's role in the annual concert, it means that he is one of the many extras in the play and not a Sir Laurence Olivier in-the-making.

When the summons from the school came, Mehta dressed with extra care, bedecked in Kancheevaram silk sari, flowers in her hair, and three dozen bangles on each arm. "My plans for a grand entrance were somewhat hampered by what appeared to be a sea of parents. Surely not all their kids were playing the lead roles! At last I was able to get a glimpse of the teacher. She summoned me to her desk with surprising alacrity. Star mummies ought to be given first preference. But instead she said, 'Since you appear to be late for a wedding I thought I'd give you the costume chart immediately'". That was the ultimate in ego popping for Mehta, who claims that everything in the book is "absolutely true" - although she readily admits that she is not above a little exaggeration.

Ironically, of the two men to whom the book is dedicated, neither has read it. According to Mehta, her husband "can't get through it" (he has read sections of it) and her son is too young, at eight years, to grasp the complex elements of the book. Her son's measure of success has been: "Are you famous, Mom"?

For this book is for and about mothers - mythical mothers, stereotypical mothers, and the ultimate mother who is faced with the reality of life, the "millennium mum". "Today female graduates are asked what they are planning to do," Mehta says. "Anything short of the glamorous world of Big Money is small fry. And if you are like me and would like nothing better than to stay at home, cook, raise a dozen children, gossip with neighbors over chai and pakoras, and look at your ever-increasing hips as a sign of prosperity, oops! You're at the wrong place at the wrong time..."

Now ensconced in her stylish flat in Singapore, as full-time wife, mother and author, she is already working on her next possible success - a comic thriller with a "Gujju (Gujarati) grandmother-turned-detective" as the central figure. For Mehta, her purpose as an author is summed up in her own words, "If you (the reader) laugh and have a good time, my job is done."