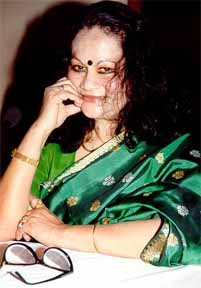 Dr Indira Goswami, Assamese writer and Bharatiya Jnanpith Award-winner, has recently taken up a new role - that of a peacemaker in Assam. This eminent Assamese litterateur, who is better known as Mamoni Raisom Goswami in her state, aims to help the United Liberation Front of Assam (ULFA) leaders negotiate peace with the Indian government.

The author, 53, recently met Prime Minister Dr Manmohan Singh (who happens to be her ex-colleague from the Delhi University), requesting the start of a dialogue between ULFA leaders and the government.

In December 2004, ULFA leaders rejected the first peace offer made by the Prime Minister's Office (PMO); but Goswami has not given up hope. Despite a series of blasts in Assam, apparently triggered by the ULFA, Goswami has again written to the PM to issue a fresh call to ULFA for talks.

ULFA is identified as one of the most powerful militant groups in the northeast. Since 1979, ULFA has been fighting for a separate homeland. It was formed by Bhimakanta Buragohain, Rajiv Rajkonwar, Golap Baruah, Samiran Gogoi, Bhadreshwar Gohain and Paresh Baruah at the Rang Ghar in Sibsagar to establish a "sovereign socialist Assam" through an armed struggle.

In the last two decades, almost 10,000 people have died in Assam due to this violent struggle. When the government banned the ULFA in 1990, it sought shelter in the forests on the Indo-Bhutan border and established several camps here. But after December 2003, when the Bhutanese government launched a massive military operation against them, most of its top leadership shifted base to unspecified locations in Bangladesh. Over the years, ULFA has also gained notoriety for its link with Pakistan's intelligence wing, the ISI, and for its extortion rackets and drug smuggling.

In the past, the Indian government did invite the ULFA for talks, but most requests were rejected by the latter. This time, Goswami is hopeful that talks will lead to some positive results. Goswami says that the PM has acknowledged that there are several prolonged problems faced by Assam. "He is interested in solving the problem and restoring peace during his term as the PM." Singh is also the Rajya Sabha MP from Assam.

After several telephonic conversations with hardcore ULFA leaders, Goswami has submitted a draft to the PMO justifying the need to discuss the issue of 'sovereignty'. This draft does not included two of the earlier demands: peace talks should be held in another country and under UN supervision. Goswami has managed to convince ULFA to confine their talks to the issue of sovereignty. In fact, ULFA's political chief, Arabinda Rajkhowa, requested Goswami to continue her effort for peace despite the early setback in December 2004.

Goswami is now eagerly awaiting the next invitation from the PMO. During her recent visit to Guwahati Jail (January 1, 2005), Goswami met three prominent ULFA leaders - Pradip Gogoi (vice-chairman), Bhimkanta Buragohain (political adviser) and Mithinga Daimari (publicity secretary). She requested them to talk with the government with an open mind.

Goswami says she met ULFA leaders by accident. She had gone to a remote village in Assam to attend a public meeting. Here, she came to know that many of the organizers of the meeting were either directly involved with the ULFA or sympathetic to the cause. The writer decided to interact with the 'boys'. "The government should listen to the boys. Why have they taken the path of violence? They are our boys, with guns in their hands. We have maintained the armed struggle for the last quarter of a century. So we cannot simply ignore them," says Goswami.

"Assam must hope for peace and prosperity. If I can overcome all my trauma and dream for better days, why can't the people of Assam also do so?" asks Goswami, who lost her husband in an accident in Kashmir just a year after her marriage. Before her marriage, she took a long time to recover from a broken love affair. Recalling those days, Goswami says she felt then that her world had ended. She started reading a lot and soon started writing fiction. In her 40 years of writing, she has written 100 short stories and 16 novels.

Born in 1942 in south Kamrupf (Assam), Goswami is today recognized as an authority on Ramayana (the great Hindu epic) literature. Her work on the Ramayana has brought her laurels including the Sahitya Akademi Award, Bharat Nirman Award, Sauhardya Award, Katha Award, Kamal Kumari Foundation Award and Assam Sahitya Sabha Award. Besides the Jnanpith, Goswami is also the recipient of the International Tulsi Award offered by Florida International University, Miami (USA).

Most of her stories are autobiographical in nature and speak of the importance of courage in life. Though born into a privileged family, the focus of her writing has remained the suffering of the disadvantaged sections of society. Goswami's stories also talk of the basic goodness of human beings.

Political party leaders, student bodies and Assam's cultural icons have welcomed Goswami's initiative.