The august audience of Kalasagaram, one of Secunderabad's oldest south Indian cultural organizations, sat rapt - though somewhat surprised - as they watched 'Lakshmana Rekha', a dance-ballet performed in classical Kuchipudi tradition. The costumes and the music seemed familiar; the steps too appeared to follow a known grammar; but the lyrics were unusual - they talked of how women have questioned patriarchy and struggled against violence.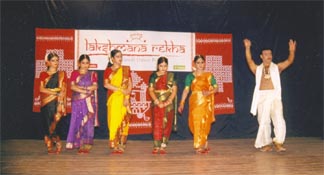 Lakshmana rekha - the boundary line drawn by Lakshmana for his sister-in-law Sita (wife of Rama, the mythological figure worshipped by many Hindus) to remain within - has over the years come to mean a `protective' barrier beyond which a woman should not stray. Feminists argue that the line is actually a wall that is built to control and confine women within the established power relations of a patriarchal society.
In the ballet, Lakshmana rekha was interpreted anew to explore the theme of domestic violence. And Kuchipudi, one of India's oldest classical dance forms, was used to explore this contemporary theme.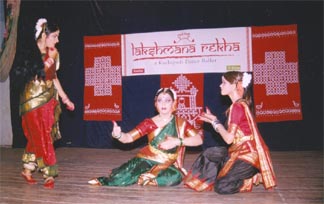 The ballet begins with an invocation to women who led the struggle against patriarchy - Durgabai Deshmukh, Savitribai Phule (both social workers and women's rights activists from Maharashtra, and several others. It then explores the passive resistance offered by mythological heroines from the Ramayana (Sita and Urmila) and Mahabharata (Draupadi and Gandhari) and Renuka (mythical sage Jamadagni's wife who was beheaded on her husband's orders).
The ballet was performed by a group of Kuchipudi dancers in collaboration with Asmita, a Hyderabad-based feminist research and resource centre. "Classical forms have remained immune to contemporary realities, and tend to be stuck in very rigid performative traditions. Weaving this sort of a narrative into a traditional structure was a challenge," says Kalpana Kannabiran who, with three others on the Asmita team, including Volga (pen name of writer P Lalitha Kumari), produced the ballet.
"We've had an enthusiastic response from audiences," says Kannabiran. 'Lakshmana Rekha' was first performed on the International Women's Day (March 8) in 2004, for an audience of 3,000 women who congregated in Hyderabad. Since then, it has traveled to other smaller towns and villages in Andhra Pradesh (AP).
By juxtaposing Sita and Draupadi with Deshmukh, Phule and local heroines of Telengana's women's rights movement, 'Lakshmana Rekha' questions the notion of a woman's 'forbearance' of violence. It also questions her transformation from a grihapatni (homemaker who is also an equal partner in the house) to a pativrata (perfect wife to a man) of more recent times - when the woman's contribution to the home and to the economy is sidelined. The questions raised in the ballet are not new to feminist dialogues, but what makes them different is their incorporation into the tradition-bound structure of a classical form.
(In 2000, AP accounted for 10.5 per cent of all crimes against women in India, coming in third after Uttar Pradesh and Madhya Pradesh.)
Asmita has, like most other activist organizations, worked largely through more "down to earth" forms such as folk theatre and storytelling genres, forms that connect in the various rural dialects of AP. Using the classical form was a strategically, as well as artistically, motivated decision. "We felt we could reach out to audiences across the state, urban as well as rural, with this form," explains Kalpana. "And also, having worked so closely with women's literature and history, particularly in AP, it seemed the right time to work with classical dance."
"Within any classical dance form, the roles of women are underplayed and that of men valourized," says Kannabiran. So the aim in 'Lakshmana Rekha' was to foreground the experiences and voices of women.
Vasanth Kannabiran, a co-producer, says, "In all the districts across AP where we have put up a performance, people have been very responsive. They - particularly the women - want to stay on after performances and talk to us, sharing their experiences, and many of them tell us it has touched a chord."
The ballet has also affected the artistes - many young women dancers were able to connect with the victims they were portraying. "The rehearsals were very emotional and reflective, and many of the artistes found that they were able to identify with these characters in a way that they never had with the idealized women of the mythological stories they were used to portraying," recalls Kannabiran.
However, Asmita has come in for criticism from purists who feel traditional art forms must not be tampered with. "We have had several people, well-versed in the Kuchipudi tradition, tell us that while the choreography and music are very good, we should not have meddled with the content of the classical form," says Kannabiran. "But we feel that it has all come together very well. There is an integrity to the entire composition that comes from the conviction that underlies the aesthetics and the content."
This is Asmita's second production in this arena. The first, entitled 'War and Peace', looked at the impact of war and the roles played within it by women. Women from the epics - Sita, Soorpanakha and Draupadi among others - were juxtaposed with contemporary women voicing common experiences of war, including abduction, disrobing, rape and mutilation. Collaborating with noted Kuchipudi dancer and scholar Uma Rama Rao, the women from Asmita brought to the classical form the contemporary consciousness of the place and role of women in history.
Using classical art forms to bring home startling and often disturbing truths is important, especially to communicate with the urban elite, who need to be jolted out of their complacency towards issues like domestic violence.
Violence against women is a historical issue and a contemporary one. While we may only be in a position to critique the past, we do have the power to change the present. And this is ultimately the message of Asmita's ballet.