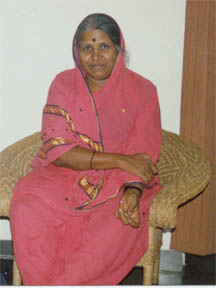 She arrives for the interview with two little children in tow. Settling her large frame into the chair, 54-year-old Sindhutai Sapkal mops her face with one end of her nine-yard saree, flashes a toothy smile and asks if the children can get some milk. The three of them have been out almost the entire day trying to mobilize resources and Mai (Mother), as Sindhutai is popularly known, is tired. "These three months are bad as schools and colleges have examinations followed by vacations and the money I raise through lectures and donations from students and teachers dries up. There are times when I cannot feed the children properly and therefore whenever I go out with any children I ask for milk for them without any hesitation," she says.
"When I was thrown out of my house I used to beg for a living. Even today I move around with a begging bowl. The only difference is that in those days I begged for myself but today I beg so that my children can be fed and clothed," she adds. A daunting task, considering that she has over 1,000 children. It has been a long journey for this intrepid woman who started begging on the Manmad-Aurangabad-Nanded railway track after she was thrown out by her husband when she was just 21 years old. "I moved around with my infant daughter. My mother told me to get lost. 'Go and die on the railway line,' she told me," recalls Sindhutai.
Sindhutai wandered from town to town, singing and begging near temples. "I sang on trains and spent my nights on railway platforms," she reminisces.
It is hard to imagine that this gutsy woman once contemplated suicide when she could not feed her daughter. "I went to the forest bent upon ending my life. But I returned with another determination: Not only will I live, but I will also try my best to give life to others," she says.
Today she is the recipient of around 60 awards for social work including the Savitribai Phule award from the Maharashtra government, the Satpal Mittal Award and the Parivartan Award given by the Maharashtra-based non-governmental organization, Parivartan. And yet she continues to beg for others. Belonging to a family of cattle herders, poverty coupled with social convention prevented Sindhutai from having access to education. She would try to manage the herd and also attend school with great difficulty. But marriage at 10 put an end to the fourth standard student's education. The groom, Shrihari Sapkal, alias Harbaji, was over 30 years old.
Sindhutai created a sensation in Navargaon in 1972 when she demanded that the forest department pay the village women for the cow dung they collected. The department used to auction the dung to landlords and pocket the cash. "We won the fight," says Sindhutai. But she lost her family. She claims that an annoyed landlord, Damdaji Asatkar, spread the rumor that the child she was carrying was his. "My husband simply abandoned me," says Sindhutai. She was beaten up and dumped in a cow shed, where her daughter, Mamata, was born. "This was in 1973. I cut the umbilical cord with a sharp-edged stone lying nearby," she says.
Equipped with nothing but a determination to feed her child, Sindhutai decided to beg. "I begged for almost three years during which time I traveled to Delhi, Chandigarh and almost all over Maharashtra. I also started singing to get more money and having a considerably good voice, I would end up with more money which I would share with my fellow beggars. I would eat and sleep on the roads," says she. And then she started wandering from one town to another. "Those were the days of soul-searching. I began feeling I must do something for those suffering like me," she adds.
The idea was just taking root when she found herself in Chikhaldara in Maharashtra's Amravati district. A section of the Melghat jungles on the border of Maharashtra and Madhya Pradesh had been earmarked for a tiger project and she soon found herself fighting for the rights of the tribals. With food and shelter given by others, Sindhutai then started looking after orphaned and abandoned adivasi (tribal) children as a source of livelihood. It didn't take long for this to become the mission of her life.
Beginning with her first ashram at Chikhaldara which, she says, was "a creation of necessity", her work acquired a momentum of its own. But even as many abandoned/orphaned children were getting a mother, Sindhutai decided to leave her own daughter Mamata with the Dagdushet Halwai Trust in Pune. She had to take this hard decision because she felt that "having my own child with me would hinder looking after other children as there was a possibility that I would be partial to her".
Gradually the number of children grew and so did the number of centers. There are now five centers in Maharashtra which have become home to over 1,000 children. The boys and girls are segregated after the 8th standard. While the boys go to Gangadharbaba ashram, the girls are sent to the girls' hostel at Chikhaldara. Besides these children the homes also house about 25 abandoned women who have taken refuge with Sindhutai. These women are provided food and shelter and in turn they help to look after the children in the homes. Sindhutai proudly states that she has 36 daughters-in-law and 175 sons-in-law.
Deepak Gaikwad, the first child she took under her wing in the 1980s is now helping her full time. In his 30s now, Deepak has taken charge of the Mamata Bal Sadan from his Mai. There are others like Deepak, who support their Mai in her work. Uttam Yevale, 27, who grew up at Mai's ashram at Chikhaldara, is a college teacher in Ahmednagar. "She is like my mother. In fact, she is my mother," he says. And taking care of the Pune centre is Sindhutai's daughter Mamata. "She has a Masters degree in social work and helps me. I was not with her during her growing years, but she has always been there for me," says Sindhutai.
Her homes survive on donations and grants as well as the award money she receives and she unabashedly continues to beg in cities and villages asking people to put whatever they can into a cloth she spreads out on a table after her speech. She is also invited to colleges and schools to address students and she unhesitatingly asks for donations. This year has been particularly tough because though the Savitribai Phule home runs on government aid, Sindhutai's orphanage in Saswad has not received its grant for the last two years from the cash-strapped Maharahstra government. And to make matters worse, there is also an acute water shortage in the area.
Little wonder then that every interview with Sindhutai concludes with this plea -
"Do write the address of my organization so that people can send any contribution - financial or material." Donations can be made to: Sanmati Bal Niketan, Meenakshi Building, Second Floor, Vihar Chowk, Hadapsar, Pune.