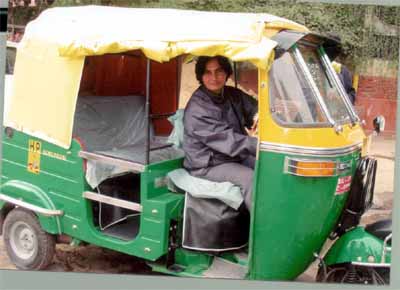 Sunita Chaudhury is Delhi's only female auto rickshaw driver. For that reason alone, her story is extraordinary. Take away the three-wheeler taxi (called an auto in India), however, and it is a life that would be familiar to far too many Indian women.

Born in Meerut, Sunita was married at 13. Harassed by her husband and in-laws for dowry, she appealed to her parents, who advised her to bear her lot in what was, for better or worse, her home. Often subjected to verbal and physical abuse, on one occasion Sunita was driven to a deserted location and beaten mercilessly. Scared that she would be killed, she decided to run away.

In 1992, barely 14, she took a train to Delhi. She knew no one in the city, had no money and no friends or family to turn to. She was also pregnant.

For a few months, Sunita lived in an orphanage in Lajpat Nagar. Eventually, she had to leave because the orphanage's policies had no provisions for pregnant girls. So, she was sent to the civic corporation-run Primary Health Centre in Mehrauli, where her child was born and then died when only two months old.


Sunita stayed on at the centre for the next nine years. She began taking an interest in the patients that came there. What seems to have bothered her most then, and what continues to preoccupy her now, is the neglect of the helpless. If a patient needed to be taken to a hospital in an emergency, she would fight with auto drivers who were reluctant to transport the patient for free. On the streets, whenever she saw a road accident, she would intervene and take the injured to hospital. This too, usually entailed arguments with auto drivers.

The desire to help the weak is what first gave her the idea of driving her own auto, says Sunita.

In 2001, she went to Delhi's licensing authority in Sheikh Sarai to apply for a commercial license. She was told that, as a woman, she was ineligible for one. Undeterred, she dogged the officials for two years until, fed up of her relentless nagging, they handed her the papers. The next step was training from the Institute of Driving, Training and Research (IDTR). Thus qualified, Sunita set out to hire an auto.

At first, she says, people were reluctant to rent out a vehicle to her. The argument she gave them was that as long as they got their rent on time, they should have no reservations. For a year and a half, she drove rented autos. Then, in November 2004, she used a government loan to buy her own three-wheeler.

Meeting her on a Sunday morning in January 2005, Sunita comes across as a confident person. Her auto's paint is fresh and bright and the seats are still partially covered in plastic. Dressed in trousers and a jacket, with her hair cut short, she tells her story with unnerving detachment.

When she first hit the streets of Delhi, the news "spread like fire" and the media hounded her. She has grown accustomed to probing questions, she says. Having fought hard for self-respect and safety, her main concern now is to maintain and improve the life she has made for herself.

She reiterates several times that no one helped her along the way. She maintains no contact with either her in-laws or her parents. She has no plans to re-marry. "Getting married is easy," she says, "but maintaining a relationship is not." She claims to have no close friends in the city. "You must choose between friendship and work."

Sunita has clearly chosen work; her day begins at 7:00 am and ends at midnight. She aims to earn Rs 500 per day (1US$=Rs 45). She says she has no other interests; doesn't even bother buying a TV, because, when would she watch it?

Driving towards the New Delhi Railway Station, she talks of her ambition to acquire a heavy vehicle license and eventually, own a bus or a truck. As she negotiates the dense traffic of Paharganj (old Delhi), many drivers turn to stare. Sunita smiles - she is used to people looking at her in "funny ways". That is little to bear in Delhi's notoriously unsafe streets. In case of more serious attacks, her boyish look offers some protection; in addition, she has a black belt in karate, though she hasn't yet had to use this skill.

At the station, an elderly couple asks her to take them to the airport. On the way, they seem excited by the experience of being driven by a woman. As the day wears on, it seems that passengers do not distinguish between male and female auto drivers.

Between passengers, Sunita talks of the time she contested (and lost) Delhi's assembly elections as a candidate of the National Panthers Party. Why did she choose this party? They chose her, she says, and came to her home to offer her a ticket. Why would she want to be an MLA? Because of the power it would give her, she says, without a trace of self-consciousness.

Again, it is clear that Sunita's primary concern is to be independent. In that light, her achievements are both impressive and poignant. For the media, hers is feel-good story - recently, a news channel filmed her for their Republic Day special. For her passengers, no matter how sympathetic, she is an odd anomaly. She has earned the respect of other auto drivers, but refuses to make friends from among them.

Is this a job more women should do? No, says Sunita, it is difficult and risky. Would she teach other women to drive autos? "Perhaps, but not now: my auto is still new." If she sees an accident, she still stops and takes the injured to hospital for free.

For the rest, she has closed herself from the world, except insofar as it helps her pay her rent and move ahead in her profession.