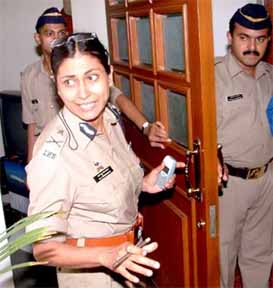 Mumbai city's first woman chief of the Crime Branch, Meera Borwankar, 46, is a photographer's delight. However, while the shutterbugs revel in the image of the attractive police officer, scribes have been hard put to get a word out of the businesslike and circumspect cop. To be a woman police officer in a force that has barely one or two per cent women is unique in itself; but to head an investigative force of 300 police officers is definitely a first.

Mumbai's Crime Branch is known as the premier department of the city's police force, handling the investigation of organized and white-collar crime, and law enforcement in the mega-polis. While it didn't exactly cover itself with glory during the Mumbai riots in the early 1990s, it has had to deal with the operations of rival underworld gangs remote controlled by Dawood Ibrahim, Chhota Rajan and even the don-turned-politician Arun Gawli. It has had to grapple with criminal cases against big film financiers like Bharat Shah, the ignominious Prevention of Terrorist Act (POTA) case against Mohammad Afroz and myriad encounters against gangsters by trigger-happy cops who call themselves `encounter specialists'.

In recent months, the biggest damage has been done by the Telgi fake stamp scam that indicted several top cops, including ex-police chief R S Sharma.

Perhaps in an effort to mitigate the controversy surrounding the post, Borwankar has maintained an extremely low profile since taking over in July 2004. "Strictly no interviews," her personal assistant says, as 'Madam' wants to get to grips with her work before she talks to the Press.

Years ago, when she was District Superintendent of Police, Satara (Maharashtra), Borwankar was much more amenable, even naïve, with the media. This writer, who met Borwankar in Satara, recalls a surprisingly candid discussion with her on honesty and corruption in the police force. She said people around her often questioned why she wasn't part of the regular hafta (weekly bribe) system. Today, corruption is still, perhaps even more so than ever, a major issue in the police force and Borwankar has been chosen to stem the rot.

As Joint Commissioner of Police (Crime), Borwankar is no stranger to action, chalking up an impressive array of experiences in different departments of the police force. But she took charge at a juncture in Mumbai's police history when several senior officers of the force had been discredited for their involvement in the Telgi fake stamps scandal. At least 53 senior police officers (including the ex-police commissioner and a deputy commissioner of police) have been transferred or charge-sheeted.

Oddly enough, for someone who deals with the seamier side of life, Borwankar has done her Master's in English Literature! She graduated from Lyallpur Khalsa College and did her post-graduation from DAV College in Jalandhar, Punjab. She was, by all accounts, a very good student and became head girl of her college. Her father, O P Chadha, was with the Border Security Force.

She is married to Abhay Borwankar, who quit the Indian Administrative Service to start a food-processing business.

In 1981, she became an IPS officer of the Maharashtra cadre, served as Deputy Commissioner of Police at Mumbai between 1987-91, held independent charge of Aurangabad as District Superintendent of Police (and later of Satara in 1996-99) and was posted at the state CID crime branch in 1993-95. She worked with the Economic Offences Wing of the Central Bureau of Investigation (CBI) in Mumbai and was DIG of the Anti-Corruption Bureau of the CBI in New Delhi.

Borwankar, who studied Policy Analysis in Law Enforcement at the University of Minnesota, USA, was awarded the President's Medal for meritorious service in 1997, apart from the police medal and the Director General's insignia she had received earlier.

Accolades came her way when she conducted a lengthy investigation into the infamous Jalgaon sex scandal in which local politicians were accused of luring young girls on the promise of jobs and loans for financial distress. They were actually blackmailing them after taking photographs of them in compromising positions. The case rocked the country and investigations were rendered well nigh impossible as few of the girls were willing to risk social stigma and retaliation by lodging complaints.

However, Borwankar managed to secure some evidence from a few complainants on the basis of which First Information Reports were filed against the politicians, Raju Tadvi and Pandit Sapkale. However, while the accused were convicted in lower courts, they succeeded in securing acquittals in the high court.

While that, unfortunately, is history, Mumbai's crime rate is not. For Borwankar, the challenges are many. Crime statistics in the city are alarming: Mumbai recorded a crime rate of 177 per 100,000 of population (Delhi, however, tops the list with 385 per 100,000, according to the National Crime Records Bureau, 2003).

Her immediate concerns are the extradition of gangsters like Abu Salem and his partner Monica Bedi from Portugal, Iqbal Mirchi and Tariq Parvin from Dubai and Sharmila Shanbhag from Germany.

Many feel she is on the right track: she is keeping a low profile unlike her predecessors (she doesn't like to be invited as a chief guest for any social function) and is completely apolitical.

With poverty constantly pushing a burgeoning population to the brink and organized crime jostling for space with white collar crime, Borwankar has her job cut out for her.