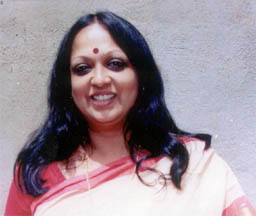 Anita Reddy, who embodies the old Biblical saying, "Inasmuch as you do unto the least of my brethren, you do unto me," has immersed herself in the work of rehabilitating slum-dwellers with sincerity and a non-patronizing attitude � values that she prizes most.

Daughter of industrialist and owner of the Nutrine factory, Dwarakanath Reddy, and daughter-in-law of the late K C Reddy, former Chief Minister of the erstwhile state of Mysore, 47-year-old Reddy was born with the proverbial silver spoon in her mouth. Yet, she eschewed a life of leisure for a different path. In 1978, she got together with a small group of socially committed architects to float the Association for Voluntary Action and Services (AVAS) and has been at its helm as Trustee and Honorary Director ever since.

Reddy's first foray into slum rehabilitation started in the same year when she visited the Lakshmipuram slum in Bangalore. Says she, "The villagers were extremely suspicious of me because of earlier experiences with outsiders who had come in and used them to serve their own ends." The turning point of acceptance for Reddy came when she was able to secure an electricity connection for the slum within the stipulated timeframe set by the slum-dwellers.

The main objective of AVAS over the last two decades has been the formation of strong and self-reliant communities. To achieve this, the organization has used several tools like housing, health programs, skills and income generating activities and savings and credit programs.

Says Reddy, "Both urban poverty and slum-development are not isolated issues and encompass many more inter-related problems. It is in this context that AVAS has adopted a holistic approach for sustainable human settlement development in slums." It has been a long haul since then and Reddy is now a familiar face for the inhabitants of the 600 slums in Bangalore.

Reddy has fought for this marginalized section of society by demanding basic rights for them in terms of civic amenities, land and improved schooling and has also taught them to solve a whole plethora of problems. With characteristic modesty, she states that all she did was motivate these groups to help themselves and adds, "All that they lack is an opportunity." But to this neglected group, she is the "beloved Amma", their very own guardian angel.

Reddy's efforts have won her recognition in the form of the National Habitat Award for the Lakshmipuram re-housing project. And this recognition has had other fall-outs as well. Says Reddy, "Earlier, I used to be asked a lot of questions about my work and had to handle a great deal of skepticism but now everyone seems to be convinced of my intentions!"

Besides her involvement with slum rehabilitation, for the last two years Reddy has diverted her philanthropic nature towards helping in the rehabilitation of the art form of 'kalamkari'. It was more the impoverished conditions of the rural weavers and artisans dependent on 'kalamkari' for their livelihood that moved her into promoting this form of art.

The discovery that the artisans living in and around the temple-town of Kalahasti, Andhra Pradesh, were being mercilessly exploited by middlemen because they were not organised enough galvanized Reddy into action. She mobilized the villagers into action and thus was born Development of Weavers and Rural Artisans in Kalamkari Art (DWARAKA).

The initiative started in a small way with a development program where two local artists trained 25 adolescent girls in the hand-painted art while another 30 women were trained in tailoring skills. Now DWARAKA has an outlet in Bangalore's up-market Upper Palace Orchards. Though the traditional form of this art concentrated on wall-panels with the pictures of gods and goddesses, the DWARAKA outlet has innovated and created new markets for this art in the form of sarees, designer wear and home-accessories. The success of this venture has emboldened Reddy to embark on a second training programme for a village of quarry-workers, situated close to Kalahasti.

Reddy's work is supported by the Ramanarpanam Trust, started by her father, Dwarakanath Reddy, as an 'arpanam' (offering) to his spiritual guru, Sri Ramana Maharishi. Apart from her father, Anita credits a widowed aunt, Indiramma Reddy, whom she calls "Pedamma" (big mother) for setting her value systems in place. "Pedamma was always genuine and focused about the truth and this left a great impact on my mind," says Reddy, who grew up in a large joint family.

At the same time, Reddy attributes the underlying philosophy of J Krishnamurthi's Rishi Valley School, where she studied, for building her values. "The school, with its sensitising environment of teachers, exposure to helpers and opportunities to mingle with the neighboring villagers, helped to nurture the individual spirit in the context of the whole."

Reddy now feels that she has reached where she was meant to be. "There is nothing that I would like changed," says she. It is as if life for her has turned out to be a script that she wrote for herself. "I consider myself an instrument and blessed that I have someone to serve."

But Reddy's is not a charity approach. Raji Narayanan, who is now on the Board of Trustees for DWARAKA, clarifies that she is not in the habit of doling out money "but helps people to help themselves".

Reddy's future plans include the setting-up of a school for the children of slum dwellers and rural artisans. "I am convinced of the need to evolve a syllabus to tap the leadership skills of these children."

Acknowledging the unstinting support of her industrialist husband Pratap Reddy and their three children, Reddy feels, "Anybody can make a difference, however small."