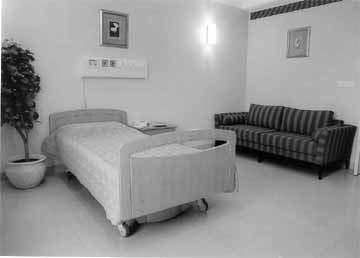 Eight couples are the epitome of concentration as they hunch over tables flipping triangular bits of cloth to fold what look like an infant nappies. Some get it pat, while the others - mostly males - struggle amidst peals of laughter from large-bellied women. The amused childbirth counselor then gravitates towards the 'unsuccessful' students and explains the trivia that goes into a well-folded nappy.

The childbirth awareness lecture progresses to how pregnancy impacts a woman's body and psyche. Doubts swirling around the subject are tackled and as the class breaks for refreshments, a few spouses head towards the 'Father's Pool Table' while the moms go to greet their first-borns frolicking in the area marked 'Sibling Fun'...

In an age when overstretched hospitals staffed with brusque workers are the quintessential norm, The Cradle, India's first boutique birthing centre, which opened in August 2004 in New Delhi, comes across as a whiff of fresh air. As you enter the center's pastel-hued lobby that displays spiffy objects d'art, the fragrance of aroma candles engulfs you. The centre also has a gift shop, a bookshop, a multi-cuisine restaurant and a maternity-wear outlet.

A specialized obstetrics, gynecology and neonatology centre, The Cradle is as much about aesthetics as it is about world-class infrastructure. A collaborative venture of Apollo Hospitals, Sunrise Medicare and Dabur India Ltd., the centre - located in Greater Kailash II - brings to Delhi several pioneering and revolutionary concepts in birthing.

For instance, it is the first of its kind in the country to introduce the concept of LDR (Labour, Delivery and Recovery) rooms - that eliminates the need for prospective mothers to be bundled in and out of endless rooms pre- and post-delivery. Apart from offering all these facilities in one room, The Cradle also provides a unique birthing bed that can be adjusted to any delivery position and for maximum comfort. This basically means that unless specific intervention is required in the operation theatre, a woman can deliver her baby on the special birthing bed and in the room she occupies at the centre. And to cap this experience, men are encouraged to be with their wives.

The birthing centre has a world-class operation theatre, located on the same floor as the six LDR rooms, and a Neonatal Intensive Care Unit with a 24-hour dedicated ambulance. It also has high frequency ventilators that play a crucial role in saving the lives of critically ill new-born babies if they fail to respond to a conventional ventilator.

"Our endeavor is to move away from the cold, conveyor-belt like atmosphere of general hospitals to a warm and inviting set-up. For most multi-specialty hospitals, obstetrics is just a small part of their large-scale operations but since we choose to be niche, we focus our energies on making childbirth a special experience," says Varun Talwar, Joint Managing Director.

Adds Amit Burman, Executive Director, Dabur, and Joint Managing Director, The Cradle: "Through this venture, we hope to put infant care in India on the global healthcare map. Apart from sensitizing expectant mothers on the various aspects of childbirth, we want to totally change the way childbirth is approached in India."

Of course, all this comes at premium charges. A two-day, normal delivery package in a deluxe room costs Rs 35,000 while a three-day, Caesarean section delivery package in an upscale suite costs Rs 80,000 (1US$=Rs 45). An internationally trained nurse is assigned to look after the mother-child duo. Customized packages include additional facilities like trained personal attendants and so on.

Other benefits at The Cradle include specialized equipment and greater care for critically ill or premature babies. Also, the centre has a team of medical consultants - specialists in endocrinology, urology, cardiology, nutrition and physiotherapy - to monitor the health status of the mother and child on a regular basis.

The walls of the LDR rooms are done in pastel hues, and the furniture has been designed to induce a home-like feel. And to reinforce the exclusive touch, a complimentary cake and a bottle of champagne are sent to the mothers on the D-day!

What's also a first for any obstetric hospital in Asia is that The Cradle offers childbirth preparation classes for parents. And there's a Cradle Club where prospective parents can congregate and discuss their problems. The seven childbirth preparation classes - held twice a week at a cost of Rs 4,000 - are conducted by well-known childbirth counselor Dr Nutan Pandit. A range of topics are taken up at these classes - coping with morning sickness, tackling sibling rivalry, diet and nutrition counseling, and even Lamaze exercise classes. Husbands are proactively encouraged to attend these classes that, the centre claims, "intangibly contribute to helping a couple bond".

"Basically," explains Dr Pandit, "we encourage husbands to re-invent their identities as 'fathers' rather than remain mere spouses. With changing family dynamics in Indian society - nuclear families, the absence of rambling homes where a woman can park herself pre- and post-delivery, unreliable domestic help - the men can lend vital support to their wives."

Tips on a healthy diet, post-pregnancy exercises to regain one's figure, breastfeeding, mood swings, diet during lactation, nappy folding, and how to make a baby burp are other topics woven seamlessly into these sessions. Dr Pandit goes a step further by handing out recipes of low-calorie and easy-to-make dishes for pregnant and lactating mothers.

At The Cradle, certainly, delivering babies is very far from being treated as child's play. And for women with sufficient monetary resources, the center's niche approach can definitely take the edge off the travails of childbirth.