A Homage to the Indian Army Martyrs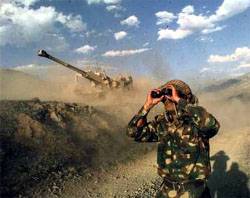 Seven years ago in 1999 at about this time the incredibly brave Young Officers of the Indian Army leading from the front, their gallant teams of soldiers, were hurtling themselves against Pakistan Army occupied mountain tops in the Kargil Sector. These mountain tops were deep inside Indian territory and been treacherously occupied by the Pakistan Army when in winter these positions stood vacated as a result of very heavy snowfall conditions. It was an unwritten convention and a honor code between the two Armies, ever since the 1947-48 Kashmir War that positions vacated in winter by either Army would not be occupied by the other. But in the winter of 1998-99 this honor code was broken and the Pakistan Army stealthily came to these hill features and began fortifying them so that by early spring when Indian Army would come to reoccupy them they would be presented with a fait accompli.
The mastermind of this Pakistani treachery and what was ultimately to turn out to be a military misadventure, was none other than the man who now parades himself as the President of Pakistan ' General Musharraf. He was the Pakistan Army Chief and had planned this operation behind the back of his Prime Minister, Nawaz Sharif and was later to use his failure as a pretext to displace Sharif by a military coup. It is amazing that two successive Indian Prime Ministers were ill-advised to do political business with him, despite being the master-mind of the Kargil War and the Islamic Jihad launched against India with greater intensity after he usurped power. It is further amazing that Indian media leading columnists including ones who had been press advisers to Prime Ministers in the past should be pressing the present Prime Minister to sell off Siachen to the Pakistani military dictator and also de-militarize Kashmir for his benefit. More amazing was Dr. Manmohan Singh's statement some months back that he can trust General Musharraf and can do business with him! All this is an insult to the hundred of martyrs of the Indian Army who selflessly sacrificed their lives to win back the Indian territory occupied by Pakistan Army under direct orders of General Musharraf.
The Kargil War, even eulogized by Indian film makers in a number of moving films, is a saga of heroism and sacrifice which few armies can boast of. It involved fighting at high altitudes under extreme cold conditions. The fighting involved leading infantry assaults along narrow tracks in rocky and cliff terrain with no vegetation cover against peaks held by Pakistani troops dug in fortified positions. The challenges were superhuman but in the finest traditions of the Indian Army they were squarely met. In the process hundreds of promising lives were lost and nothing is more moving than reading the gallant accounts of the Young Officers who charged into Pakistani positions even when severely wounded and exhorted their men to eject the enemy. Does the Indian Republic remember them?
These days every morning when one opens the morning newspapers and comes to the obituary pages one sees the photographs of so many of these Young Officers and soldiers in remembrances by their Regiments and Battalions. The mind and one's head gets bowed in homage to these brave martyrs, and they seem to be reminding us of the famous lines etched on the Kohima War Memorial:
' When you go home,
Tell them of us and say,
For theirs tomorrow,
We gave our today. '
Touching words, and invariably one's mind wanders towards the thought as to how many Indian political leaders have for our tomorrows given their today ?