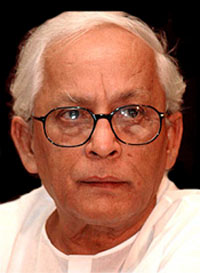 Mr. Buddhadeb Bhattacharyya, the Chief Minister, made an egregious ass of himself while briefing the press at Writers' Buildings on 13 November. First he made a distinction between 'us' and 'they', which was most unfortunate for a Chief Minister. By 'us' he meant the CPI-M and by 'they' he meant, in the vocabulary of Mr. Biman Bose, the rest of the world who are not impartial in speaking about the CPI-M. In making this dichotomy, Buddha Babu has revealed himself as a petty party apparatchik and not as a statesman.
Next Buddha Babu said that 'they', meaning the armed men of the Bhumi Uchhed Protirodh Committee, in cahoots with Maoists, had driven out 'our' people from Nandigram and that 'our' people simply paid them back in the same 'coins' (sic). His lamentable use of the English language is perhaps pardonable, but his explanation of what happened at Nandigram, though facile, is not. Comrade Prakash Karat spoke in much the same vein earlier in New Delhi. Both Messrs. Karat and Bhudda Bhattacharyya endorse, with ill concealed glee, the forcible capture of Nandigram by goons with firearms to the accompaniment of widespread rape, arson and looting.
The Governor rightly described these proceedings as unlawful and unacceptable. For his pains, he was promptly castigated by Comrade Biman Bose, who found the gubernatorial statement to be in excess of jurisdiction, entirely forgetting that the Governor, unlike him and his other comrades, is sworn by his oath to defend and protect the Constitution and the laws of India and to devote himself to the needs and welfare of the people. That the Governor was entirely right has been acclaimed by no less a jurist than Mr. Soli Sorabjee.
After the recapture of Nandigram was complete, Comrade Biman Bose hailed the awakening of a new dawn. But what about the dark days and nights preceding the dawn? All access to Nandigram, unofficially declared a war zone by armed goons, was sealed. The press, Mamata Bannerjee, Medha Patkar, carrying relief supplies for stricken people, and others were prohibited from entering the zone. Comrade Biman Bose, with his specious logic, justified Medha Patkar's exclusion on the ground that it was necessary for maintaining peace!!! She was on a mission of mercy, carrying relief, and not bombs hidden in her petticoat.
And who was maintaining peace by blocking all lines of communication and indulging in mayhem? Not the police, but an armed cadre of the red brigade. The police were conspicuous by their absence. On the orders of the Director General of Police, they had been withdrawn from all strategic positions and those at the Nandigram police station were confined indoors and ordered not to move out. The field was thus left open to the marauding cadre to do much as it pleased. Rape, arson and loot were the order of the day.
Comrade Buddhadeb ' and the appellation has been chosen advisedly, for he has shown himself first and foremost as a representative of the CPI-M in the guise of Chief Minister -- has explained the marauders pogrom by saying that it could have been avoided if the Central Government had acceded to his request for the CRPF earlier instead of rejecting it on 5 November. This explains nothing at all. It does not explain for instance why should it have been necessary for the state government to bank upon the CRPF when there were many battalions of armed police, including the Eastern Frontier Rifles, available with them and why the state police, where visible, were reduced to being passive spectators. If Comrade Buddha's answer is that the state police, in spite of all their pomp and circumstance, are worse than useless, then they should be issued with bangles and confined to their barracks.
Here the Director General of Police, the Chief Secretary and the Home Secretary have to answer a question, if policemen do not have to wear bangles: Why were the police withdrawn and not allowed to function? Was it under orders of Comrade Buddhadeb? Why were these orders obeyed? A Chief Secretary worth his salt would have resigned from his post rather than obey such patently illegal orders. But nowadays everyone is an obedient servant.
Mr. Kshiti Goswami, the state PWD minister, has to be complimented on the bold stand he has taken in this matter. He has offered to resign from his ministerial post as a mark of protest against the activities of the CPI-M. He has a conscience and he has allowed his conscience to speak. Now three Left Front allies, namely the RSP, Forward Bloc and the CPI, are debating whether, following Mr. Goswami's cue, they should remain allies any longer. Probably, they will; but at least, they have raised a debate on the issue.
The comrades have all made heavy weather over the alleged infiltration of Maoist gangs in Nandigram. The Home Secretary said that no one of that description had been found. Be that as it may, are the comrades trying to prove that their cadre achieved in a few days what the state police found impossible in eleven months? If so, there is a strong case for the police not to wear bangles, but to be disbanded altogether and their function outsourced to the red brigade, which in course of time may apply elsewhere also where their assistance may be needed to combat terrorism. Generalissimo Karat will be the officer commanding the brigade.
Comrade Buddhadeb abdicated as Chief Minister at Nandigram, and with him the state police force also and, as a result, wanton acts of pillage, arson and rape were committed by the party cadre, which took the law into its own hands. They were manifestly illegal acts and Comrades Buddhadeb and Biman Bose have publicly confessed to being privy to them. The Advocate General may now be invited to advise the home department of the state government whether the two comrades and the party cadre are not guilty of murder, rape, arson and looting? To say the least, Buddha Babu as Chief Minister had taken an oath to defend the laws of the land. Far from being the upholder, he has proved to be a transgressor.
Buddhadeb Bhattacharyya should resign as Chief Minister and play the role of party apparatchik for which he is most suited.
In Kolkata, emotions have risen high in the wake of the recent happenings at Nandigram. A large body of writers, poets, artistes, et al, divorced from all political considerations, overtaken by a spontaneous upsurge of feeling, wanted to march silently on 11 November to Nandan, where now an international film festival is being held, to record their protest against it, for the spirit of the festival was incongruous with so much misery and suffering at Nandigram. Many of these personalities are known to have leftist sympathies. They were arrested by the police and taken to Lalbazar, from where they were subsequently released. The police later explained that they were being prevented from creating a spectacle at Nandan, where a large number of foreign film dignitaries had been invited.
Congratulations, Buddha Babu. You think nothing of miring your backyard, but would like the outside world to think you are a bhadralok. The protesters should have been allowed to march to Nandan, for that was the best place to tell the world what happens behind the scenes. Not to be outdone, the same people have organized a much bigger march today (14 November), and the march is in progress even as I write this, with no slogans or speech making of any kind and no political coloring. So eloquent a demonstration of public sentiment on this scale has not been witnessed in Kolkata in living memory. This is the celebration of an indomitable spirit that refuses to compromise with evil. There may be hope for the people if this spirit survives.
Nandigram is designed to show the public that when it comes to the exercise of brute power, there is only one party in the reckoning and it alone will decide what is right and what is not in human affairs. Trivial considerations of law and morality have no relevance in their thinking. The party has come to take itself for granted, having wielded absolute power for three decades and more sinister things may be in the offing.
One is now living in ominous and dangerous times, and the portents in the sky fill one with dark forebodings:
'But never till to-night, never till now,
Did I go through a tempest dropping fire.
Either there is a civil strife in heaven,
Or else the world, too saucy with the gods,
Incenses them to send destruction.'
' (Julius Caesar, William Shakespeare)