India's politics were on the boil on March 22-23, 2006 and promise to continue to be so in the weeks ahead as the media excerpts would show. In addition the electronic media constantly highlighted as to how the Congress Government in these last few days had scripted a Parliamentary fraud to pre-empt a certain disqualification of Ms Sonia Gandhi as a Member of Parliament on the same grounds on which the Congress had spearheaded the disqualification of Mrs Jaya Bachhan a few days back.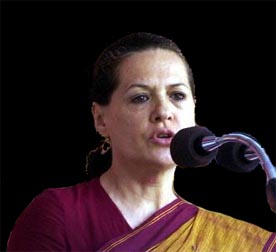 Little did the Congress Government realize that it would become a victim of its own conspiracy and in the process damage the image of its leader and the Party. Since the Congress Party could not introduce an Ordinance while the Parliament was in session to pre-empt Sonia Gandhi's disqualification from Parliament it took refuge in adjourning both Houses of Parliament without taking the Speakers into confidence. Having done that, it was then planning to bring the concerned Ordinance to protect its leader's position.
On the verge of finishing its script, the Congress had to face the 'shock and awe' of India's Opposition parties, some of its own allies and a shrill campaign relentlessly pursued by the Indian media, both print and more effectively by the electronic media. Faced with such overwhelming opposition and damage to its image, at the time of writing this piece, Sonia Gandhi has announced her resignation as Member of Parliament and as Chairperson of the National Advisory Council.
The Congress spin-masters have termed it as the 'Second Great Renunciation' by Sonia Gandhi. The Opposition has countered this by pointing out that if Sonia Gandhi was so concerned with setting high standards in public life then she should have resigned as soon as Jaya Bachhan was disqualified and not waited for an Ordinance that was on the way to save her, by the Congress Government. That it was pre-empted is another story. Readers can draw their own conclusions.

Whatever be the conclusions, one fact that stands out is that the 'Indian Democracy' is alive and kicking and that India at large is alert and vigilant to foil 'fiddling with the Parliament'.
The Media Comments
'The UPA Government on Wednesday(22 March 2006) abruptly adjourned both Houses of Parliament, sparking furious protests from the Opposition which alleged that this was done to avoid disqualification of several MPs including Congress chief Sonia Gandhi for holding 'offices of profit' 'The BJP in a memorandum to the President stated: 'This has been done solely and exclusively for the purpose of promulgating an ordinance to save Ms Sonia Gandhi, president of the Congress party and chairperson of the National Advisory Council from certain disqualification on grounds of holding an' office of profit'
' The Pioneer, March 23 2006

'Shades of the Emergency were invoked by the Congress- led Government ,this time under Prime Minister Manmohan Singh and Congress President Sonia Gandhi to adjourn the Budget Session of the President sine die so as to bring an Ordinance'.expected to protect Mrs Sonia Gandhi, Chairman National Advisory Council'and Lok Sabha Speaker Somnath Chatterji from being disqualified as Members of Parliament for holding offices of profit.' 'Constitutional experts made it clear that the action to adjourn Parliament sine die with no prior notice was totally unprecedented and this 'fiddling with Parliament 'as Mr Rajeev Dhawan put it was last heard in the days preceding the imposition of Emergency in 1975---when then Prime Minister Indira Gandhi stood in danger of losing her parliamentary seat following an order of the Allahabad High Court. Mr Dhawan said that it was a 'total fraud on the nation as the Government had bypassed the complainant , bypassed the Election Commission, the President and now the Parliament.'
' The Asian Age, March 23 2006

'Egg on face, the Government today forced both Houses of Parliament to adjourn sine die,'..providing fresh ammunition to the Opposition to slay the 'Sonia-centric' outlook to the detriment of parliamentary propriety and conventions'
' The Indian Express, March 23 2006

'UPA Government will promulgate an Ordinance on Friday (March 24 2006) to identify some posts as office of non-profit, a move the Opposition, alleged as a ploy to 'bail out' Congress Chief Sonia Gandhi from certain disqualification as a parliamentarian, sources said in New Delhi on Wednesday'
' Re-Diffusion , March 23 2006