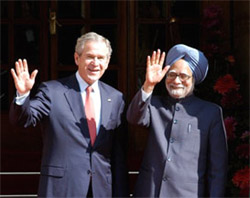 President Bush's visit to India from March 1-3, 2006 can truly be termed as historic for reasons more than one. It was the fifth visit by a US President to India. It was for the first time that two US Presidents had visited India within a space of five years. Furthermore, it was a visit by two successive US Presidents in quick succession. And, what may emerge as a trend with US Presidents would be that every US President may now consider it as an imperative that an India visit was a must at least once in a presidential term.
The above seems to be both a measure of India being on an ascendant curve as a rising global power and a United States recognition of that ascendancy and the accruing imperatives of establishing a strategic relationship with a rising power.
President Bush even in the run-up to his election had maintained that it was in the interests of the United States to forge a strategic partnership with India. He has steadfastly maintained that vision ever since. Relatively removed from post-9/11 developments, he sent out a declaratory message last spring that the United States was ready to assist India in its build-up as a world class power and also that it was in United States national security interests to evolve a strategic relationship with India in the 21st Century.
India's foreign policy too was undergoing a change beginning with PM Narasimha Rao and carried forward by PM Vajpayee and now PM Manmohan Singh. It was growingly being realized in India that India's rise could be greatly facilitated by a strategic relationship with the United States and not in opposition to it.
Both United States and India respecting each others sensitivities now sought to term their emerging strategic proximity as 'strategic partners' rather than as 'natural allies'. It is in this spirit that President Bush's visit has to be viewed and also the further evolution of a US-India strategic partnership.
President Bush's vision was given a practical shape last summer by the signing of a US-India Defense Cooperation Framework (18 June, 2005 ) and followed by the US-India Summit of July 18,2005. The centre-piece was the US-India civil nuclear deal which was to lead to hard negotiations for seven months and lasting to the very last minute of the New Delhi visit. The core of this deal was that the United States would extend civil nuclear cooperation and assistance to India in return for India's commitment to place her civil nuclear facilities under international safeguards. This raised a storm from the strong non-proliferation lobby in USA.
The US President's visit success seemed to be in jeopardy due to differences in India's separation plan of its civil and military nuclear facilities especially the Fast Breeder Reactors. A last minute personal intervention by President Bush led to the acceptance of the India-proposed separation plan. This was publicly announced jointly by the two leaders in New Delhi on March 2 ,2006.
This was what made the Bush visit to India as a historic one as in one significant symbolic assertion President Bush and the USA signaled to the world that despite not having signed the NPT India was being implicitly accepted as a de-facto nuclear weapons power. This was being done on the strength of India's impeccable credentials as a responsible nuclear power which had not indulged in WMD proliferation unlike China, Pakistan and North Korea.
India at large welcomed President Bush to India as a genuine friend except the Indian Muslims who organized violent protests in marked departure from the traditional Indian hospitality. So too were the Leftists who due to coming State elections in West Bengal were pandering to Muslim vote banks. Remarkably, TV polls during the visit showed that 82% of Indians supported a strong US-India partnership and welcomed President Bush to India.

President Bush through the civil nuclear deal and the other agreements arrived at in the fields of defense cooperation, space cooperation and high-technology cooperation indicated through this comprehensive engagement that USA was truly interested in a strategic partnership with India. In his address to the Indian nation on the eve of his departure he publicly asserted that India was the United States natural partner for the 21st Century and praised genuinely India's vibrant democracy and its multi-ethnic and multi-religious free society.
The US President's visit to India can be rightly termed as a historic one as the agreements arrived at in New Delhi marks as some describe it as a 'seismic shift' in US-India relations.