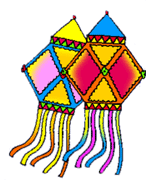 Diwali is the most joyous of all the festivals of Hindus. It is celebrated all over India with much gaiety and enthusiasm for four days in the months of October or November. This time of the year, the kharip crop is harvested and cotton crop brings cash. Goddess Laxmi, symbolizing prosperity and wealth, is worshiped on the no moon day of the month of Ashwin according to Hindu almanac. It marks the beginning of New Year for Vaishya community - merchants, businessmen and traders. Diwali is seen victory of good over evil, of knowledge over ignorance, of truth over untruth.

These days herald the much-desired respite from the monsoon rains and bring in welcome coolness of the winter. Houses are decorated and painted anew, streets are cleaned, and there is fragrance of scents and perfumes all over. Small oil lamps and tiny electric lights glow over houses and buildings. The atmosphere is serene and peaceful with grace and piety everywhere. Family members enjoy putting on new clothes and, children in particular, are carefree, as there is vacation from the studies and school.

To add to the joy firecrackers are burst with unusual enthusiastic atmosphere, which must be seen to be believed. What a great joy and pleasure the festival of diwali brings to one and all!

Mythological stories associated with Diwali festival

The story goes that one demon called Narakasur had kept many women from royal family captive in his custody. Sri Krishna fought with this demon, defeated him, and sought release of these ladies. The women, however, were not accepted in the society for they were considered to be impure due to their stay with a demon. So Sri Krishna liberated these sixteen thousand women by marrying with them.

Another story is equally interesting. It relates with incarnation of Lord Vishnu. There was a very powerful demon king ruling earth, his name was Bali. He became invincible through austerities and tapas. He decided to conquer the kingdom of gods, the heaven. King Indra was ruling the heaven that time. Indra became panicky when he came to know the ill design of king Bali to invade his kingdom of Heaven. Indra took refuge at the holy feet of Lord Vishnu and begged to save him and his kingdom from all-powerful demon King Bali. Lord Vishnu promised to help Indra, the righteous.

Accordingly, Sri Vishnu incarnated on the earth in the form of a dwarf Brahmin called as Vamana. King Bali was engaged in the final ritual of sacrifices - yajna - which would ensure his victory in the battle with gods and Indra. Bali was liberal in offering land and wealth to the
deserving Brahmins.

Vamana approached the king and saluted him. King Bali was highly impressed with solemnity and halo of purity on the Brahmin's face. He served Vamana with courtesy and requested him to ask for anything, and that he would be glad to give the same.

Vamana asked for that much of land, which his three steps would measure! Everyone was surprised at this unusual demand, and even thought this dwarf Brahmin to be an idiot! They thought it foolish to ask for three yards of land when the king was willing to give even three villages.

But the king was all modesty. He said to Vamana, "O noble Brahmin, I assure you to grant that much of land which you would cover in three steps."

Thus assured, Vamana, who was no other than Lord Vishnu, changed Himself into very large - Virata - form. The dwarf form now became as tall as Everest, as vast as the sky, and as deep as the ocean. With one step he covered the earth, with the second the heavens, and turning to the king Bali said, "O noble king, you have assured me three step-full of land. I have covered whole universe with my two steps where should I keep my foot for the third step?"

Realizing his folly, and also realizing that Lord Vishnu Himself had come to test him, Bali with all humility bowed down and said, "O lord, cover my head with the third step."

Pleased with the attitude of surrender and sincerity of Bali, the Lord sent him to the land of Patal to rule there for eternity. King Bali praised the Lord and requested him to grant him one boon. Lord Vishnu wanted to know what boon Bali desired. To this Bali replied, 'O God of Gods, I wish you come to Patal once every year and protect me from evil and ignorance. Grant me knowledge and faith. The lord was more than pleased to grant King's desire.

Thus it is believed that Lord Vishnu goes to the kingdom of Bali on every diwali day. Hence this day is known as Bali Pratipada, New Year's day.